If you love pumpkin pie then this easy chocolate pumpkin tart takes it to the next level. A simple chocolate tart recipe with only 5 ingredients, this recipe is a perfect Halloween dessert. A chocolate pumpkin pie is the best way to use your pumpkin puree for a delicious fall dessert.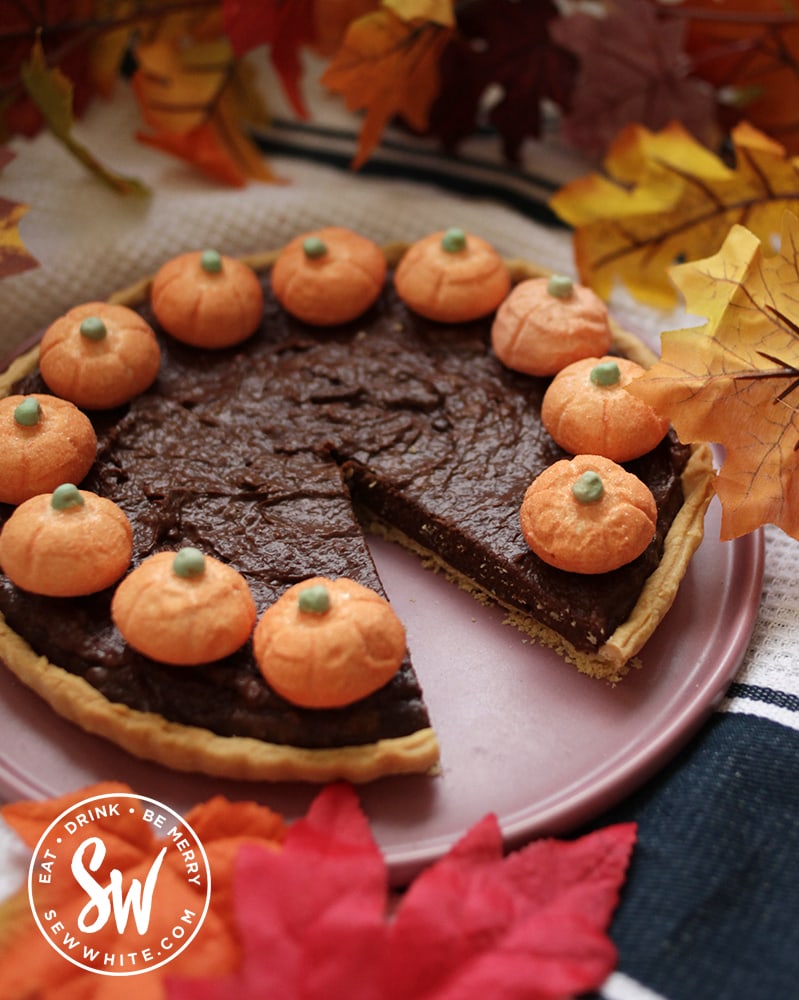 There are so many ways I could describe this beautiful chocolate pumpkin tart. It's a combination of a chocolate tart with shortcrust pastry, the classic American pumpkin pie, and pumpkin chocolate cake. It's definitely the best of all three!
What can I serve with the chocolate pumpkin tart?
The best things you can serve with this delicious Halloween dessert is absolutely nothing. It is perfect on it's own but if you do want to add something when you serve it I would recommend a drizzle of single cream or even a scoop of vanilla ice cream.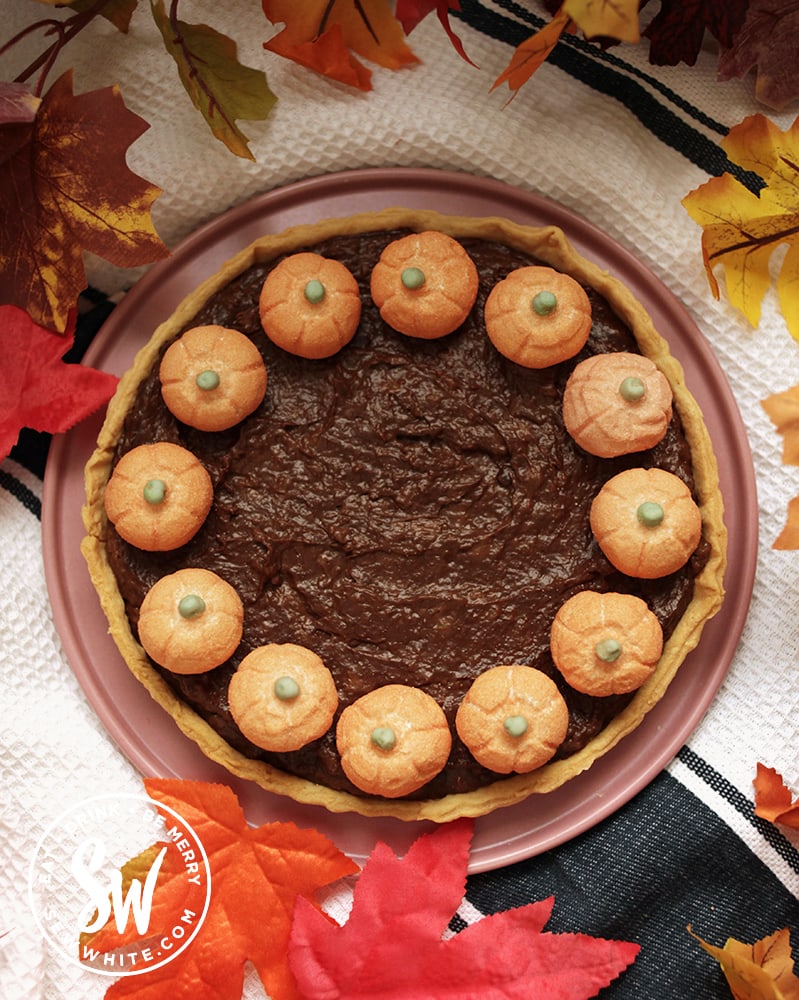 Notes for making the chocolate pumpkin pie
You can use store bought shortcrust pastry or make your own.
You can use either homemade or store bought pumpkin puree. It would be the same weight of either.
Freezing the finished chocolate tart is a great way to save some for later.
However it will last up to 5 days in the fridge. Keep it wrapped up or in an airtight box.
When adding the pumpkin you can either add spoonfulls and gently mix so the pumpkin is more dense in areas. Or you can mix it in completely so it's equally spread throughout the chocolate truffle mix.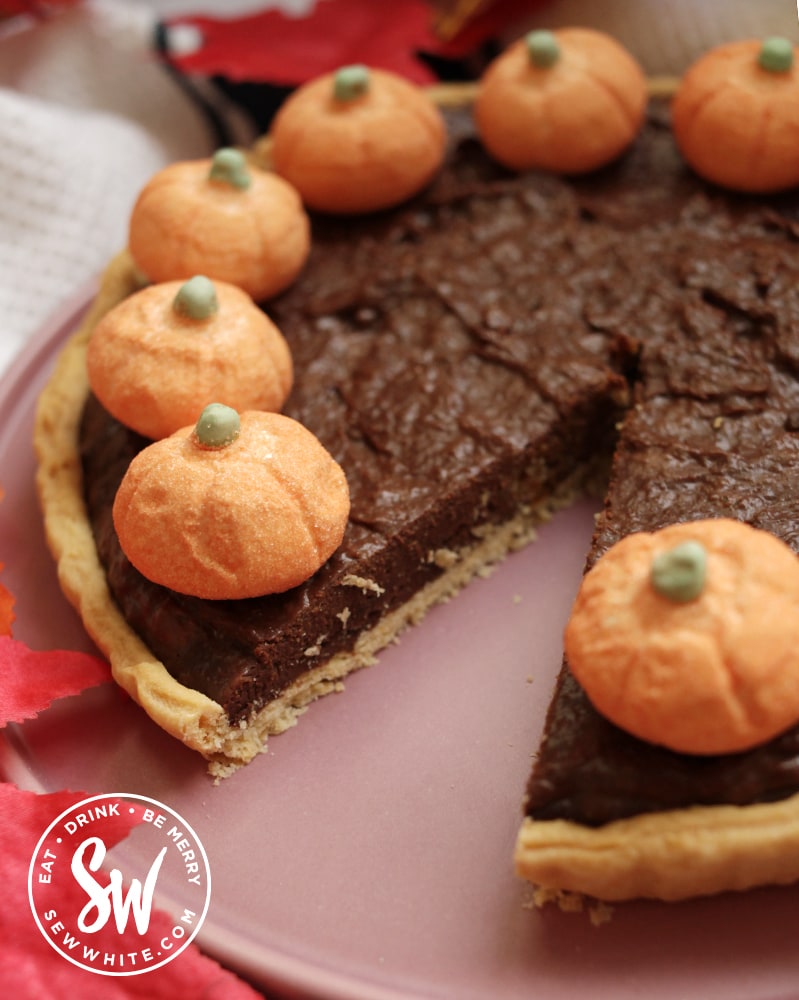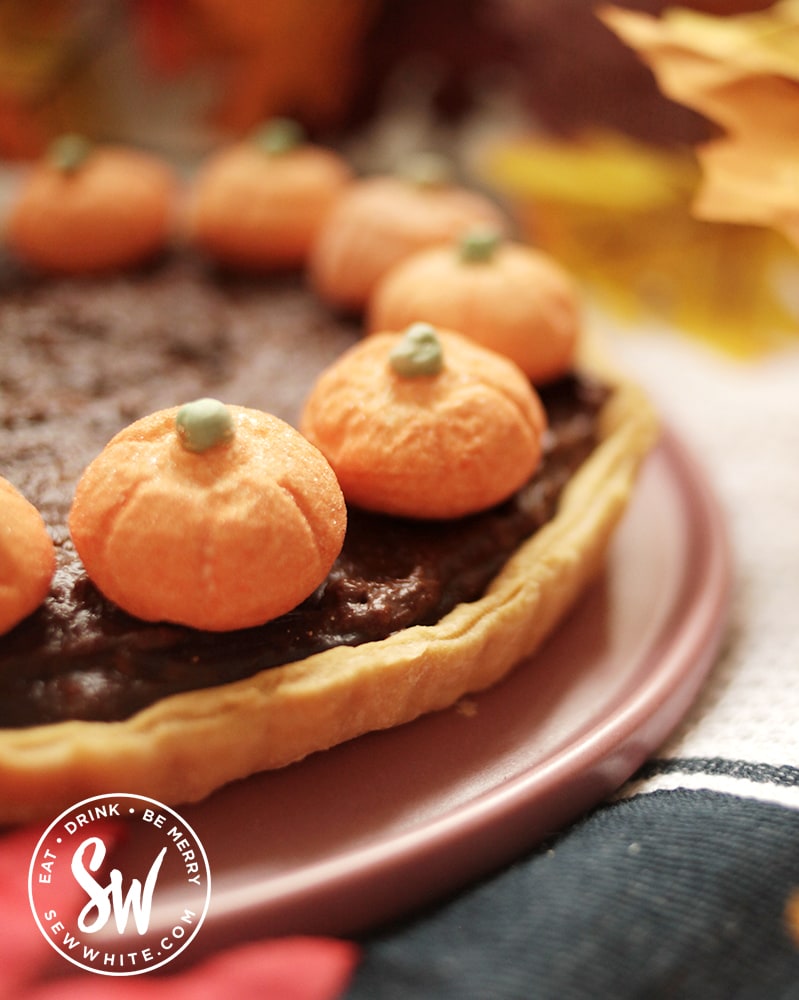 Chocolate pumpkin tart with cinnamon
When you make this Halloween chocolate tart it is a wonderful time to add pumpkin pie spice and of course cinnamon. Cinnamon is a beautiful spice and I for one absoloutely love it my autumn/fall winter dishes. If you do want to add that extra warm from spices then add them to recipe when you mix the pumpkin in to the chocolate.
You can either mix it in to the pumpkin before adding it to the chocolate to get is evenly mixed. Or you can add a dusting as you combine them together. I prefer leaving chunkier bits so you get some bites which are more chocolatey. While some bites have more of that pumpkin flavour.
If you don't like cinnamon but want to add that rich spice flavour you can add other spices including ground ginger, ground cloves, nutmeg or all spice. You can add any you like but I would recommend add a pumpkin pie spice (in the UK it's mixed spice). It combines all these spices together to make the most beautiful winter/christmas flavour. You really can't beat it.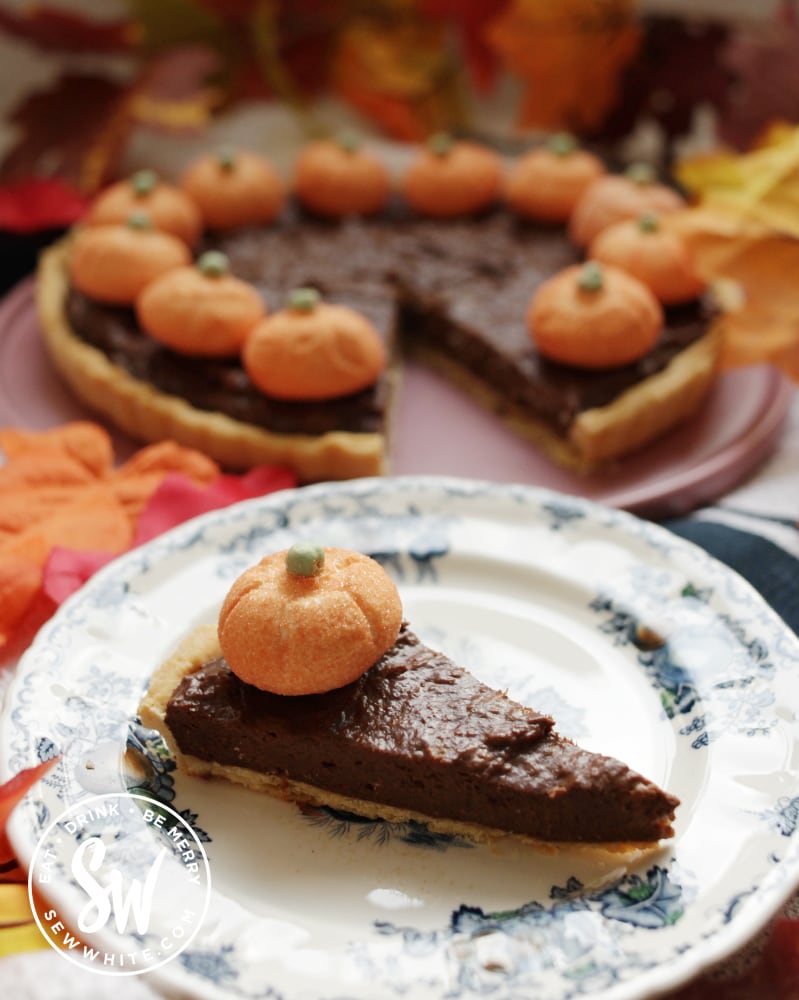 What do I need for a chocolate pumpkin tart?
What I love about this recipe (and all my recipes) is how easy it is to make. You only need 5 ingredients to make this chocolate pumpkin tart. With a few extras if you want to add spices.
Ingredient list;
shortcrust pie pastry. You can either make this at home or use store bought. I went for storebought for this as I wanted it to be quick and a lot less messy – I am the worst for making mess when baking and cooking! Whichever you choose, for best results bring it to room temperature before you use it. It will make it easier to roll and manipulate into the pie dish.
For the chocolate truffle centre of this delicious tart you only need three ingredients: chocolate, double cream (heavy cream) and a little butter. This trio produces an incredible soft chocolate truffle type filling which is so good. It's rich and soft against the wonderful crisp shortcrust shell. You can use milk or dark chocolate for this recipe. I prefer dark as it really works with the pumpkin.
Pumpkin puree. For the pumpkin part of this chocolate pumpkin pie you will need a simple baked pumpkin which has been scooped out and blended until smooth (or the consistency you like – I went for slightly chunky). If you want to make it easier then get pumpkin pie filling from your supermarket. Both work and both will give delicious results.
Optional – pumpkin pie spices. The wonderul mix of spices you find for desserts at this time of year work so well with this recipe. If you love cinnamon, ground cloves or the premade mixes mixed spice/pumpkin pie spice then add it to the pie. I've made this chocolate pumpkin tart both ways and I think I prefer with a little spice but some of the family prefered to just go for a full chocolate flavour.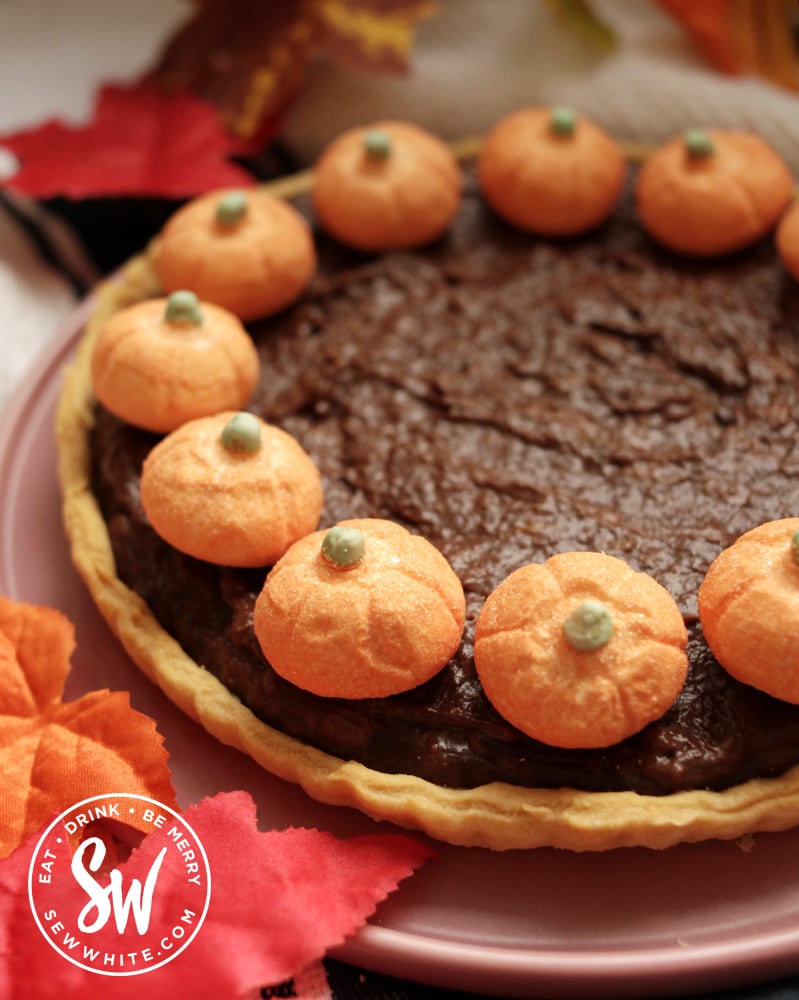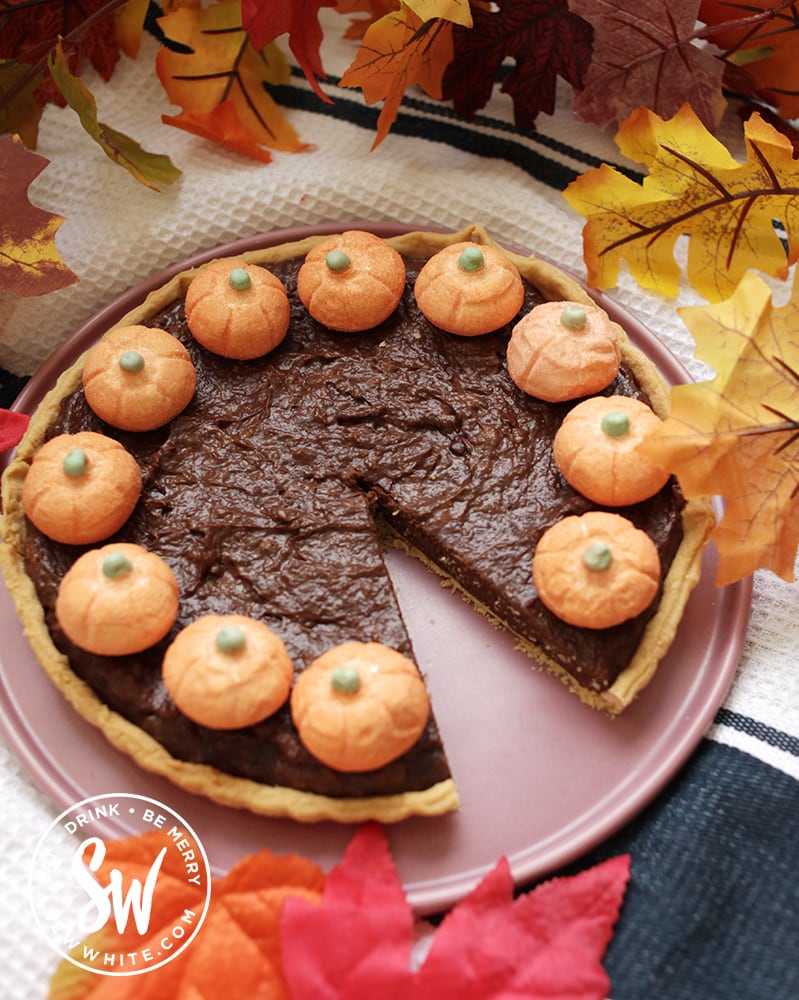 What is pumpkin pie spice?
Pumpkin pie spice is the yummy mix of rich spices. These include ground cinnamon, nutmeg, ground ginger, all spice and ground cloves. It is the classic mix of spices which are now so well known. It is adored (by most) for dishes in Autumn / Fall and Winter. Pumpkin spice is the name given to the mix in the U.S.A but is also known as mixed spice in The U.K. and other countries. I love it. The mix of these spices are so wamring and are essential in my kitchen in Autumn and Christmas.
What is mixed spice? Can I use mixed spice instead of pumpkin pie spice?
Mixed spice is the same as pumpkin spice. It mixes cinnamon, cloves, nutmeg, ginger and a pinch of all spice.
Can I use shop bought pumpkin pie mix?
Yes you can. Most pumpkin pie puree or pumpkin pie mix in a can is simply cooked pumpkin that has been blitzed into a blender until smooth. Check the tin but it should be perfectly fine. Pumpkin filling is also fine to use.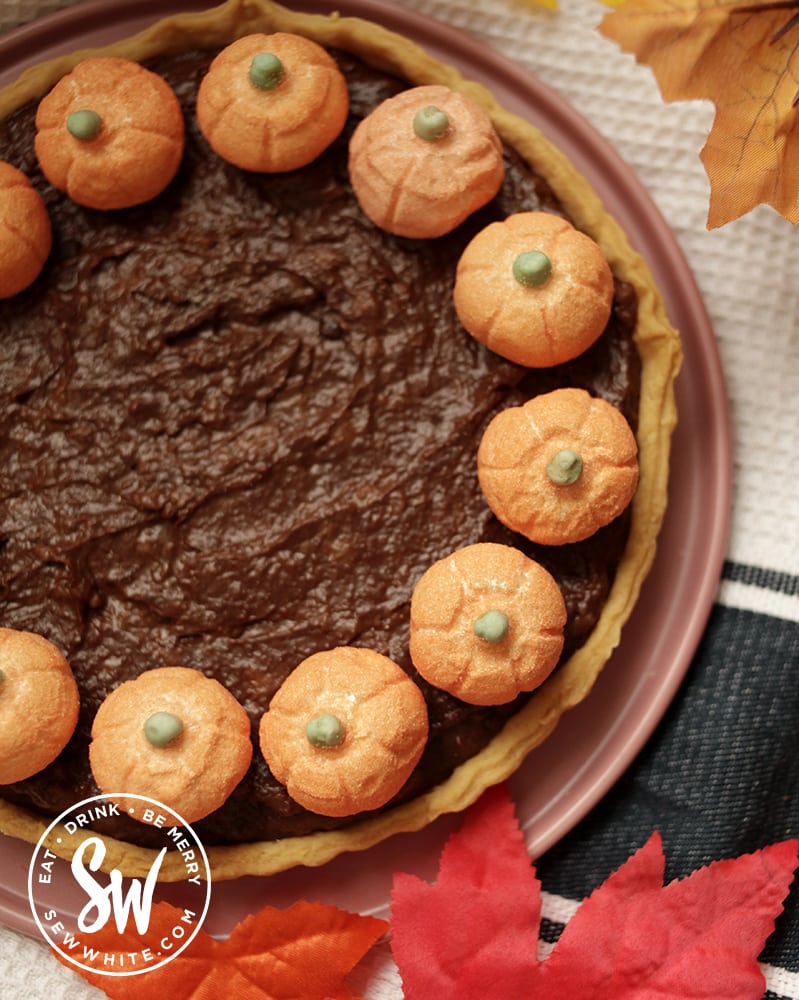 Can I use homemade pumpkin puree for the chocolate pumpkin tart?
Yes I think it's a brilliant dessert to make with home roasted pumpkin.
Check out my how to cook pumpkin guide to see how to take your pumpkin and transform it into a gorgeous baked vegetable. Once cooked the pumpkin is perfect for using in savoury dishes. Or you can pop it into the blender to make puree which can be used in this recipe. It is a great way to make your own pumpkin filling and is very easy too. If I can do it, you can too!
Halloween Desserts you might enjoy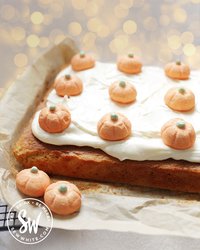 In this pumpkin traybake (pumpkin sheet cake) I create a beautiful light pumpkin sponge cake which is a perfect base for a yummy Halloween cake. The soft pumpkin puree with spices, within the soft sponge cake, adds a lovely moist texture and flavour to this perfect Autumn / fall cake.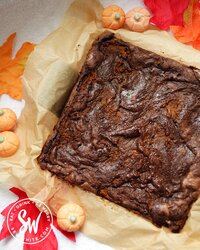 These pumpkin brownies are absolutely delicious and so easy to make. The mix of fudgy chocolate brownie and pumpkin is a match made in heaven. These pumpkin pie brownies are a perfect Halloween dessert and a great way to use up your leftover pumpkin from pumpkin carving.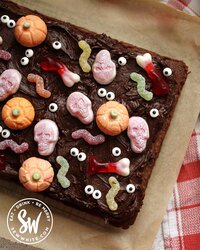 If you are looking for an Easy Halloween Chocolate Cake then you need this easy Halloween sheet cake recipe. An easy way to use up leftover Halloween candy and create a beautiful piece perfect for a Halloween party. The Easy Halloween Cake is a simple chocolate sponge traybake decorated with a rich chocolate cream cheese buttercream. For the easy Halloween cake decoration I used my favourite Halloween sweets.
Are you looking for a delicious way to use up your Halloween candy? Then check out this delicious No Bake Halloween Cheesecake. This can be made ahead of your Halloween party and topped with your delicious Trick or Treat candy. A fantastic centre piece and show stopper for a Party food too! The best of Easy Halloween Desserts!
Pin me for later or follow me @sewwhiteblog on Pinterest for my latest recipes and to discover of my others.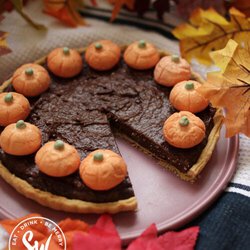 Easy Chocolate Pumpkin Tart
If you love pumpkin pie then this easy chocolate pumpkin tart takes it to the next level. A simple chocolate tart recipe with only 5 ingredients, this recipe is a perfect Halloween dessert. A chocolate pumpkin pie is the best way to use your pumpkin puree for a delicious fall dessert.
Equipment
8-inch tart dish

Rolling Pin

Saucepan

ceramic baking beans
Ingredients
320

grams

(

11.29

oz

)

shortcrust pastry

(I used premade supermarket shortcrust pastry)

2

tablespoons

(

2

tablespoons

)

unsalted butter

300

grams

(

1.71

cups

)

plain chocolate

250

ml

(

250

ml

)

double cream / heavy cream

250

grams

(

1.

cups

)

pumpkin puree

1

tablespoon

spices

(optional – ground cinnamon, ground cloves, ground ginger, all spice or a premade mix like pumpkin pie spice or mixed spice.)

Halloween Sweets and Candy

(optional)
Instructions
Preheat the oven to 200ºC / 180ºC fan / Gas mark 6 / 392 ºF.

Take the shortcrust pastry out of the fridge and allow it to warm to room temperature.

Unroll and place in the tart tin. Lightly push it into the edges. Trim off the excess.

Add a layer of greaseproof paper and add ceramic baking balls (or dried pasta) to hold it down. This will help the pastry blind bake.

Bake in the oven for 10 minutes, then carefully remove the greaseproof paper and ceramic baking beans and put it back in the oven for 5 minutes until golden brown. Remove from the oven and leave to cool in the tart tin.
Chocolate Pumpkin Tart Filling
Break up the chocolate pieces and add them to a bowl and add the 2 teaspoons of butter.

In a pan warm up the double cream until it starts to bubble. Do not let it boil.

Pour the cream over the top and slowly mix together until everything is melted and mixed together.

Set aside at room tempterature while preparing the puree.
Pumpkin Puree
Optional extras – If you want to add cinnamon, or other spices, to increase that pumpkin pie spice flavour add it at this point to the puree and mix in. Then stir it in to the chocolate mix.

Gently add your pumpkin puree. I like to add tablespoon dollops of the puree and mix it in slightly. This way you get some chunkier pieces of pumpkin as you eat the tart. You can also mix it in fully to make it smooth and to get a uniform amount across the chocolate pumpkin tart.

Take the shortcrust tart case and pour the chocolate pumpkin mix in. Be gentle and level it out.

Pop the dessert back into the fridge and leave for at least 1 hour.

Decorate with Halloween candy or little pumpkin marshmallows. (optional)

Serve it with a little extra cream, ice cream or enjoy it as it is.
Notes
• The chocolate pumpkin tart will last for up to 5 days in the fridge. Keep it covered and if you can pop it in an airtight container.
•Add your favourite Halloween/fall spices into the pumpkin before you add them to the chocolate. Cinnamon, ground cloves and pumpkin pie spice work really well. You can also add a pinch of salt to add that salted chocolate flavour.
Nutrition
Calories:
322
kcal
Carbohydrates:
35
g
Protein:
4
g
Fat:
20
g
Saturated Fat:
12
g
Polyunsaturated Fat:
1
g
Monounsaturated Fat:
7
g
Trans Fat:
1
g
Cholesterol:
34
mg
Sodium:
174
mg
Potassium:
156
mg
Fiber:
3
g
Sugar:
14
g
Vitamin A:
3607
IU
Vitamin C:
1
mg
Calcium:
29
mg
Iron:
2
mg
Please note that the nutrition information provided above is approximate and meant as a guideline only.