I adore pumpkin and it always surprises people how easy pumpkin is to cook. Pumpkin is a wonderful vegetable and apart from using it for Halloween, it's a great ingredient to use for meals and sweet dishes too. In this post, I will go through how to cook pumpkin and how to perfectly roast pumpkin.
In this post – How to cook pumpkin UK recipe – I go through everything you will need to do to cook pumpkin. Althought I've just called it a UK pumpkin recipe it's super easy and worldwide easy to do. All you need in an oven essentially. Scroll down the bottom of the post for the full recipe.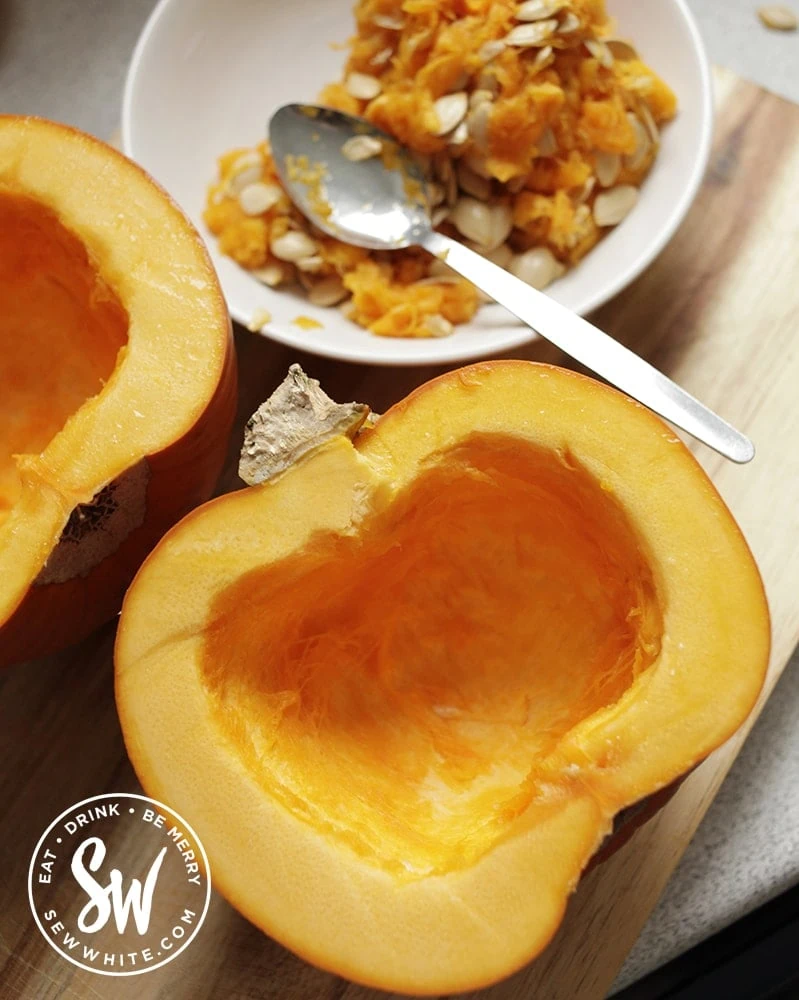 What equipment do I need to cook a pumpkin?
To cook a pumpkin you really don't need much in the way of equipment. The main items you will need for the preparation are a chopping board and a knife to cut the pumpkin in half. Then just a spoon to scoop out the seeds. To complete the prep.
To bake a pumpkin you only need an oven and a baking tray. Plus silver foil as there will be some sticky juicy that comes out which is much easier to collect in the silver foil. Anything to help reduce washing up right!
How to bake a pumpkin
It is so easy to bake a pumpkin. All you need to do take your pumpkin, remove the seeds and place face down on a alumiunium lined baking tray. Bake a pumpkin in the oven and once it's cooled you can use it for pumpkin cakes or pumpkin savoury dishes. The list is endless.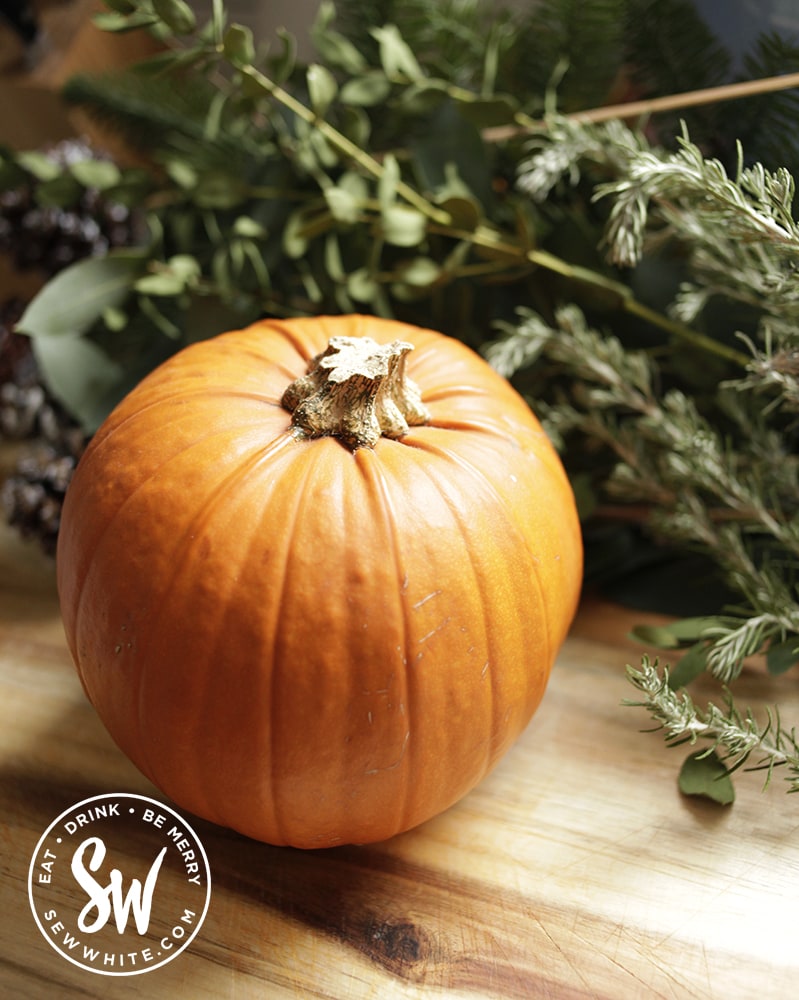 What is the best way to cook pumpkin?
I really belive that roasting pumpkin gives the best results. The finished roast pumpkin can be used in a variety of dishes from sweet to savoury.
Use the cubes in a tart or roast them again with a little rub of salt, pepper and herbs. This goes so well with a roast dinner.
Once the pumpkin is roasted you can easily turn it in to puree. The puree can be used for cakes, bakes and of course the iconic pumpkin pie. If you want to make a puree you can either use a fork on the roast pumpkin to make a thick chunky puree. If you want a smooth puree then pop it in a blender and pulse until the pumpkin is smooth.
What can I use cooked pumpkin in?
Pumpkin is a hugely verstile vegetable and can be used in a range of things including cakes. Think carrot cake but instead with pumpkin. Muffins and chocolate cake also work very well with mixed in pumpkin puree.
For savoury dishes it is a great vegetable to use in a traybake with sausages and onions. It also tastes really good on a puff pastry sheet with chorizo. If you think of it like a sweeter potato or squash ti can esily be adapted into those recipes.
How to cook pumpkin – how to roast pumpkin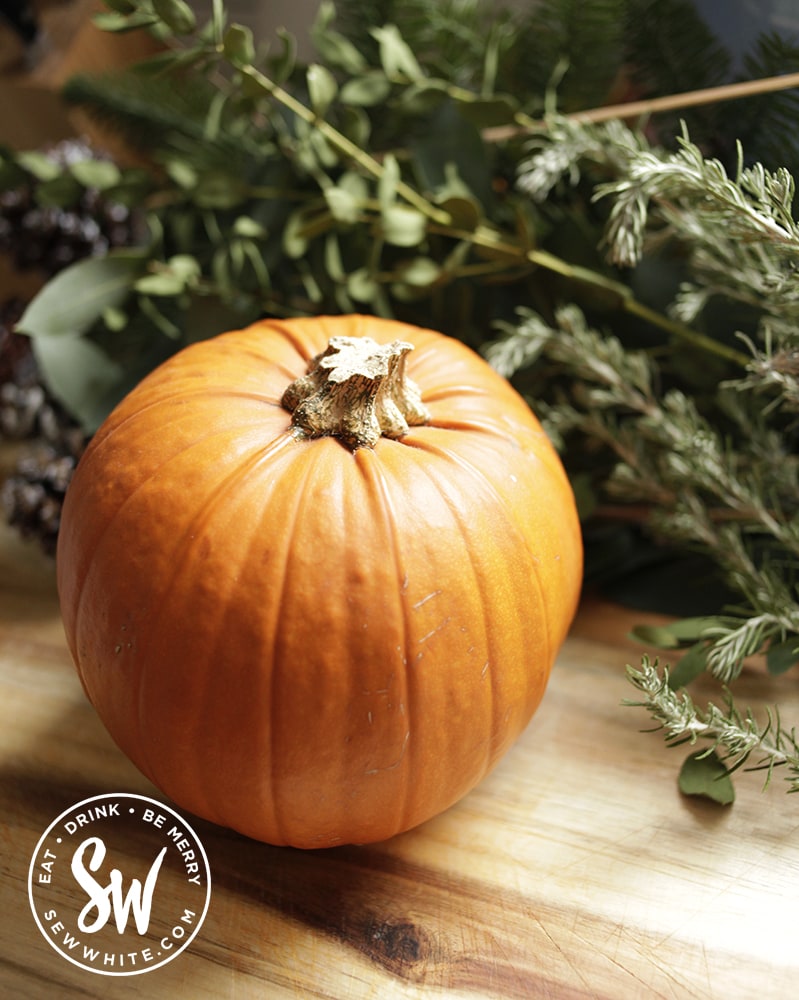 Yay it's pumpkin season and it's time to roast pumpkin.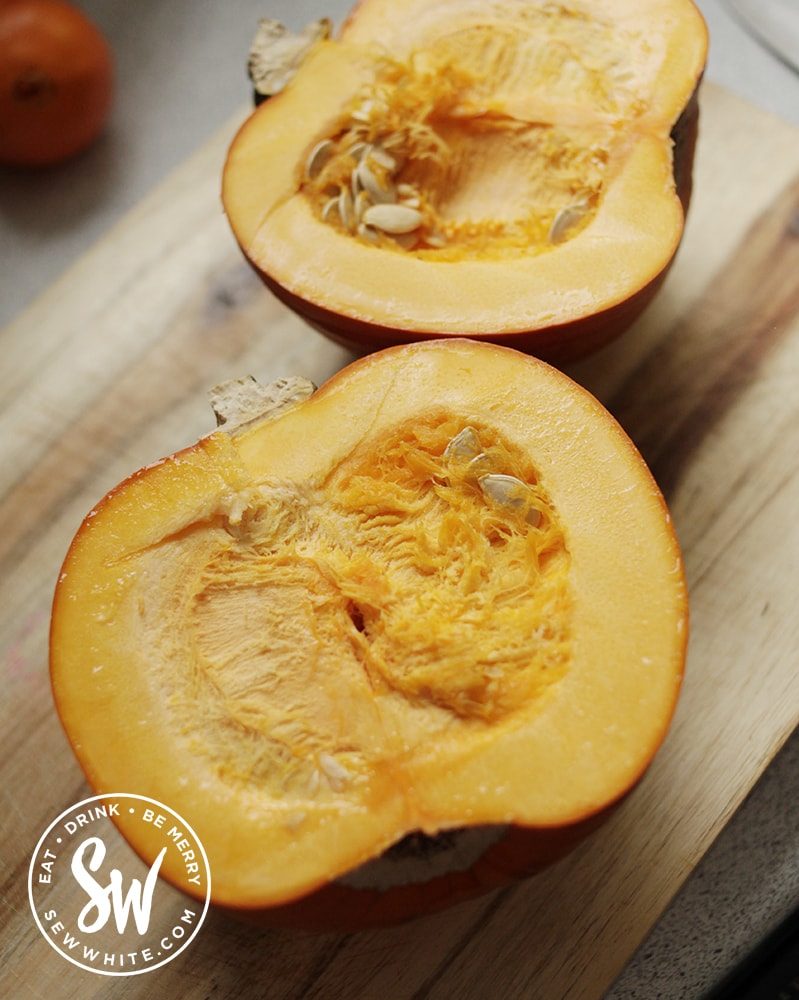 Being very careful slice the pumpkin in half using a sharp knife.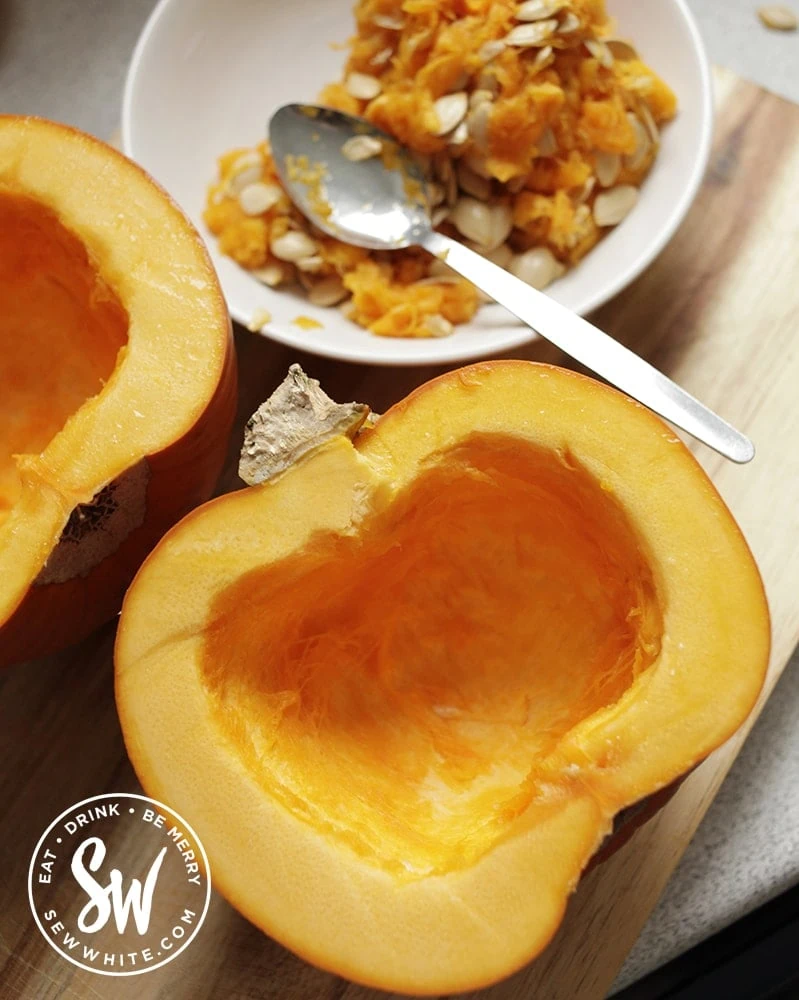 Scoop out the seeds from the centre of the pumpkin. You can save the pumpkin seeds if you want to toast or roast them.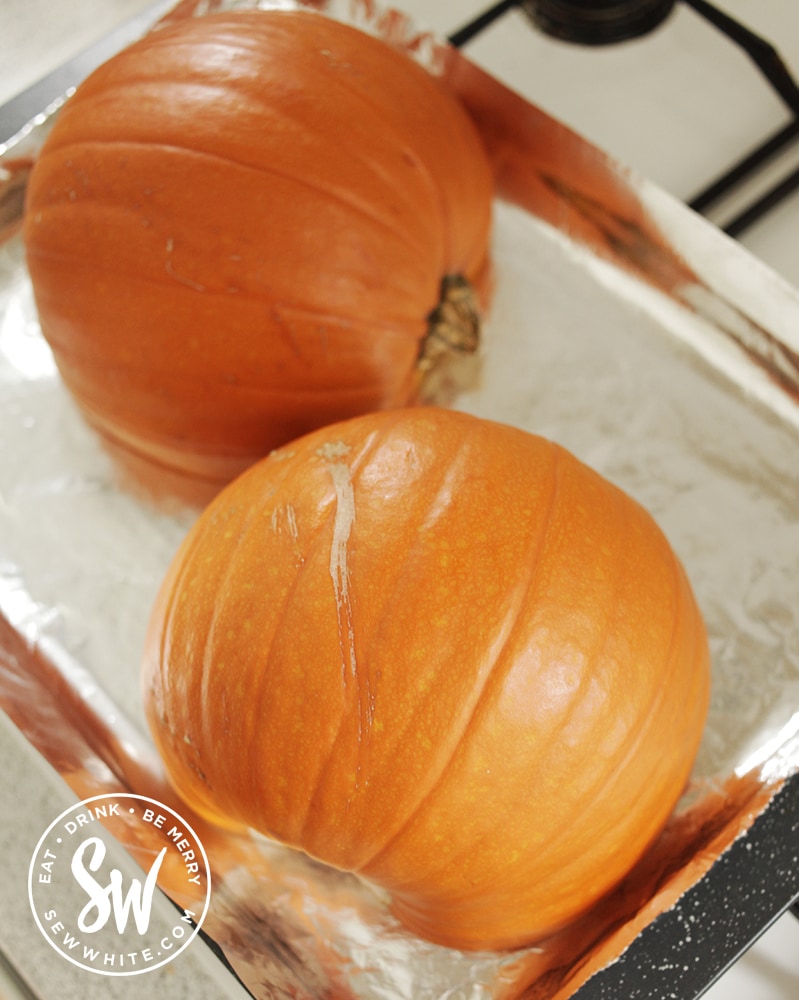 Line a baking tray or sheet pan with aluminium foil. Place the pumpkin cut side down.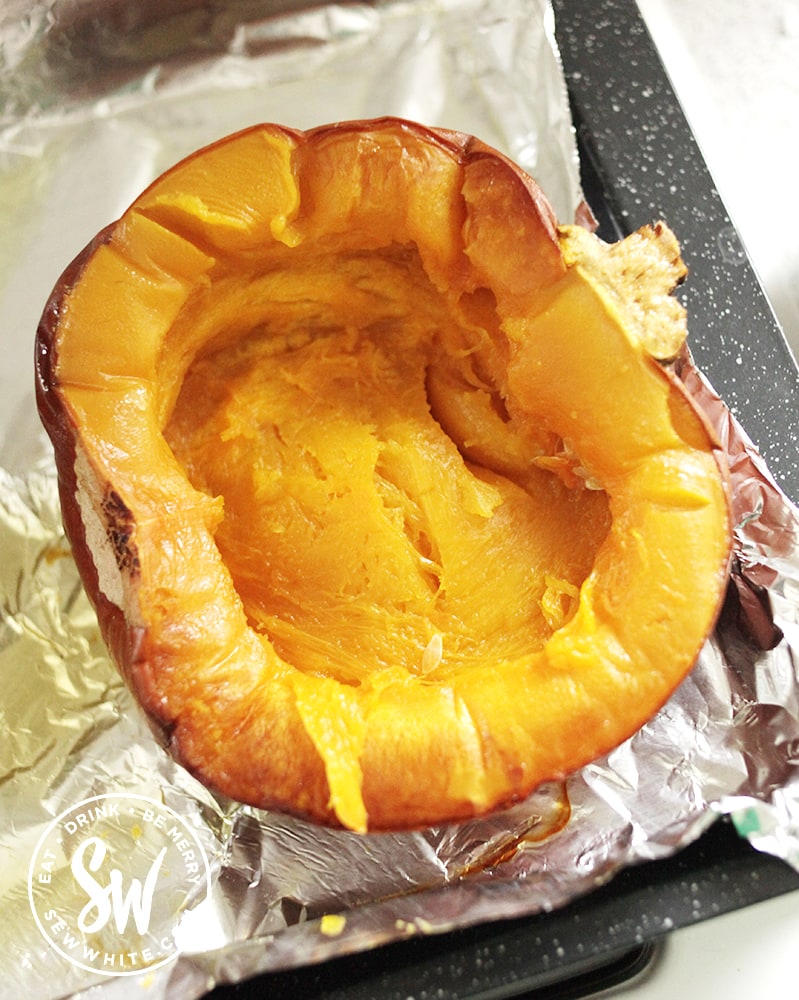 Bake in the oven for about an hour until the flesh is soft. Leave to cool and then turn over to slice or scrape out the flesh.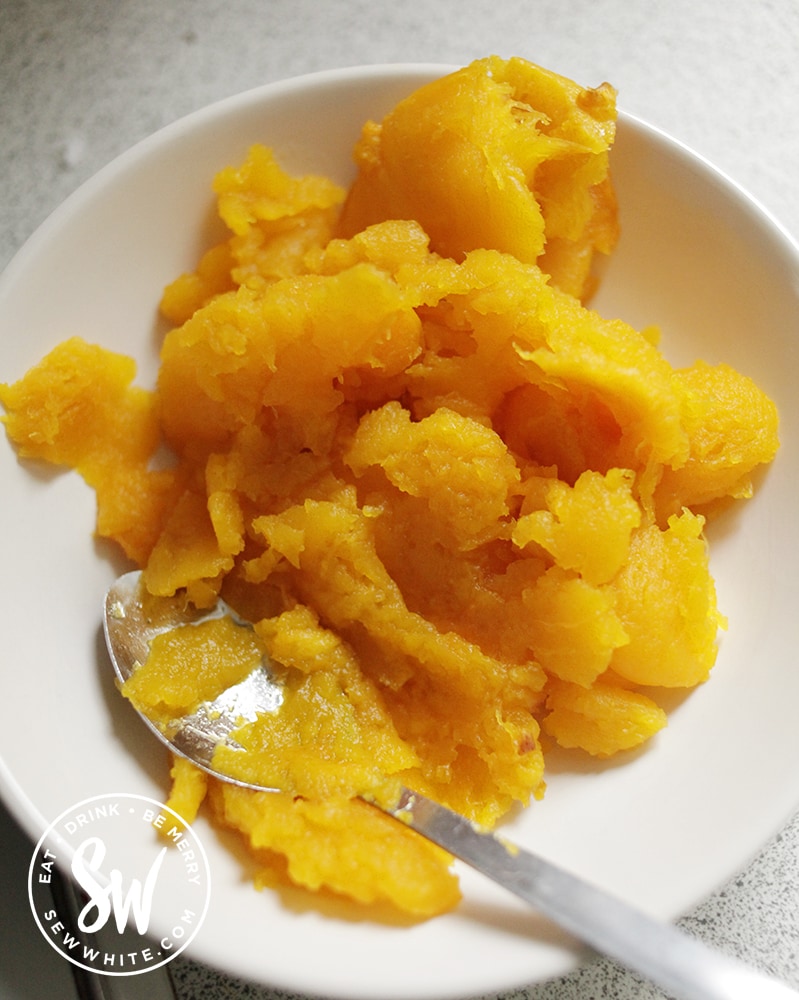 If you want to make puree, scrape the flesh out of the pumpkin (photo above). If you want to keep it in chunks, slice gently and allow to cool.
Notes on roasting pumpkin
You can freeze the pumpkin once it is cooked. Pop it in a freezer-proof container or freezer bag. This works best for puree as it stays soft.
Be careful when cutting the pumpkin as they are tricky to cut before baking a pumpkin.
Allow to cool fully before scraping out the pumpkin flesh.
For a small pumpkin, I would recommend roasting the pumpkin for 45 minutes.
Can I freeze cooked pumpkin?
Yes you can freeze cooked pumpkin or baked pumpkin. It's a lovely way to use leftover pumpkin and get ahead and cook it before you need it.
Pop the cooked pumpkin into a freezer safe bag or container.
Is pumpkin puree the same as pure pumpkin?
Yes pumpkin puree is pure pumpkin. Especially if you make it at home. You know it will be 100% pumpkin with no added extras.
Of course you can add flavours to your pumpkin puree. Cinnamon and pumpkin pie spice of course are brilliant things you can add.
How to cook pumpkin with cinnamon
Pumpkin and cinnamon are a famous combination. Pumpkin pie spice uses a lot of cinnamon and it really does produce a lovely taste with the earth flavour of the pumpkin. When you cook pumpkin I would recommend you add cinnamon once the pumpkin is cooked.
Cook the pumpkin using my recipe below. Once it's cooked you can cube or mash the pumpkin to a puree. It's at this point you can toss the pumpkin in a mix of cinnamon and other pumpkin pie spices or mix it in as you puree it. Cinnamon is a great spice and definitely one I would recommend using.
If you like pumpkin you might like these pumpkin recipes
Having created lots of cooked pumpkin I have divided it up in to 200g portions and put some in the fridge and some in the frrezer to use later. With what was left I have turned in to these brilliant recipes after popping the cooked pumpkin into the blender to make puree.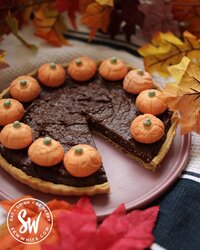 If you love pumpkin pie then this easy chocolate pumpkin tart takes it to the next level. A simple chocolate tart recipe with only 5 ingredients, this recipe is a perfect Halloween dessert. A chocolate pumpkin pie is the best way to use your pumpkin puree for a delicious fall dessert.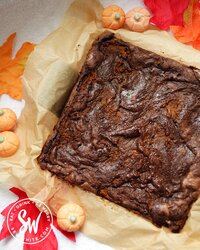 These pumpkin brownies are absolutely delicious and so easy to make. The mix of fudgy chocolate brownie and pumpkin is a match made in heaven. These pumpkin pie brownies are a perfect Halloween dessert and a great way to use up your leftover pumpkin from pumpkin carving.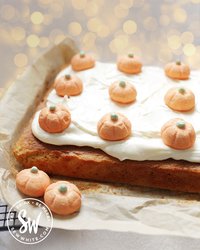 In this pumpkin traybake (pumpkin sheet cake) I create a beautiful light pumpkin sponge cake which is a perfect base for a yummy Halloween cake. The soft pumpkin puree with spices, within the soft sponge cake, adds a lovely moist texture and flavour to this perfect Autumn / fall cake.
Pin me for later or follow me @sewwhiteblog on Pinterest for my latest recipes and to discover of my others.
Other Halloween Recipes you might like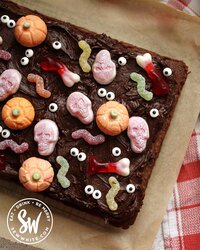 If you are looking for an Easy Halloween Chocolate Cake then you need this easy Halloween sheet cake recipe. An easy way to use up leftover Halloween candy and create a beautiful piece perfect for a Halloween party. The Easy Halloween Cake is a simple chocolate sponge traybake decorated with a rich chocolate cream cheese buttercream. For the easy Halloween cake decoration I used my favourite Halloween sweets.
Are you looking for a delicious way to use up your Halloween candy? Then check out this delicious No Bake Halloween Cheesecake. This can be made ahead of your Halloween party and topped with your delicious Trick or Treat candy. A fantastic centre piece and show stopper for a Party food too! The best of Easy Halloween Desserts!
Halloween can be healthy! These Healthy Halloween Snacks are the cutest thing to make and will get the kids creative too.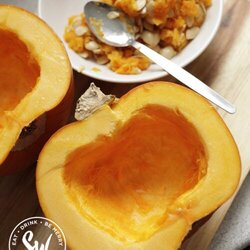 How to cook pumpkin – how to roast pumpkin
Pumpkin is so easy to cook at home. Pumpkin is a wonderful vegetable and apart from using it for Halloween, it's a great ingredient to use for meals and sweet dishes too. In this post I will go through how to cook pumpkin and how to perfectly roast pumpkin.
Equipment
baking tray / sheet pan

aluminium foil

chopping board

spoon

knife
Ingredients
1

pumpkin

medium to large size
Instructions
Preheat the oven to 180ºC / 356ºF / Gas mark 4.

Cut the pumpkin in half. Be careful as it can be a tricky job.

Scoop out the seeds and strands in the middle of the pumpkin. (You can keep the seeds if you want to roast/toast them)

Add a layer of aluminium foil to the baking sheet / baking tray. Place the pumpkin halves inside side down.

Pop the pumpkin halves in the oven for 1 hour until soft. If you want to make pumpkin puree cook for a few minutes longer. Check regularly from 45 minutes.

Allow to cool before scraping out the inside of the pumpkin. The skin may separate from the flesh but that is absolutely fine.
Notes
•1 hour is usually perfect for a medium pumpkin. A large or extra-large might need a little more time.
•Store in a covered bowl or container in the fridge for 5 days.
•Perfect to use for cakes, muffins, traybakes, pies and of course savoury dishes too.
•Freezes well for up to 6 months.
Nutrition
Calories:
354
kcal
Carbohydrates:
88
g
Protein:
14
g
Fat:
1
g
Saturated Fat:
1
g
Polyunsaturated Fat:
1
g
Monounsaturated Fat:
1
g
Sodium:
14
mg
Potassium:
4624
mg
Fiber:
7
g
Sugar:
38
g
Vitamin A:
115777
IU
Vitamin C:
122
mg
Calcium:
286
mg
Iron:
11
mg
Please note that the nutrition information provided above is approximate and meant as a guideline only.