Day of the Dead biscuits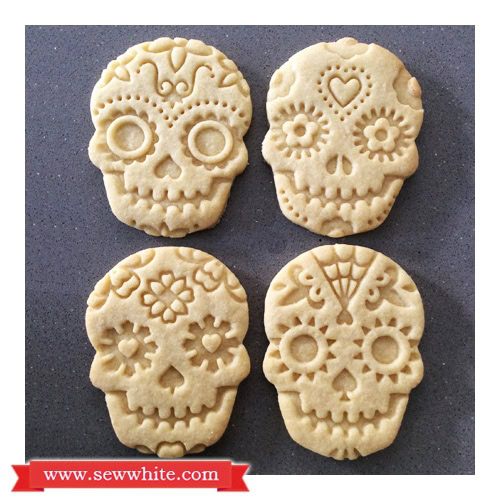 Day of the Dead biscuits are so fun to make and look spectacular. My easy Day of the Dead biscuits are made with my basic vanilla biscuit recipe.
Any excuse to try and play with cookie cutters and stamps and I am there! I bought the fabulous Fred Sweet Spirits set and I love the biscuits they produce. Next time I want to try them with sugar paste on a cake. I think they would look lovely.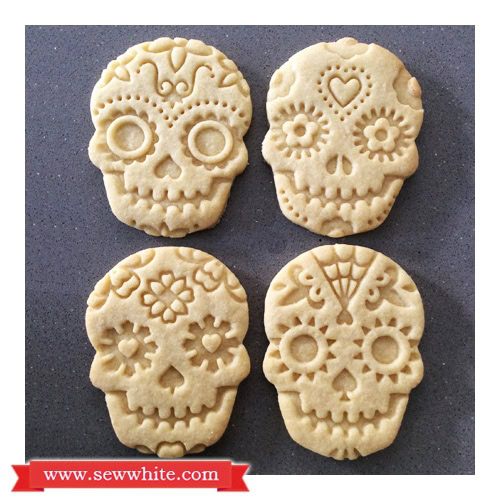 Lots of happy skulls on the tray ready for the oven.
The finished cookies ready to enjoy with a cup of tea. You can see they are rather pale but they taste brilliant. This recipe is also brilliant for making biscuits to ice.
I love the look of the stamp in the dough.
I used the decorate stamp on the dough first and then use the cutter side to make the shape.
Basic Vanilla Biscuits
This recipe is the simple vanilla biscuit recipe I use for all my biscuits. It also works really well with embossed rolling pins.
Ingredients
200

g

unsalted butter

200

g

caster sugar

1

medium egg

1

teaspoon

of vanilla extract

400

g

plain flour / all purpose flour
Instructions
Cream the butter and sugar together.

Mix in the egg, vanilla and ginger.

Sieve in the flour and combine into a a dough. Once the dough has pulled together wrap it in cling film and pop it in for 30 minutes.

Roll out the dough to just shy of a 1cm thickness.

Cut out the shapes you want and pop the pieces on a greaseproof paper lined baking tray.

Pop the dough back into the fridge for 30 minutes.

Preheat the oven to 180 degrees/160 degrees fan oven.

Pop the biscuits in the oven for 8-10 minutes until the dough is firm to the touch and just starting to go light brown.

You don't want them going golden brown or they will dry too hard. You can see how pale the finished biscuits are above.

Leave to cool on a cooling rack and once cold store in an air tight container.
Nutrition
Please note that the nutrition information provided above is approximate and meant as a guideline only.
Follow me on Instagram to see what I've been making recently. www.instagram.com/sewwhite
Bourbon Biscuits
Bourbon Biscuits are a classic biscuit and taste incredible. They are so delicious and always remind me of childhood. I loved getting to create them at home
Check out this recipe
Lavender and Lady Grey Biscuits
Lavender and Lady Grey Biscuits are gorgeously delicate and perfect for afternoon tea. They also smell incredible as they bake.
Check out this recipe
Gingerbread Recipe
I love gingerbread so much and I have tried so many recipes. My Christmas Gingerbread Recipe is a fine tuning of a mix of them. I hope you enjoy.
Check out this recipe
Best Embossed Rolling Pin Biscuit Recipe
This is the best Embossed Rolling Pin Biscuit Recipe. This easy to follow recipe produces a dough which holds the pattern while cooking and tastes good too.
Check out this recipe