Lavender and Lady Grey Biscuits are gorgeously delicate and perfect for afternoon tea. They also smell incredible as they bake.
The Comic Relief Bake Off was fantastic and I know a lot of people were inspired to bake with edible lavender after watching it. Edible lavender is easy to get hold of – I got mine from amazon.
I've also found that the variety of lavender which is edible is called Lavandula Angustifolia. You can buy seeds for this variety in homebase and B&Q and grow your own. This is my plan. Fresh edible lavender would lovely to have growing. Plus for a pack of seeds about £1 what could be better. Buying dried lavender online was a tad more expensive than I thought but you use so little it will last. The little amount has a big punch flavour wise.
Lavender and Lady Grey Biscuits
Lavender and Lady Grey Biscuits are gorgeously delicate and perfect for afternoon tea. They also smell incredible as they bake.
Ingredients
200

unsalted butter

100

caster sugar

250

plain flour / all-purpose flour

plus extra for dusting

40

ground rice flour

I bought it in holland and barrett for £2 for a 500g bag

tiny

pinch

salt

2

tsp

dried lavender

make sure it is an edible variety

2

Lady Grey teabags

A few drops of tepid water
Instructions
Cream together the butter and sugar until really creamy. I found by hand was better.

Sift the flour, ground rice flour and salt into a separate bowl and cut open the Lady Grey teabags and pour the leaves into the flour.

Ground the lavender in a pestle and mortar and the mix into the flour mixture.

Add the flour mix into the butter and sugar with fingers until the dough just comes together. I needed a few drops of water to help it stick the last bits of flour with to the dough.

Shape the dough into a ball and cover with clingfilm. Set aside in the fridge for 15 minutes.

When the dough is chilled, remove the clingfilm and and roll out onto a floured surface to a thickness of approximately ¾cm/¼in. Cut out the biscuits using a cutter. The heart cutter worked beautifully. I made mine a little thin but they still worked perfectly.

Place the biscuits onto a baking tray and place in the fridge for 30 minutes.

Preheat the oven to 180 degrees. Bake the biscuits in the oven for 10-15 minutes or until a very pale gold colour.

15 minutes my biscuits were a bit over cooked at golden brown. Transfer to a cooling rack to cool completely.

Dipped in tea was still warm was amazing!
Nutrition
Calories:
96
kcal
Carbohydrates:
11
g
Protein:
1
g
Fat:
6
g
Saturated Fat:
3
g
Trans Fat:
1
g
Cholesterol:
14
mg
Sodium:
1
mg
Potassium:
12
mg
Fiber:
1
g
Sugar:
3
g
Vitamin A:
167
IU
Calcium:
3
mg
Iron:
1
mg
Please note that the nutrition information provided above is approximate and meant as a guideline only.
The lavender didn't smell very strong when being ground and in the dough but as soon as it went in the oven the lavender smell came out so strongly. 2tsps of lavender and the whole house smelled gorgeous. The resulting taste is strong and delicious. My absolute favourite thing I've baked so far this year.
Here is the lovely dough before it went in the fridge. There were a few specs of lavender I hadn't ground completely.
This is the gorgeous dough rolled out and being cut with the heart cutter.
I love this photograph
On the baking tray and ready to go in the fridge before baking
As you can see this recipe produced a lot of biscuits!
They tasted and smelled wonderful.
Follow me on Instagram to see what I've been making recently. www.instagram.com/sewwhite
If you liked my Lavender and Lady Grey Biscuits you might enjoy these too.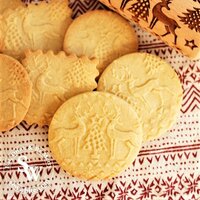 This easy to follow and lightly spiced Embossed Cookie recipe produces a dough which holds the pattern of an embossed rolling pin whilst tasting great! I've got all the tips and tricks you'll need to make perfect rolling pin cookies plus a troubleshooting guide so you'll be able to make the most out of your patterned rolling pin. These spiced sugar cookies are simply perfect and you can use the same recipe to make simple cookie cutter biscuits too.
Gingerbread Biscuits