Christmas Pudding Cakes are a lovely thing to make during the festive period and are fun no matter what your age. Especially when it's chocolate cake!
The size of them is also good as they are roughly cupcake size, so plenty big enough for one per person.
A lot of my friends aren't fans of proper Christmas pudding so these Christmas Pudding Cakes are a great alternative.
I made them from a really simple chocolate Victoria sponge. Quick and easy cakes to make and ones that will look gorgeous. They don't take long to decorate which is fantastic. I think I did all of them within 40 minutes. Even with little helpers I don't think it would take more than an hour.
Christmas Pudding Cakes
Christmas Pudding Cakes are a lovely thing to make during the festive period and are fun no matter what your age. Especially when it's chocolate cake!
Ingredients
120

g

unsalted butter

125

g

caster sugar

2

medium

eggs

120

g

self-raising flour

0.5

teaspoon

baking powder

10

g

cocoa powder

a few drops of milk if the mixture is too stiff

white sugarpaste

green sugarpaste

red sugarpaste
Instructions
Preheat the oven to 160ºC fan.

Grease a half sphere cake mould.

Cream together the butter and sugar.

Sieve in the flour, baking powder with the cocoa powder in to the mixture and mix well.

If the mixture is too thick add a splash of milk.
Nutrition
Please note that the nutrition information provided above is approximate and meant as a guideline only.
I greased the mould lightly to make sure they didn't stick.
I filled each half with a good heaped tablespoon of the mixture.
The halves looked great when they were baked.
Once cooled I used the largest size of the new flower plunger cutters to make the white icing part of the Christmas pudding. I used white off the shelf sugar paste from Sainsburys.
To secure the puddings to the little silver boards I had I used a little butter cream.
I also used the buttercream on top to secure the white sugar paste.
I was worried at this stage that they wouldn't work but I kept going and they looked amazing!
The next stage was to cut out the little pieces of holy out with the plunger cutters. I used the largest of the cutters. The holly leaf cutters are still available but we are running low on them.
Once all the holly leaves had been cut out I used a tiny blob of the buttercream to secure them on to the cake.
They look so cute!
The final thing to do was to roll tiny little pieces of red sugar paste to be the berries on the top. Tada! My little Christmas puddings.
I think these are the best thing I've baked and decorated all year!
Yum Yum. Merry Christmas.
Other Christmas recipes you might enjoy
Enjoy a slice of the Black Forest Christmas Bundt Cake this festive period. It's made with delicious cherry yoghurt and chocolate chips.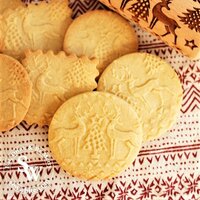 This easy to follow and lightly spiced Embossed Cookie recipe produces a dough which holds the pattern of an embossed rolling pin whilst tasting great! I've got all the tips and tricks you'll need to make perfect rolling pin cookies plus a troubleshooting guide so you'll be able to make the most out of your patterned rolling pin. These spiced sugar cookies are simply perfect and you can use the same recipe to make simple cookie cutter biscuits too.
My delicious no-bake Cranberry Cheesecake is a beautifully fruity and creamy dessert, packed with iconic Christmas flavours of cranberry and orange. A Christmas cranberry cheesecake is a wonderful alternative (or addition) dessert to a Christmas fruit cake, while still having all the flavours of the festive season. This easy no-bake Christmas cheesecake can be made ahead of time to save time when preparing for a festive dinner, to bring to a family meal, or for a Christmas party dessert.
To make this an 8inch cheesecake then add half again to the ingredients.
Follow me on instagram to see what I've been making recently. www.instagram.com/sewwhite