Find everything you need to know with my Christmas post on How to make Gingerbread Decorations. Perfect as gifts and for hanging up in the tree.
For the forth day of our advent calendar I thought a baking/decoration project would be fun.
This has to be one of my favourite tutorials I have done since I started making videos. It is really easy to make and they look fantastic hanging up – especially when you can just pull one off the tree and dunk it in your tea.
All you need to make this is a batch of gingerbread, round cutters, a straw, white sugar paste and snowflakes cutters.
These are so easy to make and are great fun to gift. By cutting out shapes and cooking them you can leave them to the mini bakers in the house or decorate them yourself. A beautiful white snowflake look super stylish and it's lovely when you give them away and you see them hanging on your friends and family's tree. They don't last long as someone usually fancies dunking them!
How to make Gingerbread Decorations
How to make Gingerbread Decorations
Find everything you need to know with my Christmas post on How to make Gingerbread Decorations. Perfect as gifts and for hanging up in the tree.
Ingredients
60

g

unsalted butter

50

g

dark muscovado sugar

3

tbsp

golden syrup

160

g

plain flour / all purpose flour

½

tsp

bicarbonate of soda

½

tsp

cinnamon

½

tsp

mixed spice

1.5

tsp

of ground ginger

sugar paste for the decorations
Instructions
Preheat the oven to 180°C,

Prepare a baking tray with greaseproof paper or use a non stick tray.

Sieve the flour, bicarbonate of soda and ginger & spices into a bowl and stir the melted ingredients into the dry ingredients to make a stiff dough.

Melt the butter, sugar and syrup in a medium saucepan, stirring so all the ingredients have combined.

Remove from the heat and pour into the dried ingredients.

If the dough is really crumby add a few drops of water to hold the mixture together.

Roll out the dough – make sure your have floured the work top as it can stick.

Cut out the shapes you want to hang in this case the circles and place them on a tray. When they are on a tray use a straw to cut the circles (to hold the ribbon to hang the gingerbread up witthrough the gingerbread.

Bake for 8-10 minutes until light golden brown.

Once cool it's time to decorate them.

To decorate I simply rolled out the sugar paste and cut snowflakes out and used vodka (you can use edible glue too of coursto fix the snowflakes to the gingerbread. It worked very well and they were really stuck on within about 20 mins (the time it took to clean up and ready to hang up.
Nutrition
Please note that the nutrition information provided above is approximate and meant as a guideline only.
If you don't have edible glue you can use apricot jam. Just melt a little down in the microwave. Be careful it will be very very hot. Use a pastry brush to lightly paint it on to the biscuit and add the sugar paste when it's still sticky.
Here is the video on how I made and decorated them.
Happy Baking and Merry Christmas
Check out my other Christmas recipes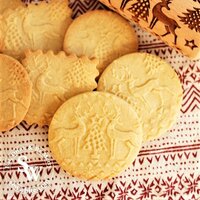 This easy to follow and lightly spiced Embossed Cookie recipe produces a dough which holds the pattern of an embossed rolling pin whilst tasting great! I've got all the tips and tricks you'll need to make perfect rolling pin cookies plus a troubleshooting guide so you'll be able to make the most out of your patterned rolling pin. These spiced sugar cookies are simply perfect and you can use the same recipe to make simple cookie cutter biscuits too.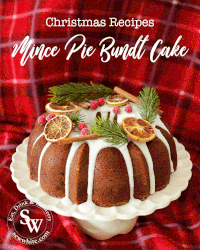 It's beginning to taste a lot like Christmas with my Mince Pie Christmas Bundt Cake. Filled with mince pie filling and spices it's great Christmas bake.
These Filo Pastry Mince Pie Rolls are a delicious twist on the classic British festive treat. Extra crispy and spiked with cranberry sauce, they're easy to make, easy to bake and easy to eat. What more could you ask for?! They're ideal as a simple festive snack, a fun addition to a buffet or party spread or even as a cheeky appetiser. Or warm them through and serve with brandy butter for the ultimate Christmas dessert.
Follow me on instagram to see what I've been making recently. www.instagram.com/sewwhite