Enjoy a slice of my Secret Design Chess Cake. Recipe and full instructions on how to make this gorgeous cake all in one place with a video too.
Since the first episode of the Great British Bake Off  where they had to make secret design cakes I decided it was time to show my own secret pattern cake. I used to make this cake when I was little and I haven't made it in over 10 years. It was so much fun getting to make it again and I will be making it a lot more to make up for the time I've missed. I think what is also great about this cake is the flavour combination. Chocolate and vanilla cake in one can only be a good thing.
You can watch the brand new video I made about making this cake below
The cut open secret design chess cake
Here is how it looked when it was cut open – a gorgeous and tasty chess board. The colours were strong and the result was beautiful and tasty. I've made this for so many birthdays and events and it's always a great surprise cake.
I fancy having a go at making little fondant chess pieces to go with it. Although I think that is definitely above my level right now.
So this is the top of the cake topped with chocolate icing and white stars. I love these white chocolate stars from a supermarket they look so good on chocolate icing. While I made this I ran out of icing so it's not as smooth as I would have wanted but it looks cute. I think if I made this again I would love to cover it with icing so it's even more structured and smooth.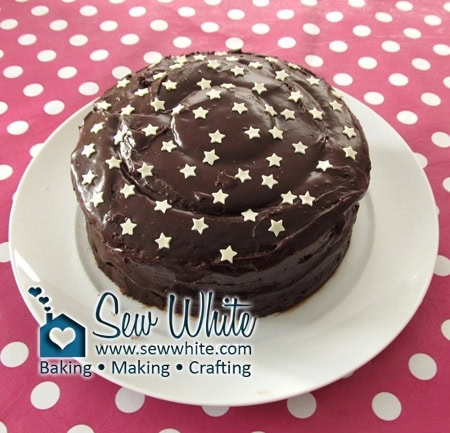 This recipe is based on a Mary Berry recipe and adapted to make this recipe work for the size and what was needed for each colur.
Secret Design Chess Cake Recipe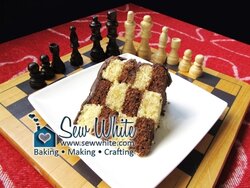 Secret Design Chess Cake
Enjoy a slice of my Secret Design Chess Cake. Recipe and full instructions on how to make this gorgeous cake all in one place with a video too.
Ingredients
The Cake
225

g

unsalted butter

softened

225

g

caster sugar

275

g

self-raising flour

2

tsp

baking powder

4

medium eggs

2.5

tbsp

milk

1

tsp

vanilla extract
Chocolate Mix
2.5

tbsp

cocoa powder

2

tbsp

hot water
For the icing (or use the ganache recipe below)
50

g

unsalted butter

30

g

cocoa powder

sifted

4

tbsp

milk

200

g

icing sugar / confectioners sugar

sifted
Or Chocolate Ganache
300

ml

double cream / heavy cream

300

g

milk chocolate

2

teaspoons

unsalted butter
Instructions
Preheat the oven to 160°C/325°F/gas mark Lightly grease two 7inch shallow cake tin. Line the bottom with a circle of non-stick baking parchment.

Measure the butter, sugar, flour, baking powder, eggs, milk and vanilla extract into a large bowl and beat with a hand-held electric mixer for about two minutes, until well blended. Spoon half into another bowl and set aside.

In a small bowl, mix the cocoa powder and hot water together until smooth. Allow to cool slightly, then add to one of the bowls of cake mixture, mixing well until evenly blended.

Spoon the chocolate mixture evenly into the two pans, if you have four tins the same size you can do the vanilla at the same time or wait until the chocolate has baked and wash the tins and repeat. Bake for 15-20 minutes, until the cake is well risen, springy to the touch and starting to shrink away from the sides of the tin. Allow to cool in the tin for a few minutes, then turn out on to a wire rack, peel off the lining paper and leave to cool completely.

To make the icing, melt the butter in a small pan, add the cocoa powder, stir to blend and cook gently for one minute. Stir in the milk and icing sugar, then remove from the heat and mix thoroughly. If necessary, leave the icing on one side, stirring occasionally, to thicken. Spread the cold cake evenly with the icing.

To make the chess board using 2 round cutters one medium and one small. Cut the same large circle into all the pieces and then cut the smaller circles.

When you have all the pieces – 3 per cake so 12 all together – interchange the pieces so the outer ring would be white and then the middle would be chocolate and the middle white again and vice versa with the chocolate large outside ring. Pile up the layers so they are in contrast with each other.If you want you can put a thin layer of icing between each layer to level the cake and stick the layers together but it isn't too important. As long as the outside is iced the layers wouldn't move too much.
Video
Nutrition
Please note that the nutrition information provided above is approximate and meant as a guideline only.
Before you ice the cake it should look like this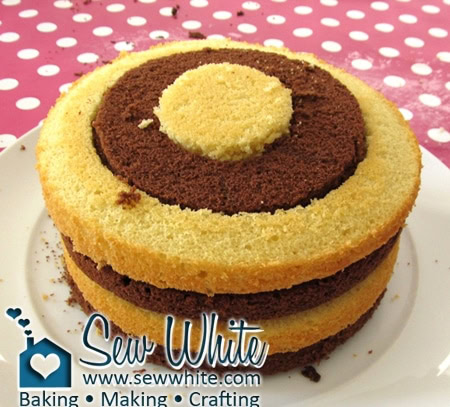 Happy Baking. I hope you like this secret design chess cake.
Follow me on instagram to see what I've been making recently. www.instagram.com/sewwhite