My Really Easy Owl Cake is so easy to make and so super cute too! A great cake to make no matter what your age. Video included too.
I made a video on how to do a really easy owl cake a few weeks ago and I thought I would do a blog post to match!
Really easy owl cake recipe at the bottom of the post 
A lot of people have asked for help making an owl cake like the one I made for my birthday which you can read about here-
https://www.sewwhite.com/baking/owl-birthday-cake-part-1/
Since it wasn't really a time friendly cake I decided to have a go making a really quick and easy one. This is great for children to help make and is good to make for children's birthday parties.
This is twit-whoo I made. Pardon my pun. Sadly I didn't give a name before he was eaten by friends and given away to neighbours.
A really simple cut out and decorate cake – I've made this cake again and I've used the orange buttons for the belly again but used normal chocolate buttons for the rest of the body. It looked cute 🙂
Okay so here is where I started – I made this template which you are welcome to use – if you click on it, it will open it up large. I used this template for this owl and the birthday owl. All I did differently was to make the belly on this owl a big wider.
I started making off a square chocolate sponge and placed the template on top and cut it out. Then covered it with chocolate ganache.
This is all I needed to decorate the cake – orange buttons for the belly and bashed up chocolate chips for the rest of the body plus 2 sugar paste eyes and a little triangle for the beak. I took a rolling pin to the chocolate chips as I didn't want them to be so shiny. Chocolate buttons also work really well for the feathers.
How to make the Really Easy Owl Cake
Here is my little video on making this cute cake
Really Easy Owl Cake Recipe
The Really Easy Owl Cake is a cute and lovely cake for birthday parties and events.
Ingredients
The Cake
200

g

caster sugar

200

g

unsalted butter

140

g

self-raising flour

0.5

teaspoon

baking powder

60

g

cocoa powder

4

medium

medium eggs
The Ganache/Decorating
200

g

dark chocolate

200

ml

double cream / heavy cream

15

g

unsalted butter

*1 teaspoon of brandy or liquor if you like

sugar paste for the eyes

orange candy melts

chocolate chips or buttons
Instructions
The Cake
Line a cake tin with greaseproof paper

Cream together butter and sugar until light and fluffy.

Add the eggs and a bit of the flour to stop it curdling.

Sieve in the flour and baking powder in (and cocoa powder if you are making a chocolate cake)

Make sure you don't fill the cake tin more than three quarters of the way up. Otherwise when it rises it might over flow. If you some cake mixture left over you can make some cupcakes.

Bake at 180 degrees for 20-25mins or until a skewer/cake tester comes out clean.
Ganache
Melt the chocolate and double cream in a bowl over hot water.

When it's melted and well combined, add the butter (and brandy if you want to use it).

When it's all melted together take off the heat and leave to cool.

Leave to thicken up to the thick consistency you want.

Decorate the owl with the sugar paste eyes, chocolate chips to make up the owl.
Video
Notes
•I used an 8 inch cake tin for this recipe
•If you want a vanilla cake, don't add the cocoa powder and use 200g plain flour then add a few drops of vanilla extract.
Nutrition
Calories:
425
kcal
Carbohydrates:
36
g
Protein:
6
g
Fat:
30
g
Saturated Fat:
18
g
Trans Fat:
1
g
Cholesterol:
116
mg
Sodium:
52
mg
Potassium:
244
mg
Fiber:
4
g
Sugar:
21
g
Vitamin A:
779
IU
Vitamin C:
1
mg
Calcium:
54
mg
Iron:
3
mg
Please note that the nutrition information provided above is approximate and meant as a guideline only.
Happy Baking x
Follow me on instagram to see what I've been making recently. www.instagram.com/sewwhite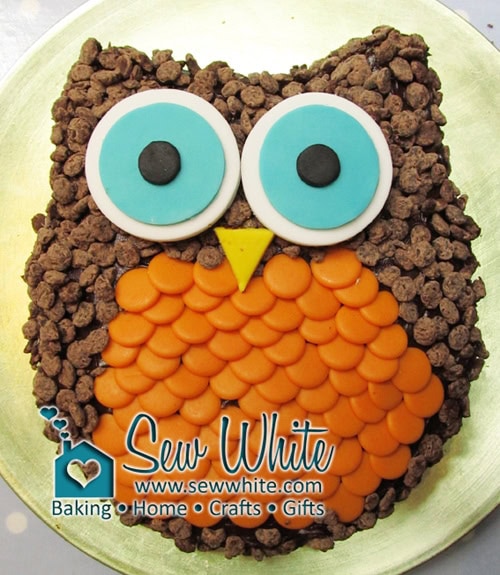 If you love animal character cakes I think you'll love my Unicorn Christmas Cake
Other bakes you might enjoy
Enjoy a slice of my Secret Design Chess Cake. Recipe and full instructions on how to make this gorgeous cake all in one place with a video too.
Enjoy a slice of my incredible Strawberry Prosecco Cake this summer. It's a fruity light strawberry sponge with a strawberry and Prosecco jam to keep it soft and moist. Plus add a lot of flavour. It's the perfect bake for a party or summer event. Strawberries and prosecco are the best mix. Made in a Le Creuset Kugelhopf tin but also a lovely strawberry prosecco bundt cake recipe.
My take on the classic Black Forest Cake combines the flavours of chocolate and cherries in a light sponge bundt cake perfect for afternoon tea.
This easy black forest cake is a delicious dessert, perfect for enjoying in the Winter months as it's full of subtle Christmas flavours.
It's finally Christmas season and that means it's time to enjoy this easy chocolate cranberry cake! It's fruity, sweet and creamy – and ridiculously delicious!