Bourbon Biscuits are a classic biscuit and taste incredible. They are so delicious and always remind me of childhood. I loved getting to create them at home
I've always wanted to try making bourbons but I was always worried about it. I'm not sure why, biscuits I've made have usually worked out. I do love bourbon biscuits, maybe I was scared to mess it up. O how I was wrong. They were so easy to make!
I made these for Easter but of course you can make them in any shape or style. I love the buttercream in the middle. It adds that super softness to the finished biscuit. It goes against the snap of the biscuits. If you don't like chocolate buttercream you can leave out the chocolate and add in a little more icing sugar.
Bourbon Biscuits
Bourbon Biscuits are a classic biscuit and taste incredible. They are so delicious and always remind me of childhood. I loved getting to create them at home
Ingredients
250

g

plain flour / all purpose flour

plus more for dusting the worktop

125

g

unsalted butter

very soft

125

g

caster sugar

3

tablespoons

golden syrup

50

g

cocoa powder

1

teaspoon

bicarb of soda

4

tablespoons

milk
Icing Ingredients
75

g

unsalted butter

125

g

icing sugar / confectioners sugar

30

g

cocoa powder

2

tablespoons

milk
Instructions
You can make this either by hand or pop it all in a mixer.

I started by placing all the dry ingredients in a bowl and mix together.

Then add the butter, golden syrup and add the milk gradually.

Use a wooden spoon to mix together, when the dough starts forming use your hands bring the dough together and add more milk if it's still a bit crumby. The dough should be smooth and easy to work.

Roll the dough out to about 4-5mm and cut into what ever shapes you want. I did Easter egg shapes and bourbon shapes.

When you've cut your shapes put on a baking tray and put them in the fridge for about 30 minutes. This helps the biscuits to keep their shape when they are in the oven and stops them spreading.

Preheat the oven to 180 degrees and bake for 20-25 minutes.

Allow them cool completely before filling with the icing.
The Filling
Cream the butter and sift in the icing sugar and cocoa powder.

Add as little milk as possible as it helps mixing it together but you want to keep it thick.

Leave the filling for about 10 mins to thicken up.

When the biscuit pieces are cold spoon some of the filling on to one biscuit and use another to make a sandwich. And you are done - how easy!

For the Easter Egg bourbons I used about 1 teaspoons of filling.
Nutrition
Please note that the nutrition information provided above is approximate and meant as a guideline only.
Making the Bourbon Biscuits
Here are my Easter eggs biscuits just having been cut out and on the baking tray ready for the fridge.
This one batch of dough made a huge amount of biscuits.
Luckily my best friend was visiting so I didn't have to eat them all myself.
Here are the eggs shape biscuits after the oven. The fridge trick really helped keep the details. When you've cut out the biscuits and popped them on a baking tray. Put the pieces in the fridge for 30 minutes. As they are cold they will not get a chance to spread before cooking.
Here are some of the egg shaped biscuits finished off and ready to have with a cup of tea.
They are quiet chunky little biscuits but really nice and chocolatey.
Homemade happy biscuits.
A great recipe and so easy to make.
Other Biscuits you might like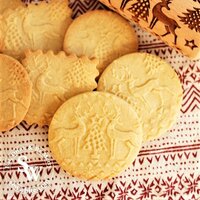 This easy to follow and lightly spiced Embossed Cookie recipe produces a dough which holds the pattern of an embossed rolling pin whilst tasting great! I've got all the tips and tricks you'll need to make perfect rolling pin cookies plus a troubleshooting guide so you'll be able to make the most out of your patterned rolling pin. These spiced sugar cookies are simply perfect and you can use the same recipe to make simple cookie cutter biscuits too.
Gingerbread Biscuits
Lavender and Lady Grey Biscuits are gorgeously delicate and perfect for afternoon tea. They also smell incredible as they bake.
View all my sweet treat recipes.
Follow me on Instagram to see what I've been making recently. www.instagram.com/sewwhite
Easter Recipes
This chocolate Easter cocktail is so delicious and a fabulous mix of chocolate, coffee and cocktail. My easy coffee chocolate martini can be a drink or even served as an Easter pudding! This is served with an Easter twist but leave the chocolate eggs out to enjoy them for the rest of the year. This chocolate cocktail Baileys extravaganza is highlight of the bank holiday weekend.
I love chocolate cake so I created this beautiful chocolate bundt cake. For Easter I turned it into a chocolate nest and filled it with mini eggs.
A wonderful and beautiful show stopping Pinata Easter cake. The Duck egg blue icing is speckled with cocoa powder and when you cut in, you will find there are hidden Easter eggs inside. This Easter Pinata Cake will wow your guests and act as a beautiful centre piece for your Easter lunch. Every Easter table deserves a beautiful speckled egg cake centre piece and this is one for the whole family. Enjoy my Speckled Easter Pinata Cake this Easter. Easy to make and delicious.
Who wants to make an Avocado Easter egg? I love Avocados and the chance to try making an Avocado Easter egg was just something I couldn't pass up.