A Summer Fruit Desserts Round Up featuring a tasty range of yummy recipes to try this summer. A lovely collection of uses for summer berries for #CookBlogShare Week 19.
Thank you Helen at https://family-friends-food.com/ for hosting last week.
In this week's #CookBlogshare round up I have chosen six glorious desserts full to the brim with fresh summer fruits and summer berries. I am loving the new warmer weather. Having sunshine more often and lighter evenings really feel hopeful and joyful.
All of the desserts I have chosen below are ones I want to eating outside in the sunshine and I'm pretty sure you will agree.
This recipe for baked nectarines with hazelnuts is a sweet and delicious dessert topped here with creamy Greek yogurt. The taste of summer in a bowl. Made with only 5 ingredients and ready in less than 30 minutes, baked nectarines with hazelnuts is a quick dessert, ideal for the summer months when we'd all rather be outdoors enjoying the sunshine.
Summer recipes with berries in the Summer Fruit Desserts Round Up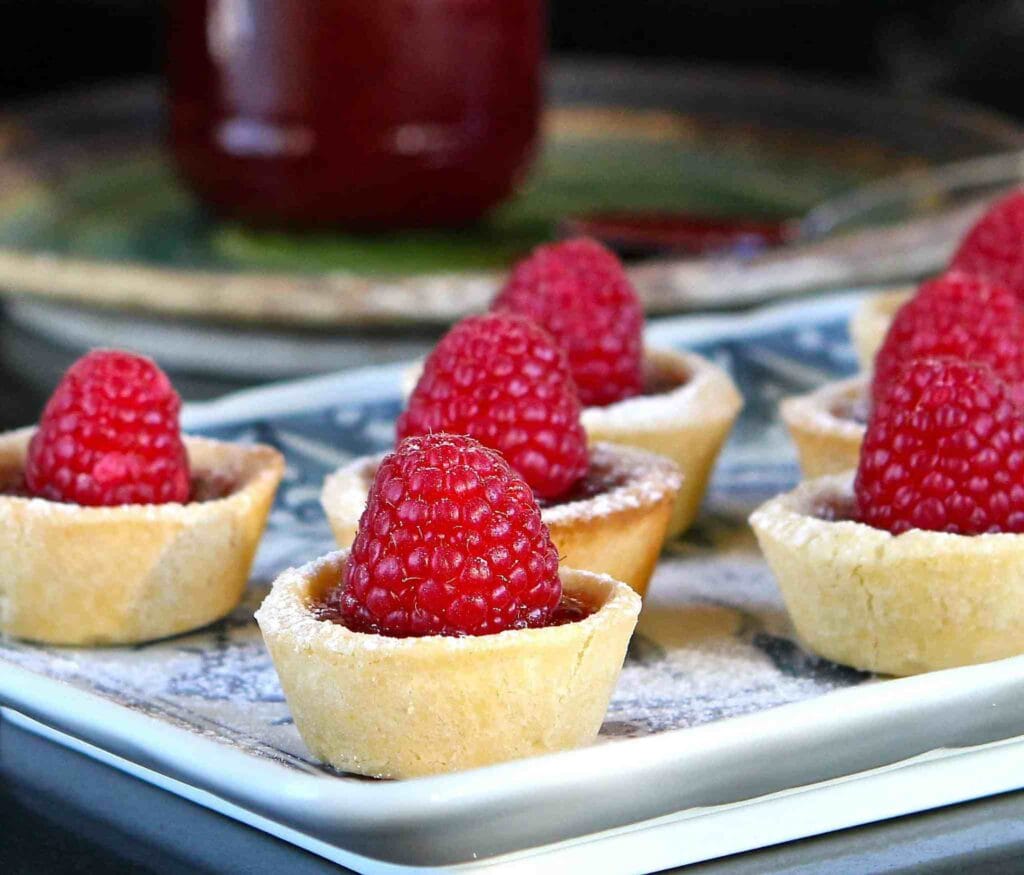 Take Jam Tarts to a new level with enriched gluten-free Pâté Sucrée pastry. It isn't hard to make, but will take your jam tarts to French Patisserie perfection. These are the cutest little tarts and I think it would be so easy to take a few at a party or event.
They are calling out to be enjoyed and would look so wonderful in the sunshine. Maybe with a glass of champagne or something fruity like Pimm's.
Summer Pudding is a delicious traditional British no-bake dessert made with Scottish strawberries, raspberries, and blackcurrants encased in soft white bread. It is easy to make and looks impressive enough for summer celebrations and get-togethers.
This pudding is a joy and a great way to use your fresh fruit to create a really easy no bake pudding. I also love the colour of the bread once the juices have been absorbed into it.
Bring out the strawberries in the Summer Fruit Desserts
This graceful custard pie is crowned with lemon curd and embellished with brilliant early spring sliced strawberries and edible flowers. Beyond being scrumptious, it's undeniably stunning.
This strawberry pie is like sunshine in on a plate. The strawberries are so gorgeous and the combination with lemon is one that everyone will want a slice of this summer.
Summer Strawberry roulade is a delightful summer dessert – Soft gooey meringue, mascarpone cream and strawberries quite literally rolled up into one spectacular dessert and served with macerated strawberries.
The strawberries are glossy and look so inviting, plus the addition of the basil gives this dessert a really earthy and fresh flavour that elevates it a stunning dessert.
I'm sure we've all heard that phrase, and it ends with "make lemonade". If you're going to make lemonade, why not do something a little different? This Lemonade Sweetened with Rhubarb Puree is a tasty and refreshing alternative to a typical lemonade! It's made in a very similar way most of us are used to, but with the addition of rhubarb as a part of the simple syrup.
The last recipe I had to pick was a juicy fruity drink to enjoy with all the other recipes. The mix of rhubarb and lemon is beautiful so as a take on lemonade it sounds so inviting. Who else fancies a sip of this in the summer sun? A gorgeous drink like this totally counts as a dessert!
Other Summer Fruit Desserts you might enjoy from Sew White
Join this week's #CookBlogShare
We will be tweeting and commenting (on all of the links). The recipes will be pinned to the #CookBlogShare group board on Pinterest.
Share on social media
If you are on Twitter we invite you tag @lavenderandlovage and @sewwhite using the #CookBlogShare hashtag for retweets.
Please feel free to add the #CookBlogShare hashtag to their Instagram posts. Or post your recipes on the Cook Blog Share Facebook Page.
Non Bloggers – skip to the bottom of the page and click on the thumbnails that catch your eye to take you to the website where the recipe can be found. Remember they will be added to as the week goes on. Don't forget to pop back and take a look again later.
Bloggers – How do I join #CookBlogShare Week 15?
•You can link up any foodie posts you have. Both old and new posts are welcome as long as they have not been linked to #CookBlogShare before.
Link up a recipe or foodie post by clicking the blue 'add your link' button below and following the instructions. You can link up to 4 posts.
•Add a link from your post back to this post https://www.sewwhite.com/recipe-collections/summer-fruit-desserts/ (so everyone else can find it and link up too!)
•Add the #CookBlogShare badge to your post (Code below – for WordPress copy and paste the code below into the text view of your post or copy and save image).
•Comment on some of the other recipes linked up here (at least 2 for each link you added but the more you can the better) and generally share the love with a bit of social media action!
•Plus comment one of the posts labelled HOST in the linky.
By joining in you are giving the #CookBlogShare hosts permission to use your pictures in a roundup and on social media if your recipe is selected as one of their favourites!
Next week will be hosted by Melissa at https://melissatraub.com/