We welcome back The Park Teddington as they launch their new era of their hotel and pub in Teddington. Here is my write up of what happened at the launch.
After their amazing refurbishment, combining incredible country style with elegant accents, comfortable and cosy areas to eat and drink plus their new look hotel it is now open to the public.
On a cool but clear spring evening I found myself in the beautiful town of Teddington which feels miles away from London life. The town still retains its country charm therefore making it one of the most sought out places to live.
Walking down Park Road I can see the illuminated and incredible elegantly lit 19th Century building with a long queue outside and a few brave customers wrapped outside sipping on a gin and tonic.
When I entered The Park Teddington I met the lovely staff who told me where to go to get a cocktail. The large bar with dark stained wood shelves, high bar top, copper details and warm crimson paint was beautiful. It could have easily been the setting for a Regency town hall dance or the library of a fine house.
The bartenders were so lovely and whipped up a beautiful gin and tonic for me after all it was a party and I love a G&T.
While looking around I saw that the rest of the bar and dining area was designed with the same crimson and dark wood highlights. In addition of a soft seafoam blue walls and black and white tiles around the kitchen are main walkways.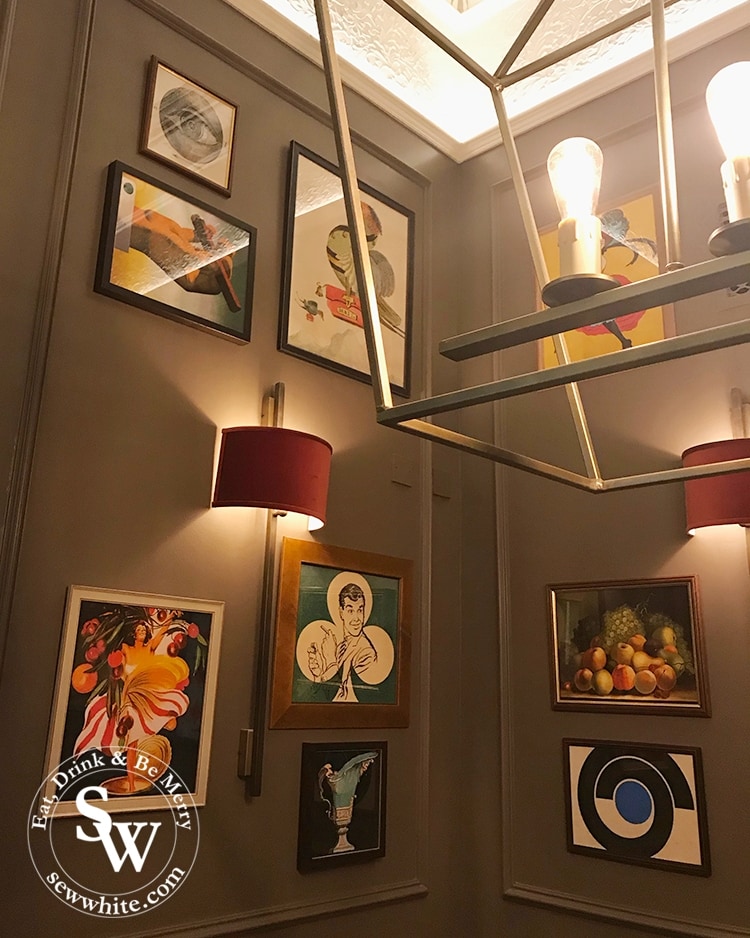 Bespoke Flower Wall
In the main dining room Danielle Sweeney Events had created a stunning and incredible photogenic tropical flower wall. It had pink and green uplighters and the style matched the tropic artwork and tones in the artwork all over the walls.
Everyone got a photo or two with the beautiful backdrop. Danielle made the bespoke flower walls for The Park launch party. She had customised the wall with The Park's logo making sure all photos would tie back to the wonderful launch party.
At the launch party, videographer Being Mr Brown captured the night. He created this beautiful video so take a look and check out his other videos on YouTube. Meanwhile subscribe to his channel.
A highlight of any party in my opinion has to be the cake. Beck's Bakes, local baker extraordinaire, made an incredible stout cake that she had transformed to look like a wooden beer casket. An iconic barrel that Youngs would be proud of.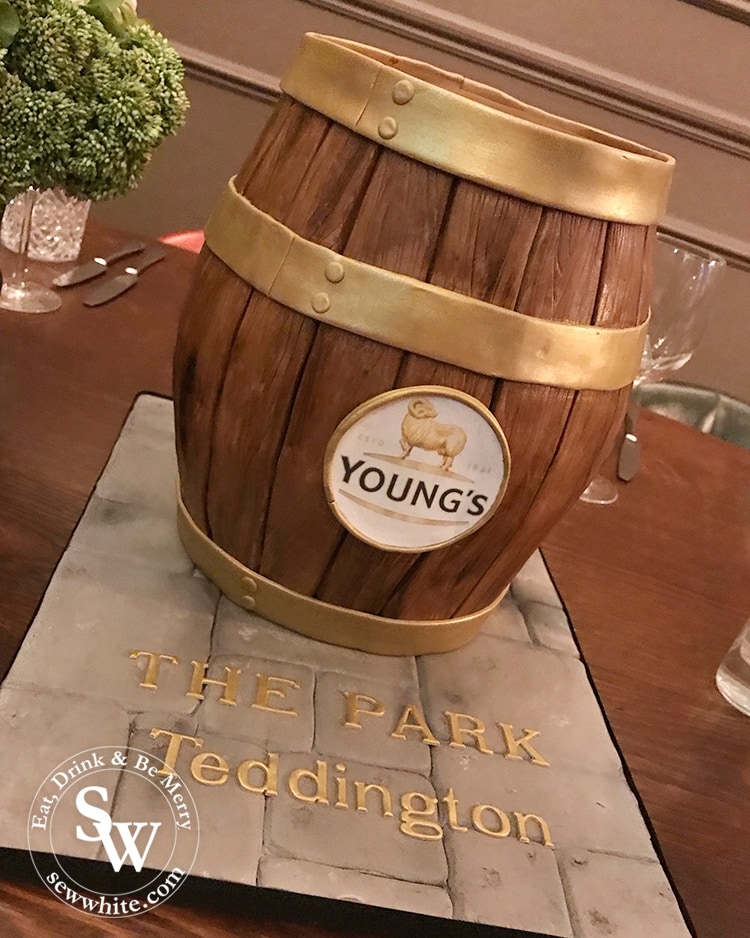 The evening was filled with a great guest list of people. I found it fascinating to get to meet and chat to so many inspiring food fans and local people. We were all there to support the new and improved The Park pub and hotel.
Capturing the night was event photographer Charlie Burgio who caught all our best sides as we posed with friends, our cocktails and of course in front of the tropical flower wall.
Food at The Park Teddington
Talking of food… I love the little nibbles and tasters that were bought around were delicious. A great hint at the dining experience to come.
I got to chat to the chefs about the new menu. They hinted that the dishes they'd recommend to enjoy later was the Gressingham duck, sausage, cannellini bean, crusty bread & mustard butter sharing plate. Or if I'm feeling a little less generous about sharing my food the Cumberland ring, champ mash, Guinness & onion gravy would definitely be what I ordered. How incredible does Guinness gravy sound!
The menu hosts a range of fantastic range of gastro pub classics and makes this a destination pub for foodies.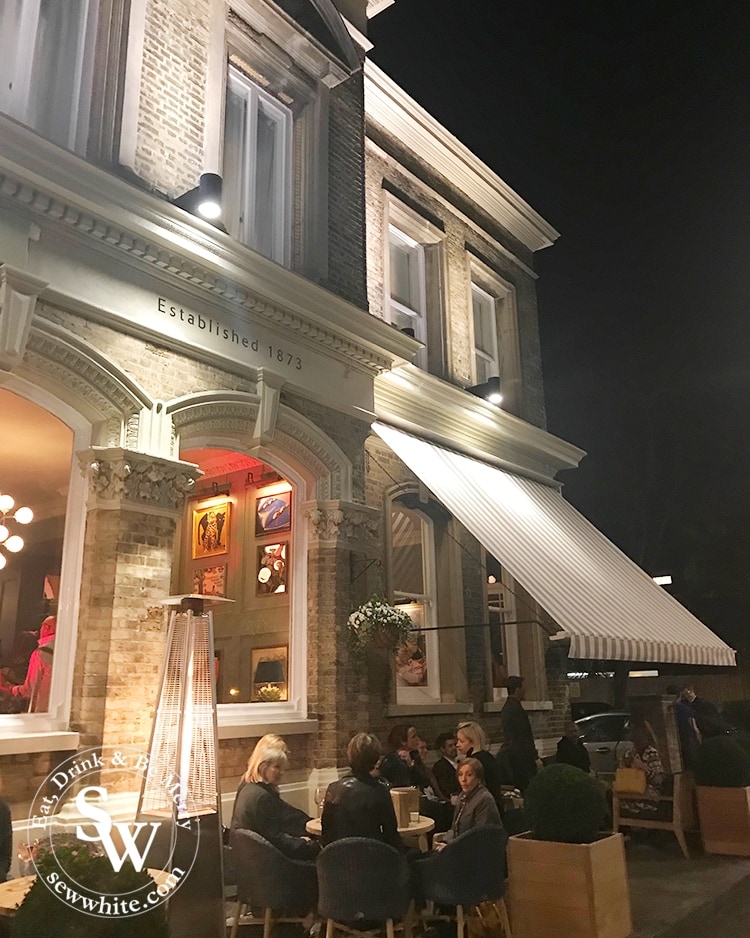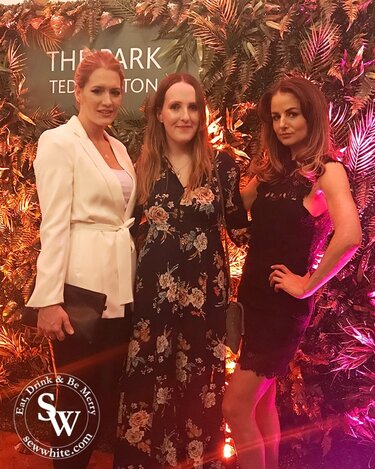 Visit The Park, 19 Park Road, Teddington, TW11 0AB
Sponsored by NCSupperClubs.