Blueberry Clafoutis is a favourite dish of mine, especially on cold autumn evenings. It's a great dish if you love hot fruit and fluffy sponge.
I love this recipe and it's safe to say my family do too. It is made all the time in our house. Mostly with blueberries but sometimes with raspberries and even cherries. It's a great mix of sponge and fruit which happens to a mix of two of my favourite things.
If you love hot fruit and enjoy a hot sponge this is the pudding for you!
It's really quick to mix up the batter and easy to pour it over the fruit and cook. If you want to make it in advanced you can make the batter a few hours before and give it a quick whisk before pouring over. Make sure it's room temperature when it goes in to the oven.
Blueberry Clafoutis
Blueberry Clafoutis is a favourite dish of mine, especially on cold autumn evenings. It's a great dish if you love hot fruit and fluffy sponge.
Ingredients
40

g

unsalted butter

200

g

1 punnet of blueberries

3

medium eggs

80

g

caster sugar

few drops of vanilla essence

grated rind and juice of 1 orange

50

g

plain flour / all purpose flour

142

ml

soured cream
Instructions
Preheat the oven to 190degrees

Lightly grease an ovenproof dish and add the blueberries.

Melt the butter and leave to cool.

Mix the eggs, sugar, vanilla, orange rind and juice, and flour in to a bowl and whisk by hand until smooth.

Gently mix in the soured cream and melted butter.

Pour over the berries and put it straight in the oven for 35-40 minutes until it starts to go golden brown.

Serve straight away – watch out as the blueberries will be very hot.
Nutrition
Please note that the nutrition information provided above is approximate and meant as a guideline only.
Pouring the batter for the Blueberry Clafoutis. I love this bit as the smell of the orange from the batter really stands out. Just pour over the batter and pop it straight in the oven. 35 minutes later the kitchen will smell amazing and you'll be ready to eat your Blueberry Clafoutis fresh from the oven. It will be golden brown and will have risen in the oven. It's a great dessert which only takes a few minutes to combine.
Follow me on instagram to see what other cakes I've been making recently. www.instagram.com/sewwhite
Check out these other fruit desserts
My delicious summer fruit sponge pudding combines a light and fluffy lemon sponge on top of a rich layer of summer fruits perfect to enjoy all year.

Enjoy a slice of my incredible Strawberry Prosecco Cake this summer. It's a fruity light strawberry sponge with a strawberry and Prosecco jam to keep it soft and moist. Plus add a lot of flavour. It's the perfect bake for a party or summer event. Strawberries and prosecco are the best mix. Made in a Le Creuset Kugelhopf tin but also a lovely strawberry prosecco bundt cake recipe.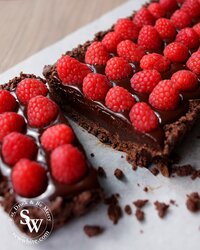 Enjoy a slice of my Chocolate Raspberry Tart with my easy 5 ingredient recipe. A lovely rich truffle recipe studded with fresh raspberries on a bourbon biscuit base.