This Honey and banana milkshake with blueberries is a lovely healthy way to start the day. The honey adds a delicious flavour.
It's all about the afternoon fresh fruit milkshakes in my house. They are brilliant and it's lovely to feel healthy and full from one drink. They really are a meal in a glass.
My latest and favourite milkshake is blueberry, ginger, Manuka honey and banana!
I love jam jar with handles for drinks at the moment. They are awesome.
Manuka Honey Smoothie
My secret ingredient for marvellous milkshakes at the moment is Steens Manuka Honey.
Steen's Raw 10+ Manuka Honey is incredibly special and really adds a lovely delicious addition to milkshakes but also to tea and main meals. It is also really nice for colds and flu. It boosts immunity, is antibacterial and helps with digestion. It's magic! It comes from New Zealand and Steens have over 10,000 beehives in the wilderness. I think the bees must be very happy as their honey is so tasty. It works very well in yoghurt, porridge or just over fresh fruit. Don't share it with your family or you will be fighting them for it.
Adding honey to smoothies
It's so simple and feels so fresh and healthy. Brilliant for fighting of colds, tasty and filling. What more could you want!
It is so simple to make plus really quick too! I love a smoothie which is all in the blender and ready to serve.
Honey and banana milkshake
 Steens Manuka honey is available Ocado, Waitrose and Harrods.
Thank you Steens for sending me the honey to try. I am converted!
All opinions and recipe are my own.
Honey and banana milkshake
This Honey and banana milkshake with blueberries is a lovely healthy way to start the day. The honey adds a delicious flavour.
Ingredients
2

banana

150

g

blueberries

1

cm

thumb of ginger peeled

2

teaspoons

of raw Steens Raw 10+ Manuka Honey

top up with milk or lactofree milk

my favourite
Instructions
Pop all the ingredients in a blender.

Top up the max fill line with milk.

Whizz up and enjoy straight away.
Nutrition
Please note that the nutrition information provided above is approximate and meant as a guideline only.
Follow me on Instagram to see what I've been making recently. www.instagram.com/sewwhite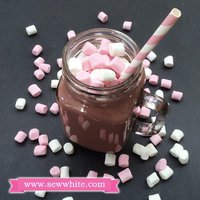 This Raspberry Chocolate Cinnamon Milkshake recipe produces a beautiful drink which is definitely unusual. Enjoy this delicious milkshake today.
This Blackberry, Spinach and Ginger Smoothie is a delicious drink and so easy to create at home. Pop it in a blender and you're done.
This is my favourite berry smoothie! The frozen berries mean that you don't have to wait for the Summer to enjoy it since you can freeze berries yourself or buy them frozen to use all year-round!
My Ginger Boost Smoothie is a delicious way to start the day and the good hit of ginger tastes good but also aids digestion.