This Lactofree Chocolate Cinnamon Milkshake recipe produces a beautiful drink which is definitely unusual. Enjoy this delicious milkshake today.
There is something special in a chocolate milkshake especially when you add raspberries too. Then adding cinnamon helps take it to a whole new level of deliciousness.
Making lactofree chocolate milkshakes with Arla
Lactofree have bought out a brand new milk flavour – chocolate! I love lactofree milk and now with chocolate I am so happy. I have been challenged to come up with milkshake which has chocolate milk in it. (What a hard job but someone has to do it).
I have come up with a truly delicious and rather grown tasting raspberry, chocolate and cinnamon milkshake.
Chocolate and cinnamon is a combination that is popular in Mexico if my research is correct. I've added cinnamon to brownies before and it's worked a treat so I thought I'd try it in milkshake. Safe to say it is a wonderful chocolate milk to use for milkshakes. Even if you aren't lacto free it would be great to try.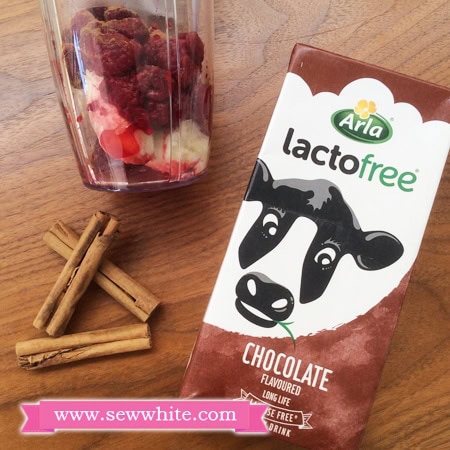 I made this in the large cup of the nutri ninja. I used defrosted raspberries as they are so much juicer than fresh.
Lactofree Chocolate Cinnamon Milkshake
The raspberries added a lovely red colour to the chocolate milk.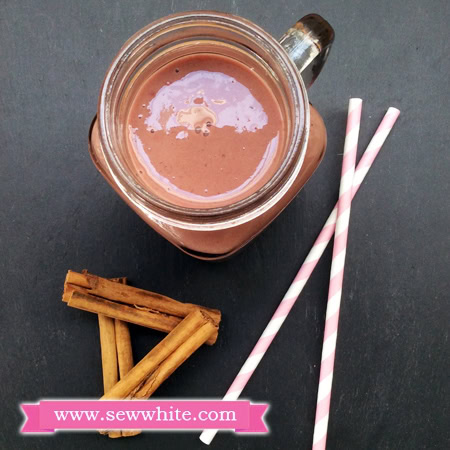 The marshmallows added a sweetness to the milkshake but I'd recommend having them next to the milkshake unless you have a straw big enough to stuck them up or you don't mind getting milkshake covered fingers. They are so sweet next to the tart milkshake. Definitely a flavour combination which works.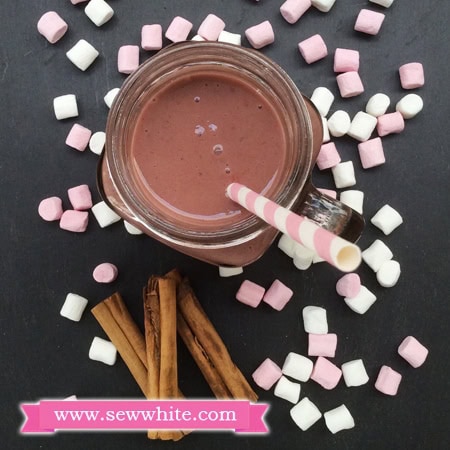 I now need more chocolate milk so I can make more. Hoping my local tesco has some x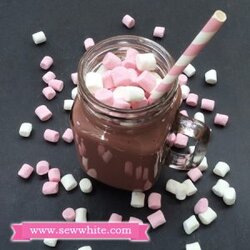 Raspberry Chocolate Cinnamon Milkshake
This Raspberry Chocolate Cinnamon Milkshake recipe produces a beautiful drink which is definitely unusual. Enjoy this delicious milkshake today.
Ingredients
2

bananas

3

tablespoons

of frozen

but defrosted raspberries

pinch

of cinnamon

about a quarter of a teaspoon

chocolate lactofree milk

decorate with mini marshmallows

optional be very recommended
Instructions
Break up the banana and pop it in the large nutri ninja cup.

Add the raspberries and cinnamon.

Top up with chocolate milk to the fill line.

Whizz until it's smooth.

Serve straight away and enjoy.

Top with mini marshmallows.
Nutrition
Please note that the nutrition information provided above is approximate and meant as a guideline only.
Follow me on Instagram to see what I've been making recently. www.instagram.com/sewwhite
This Blackberry, Spinach and Ginger Smoothie is a delicious drink and so easy to create at home. Pop it in a blender and you're done.
This is my favourite berry smoothie! The frozen berries mean that you don't have to wait for the Summer to enjoy it since you can freeze berries yourself or buy them frozen to use all year-round!
My Ginger Boost Smoothie is a delicious way to start the day and the good hit of ginger tastes good but also aids digestion.
A fruit and floral drink perfect for summer days.