This beautiful Lavender Vanilla Bundt Cake tastes incredible and has the fragrant wonder of lavender as you slice in to it.
The bundt obsession continues with my favourite bundt ever. I could eat this everyday and be happy. This is a lovely bundt cake. The lavender and vanilla are delicate but come together to produce something very tasty and morish. It would be a wonderful cake for afternoon tea with a cup of Earl Grey. My family said it tasted like spring with the floral taste of the lavender.
I love lavender and although a lot of people think baking with it is hard, it really is easy. The smell of the lavender is the most noticeable thing in the bake but there is also a lovely taste which although subtle stands out as it's unusual.
Lavender Vanilla Bundt Cake
As well as crushing up the lavender to go into the cake I used more edible lavender as decoration which I think made the cake look really cute with a little pale purple icing.
Make sure you buy edible lavender and use a pestle and mortar to crush it up well. It is so pretty.
The bundt cake before it was iced. It is a stunner!
A close up of the lavender on top. I love it. I ate far too much of this cake by myself and I still want one more slice.
This is my new Nordic Ware bundt tin which I ordered from America.
It's called the stained glass bundt tin and I think the design looks like rather flowery and delicate as well as strong and geometric.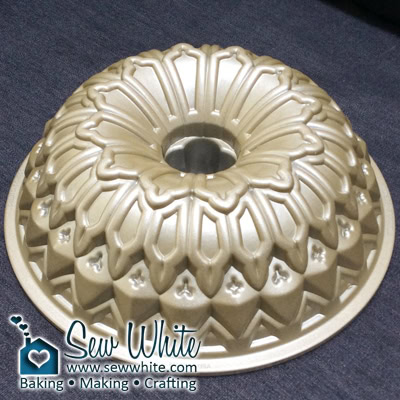 I really like how the design makes the bundt easy to cut in perfect equal pieces by following the lines. Silly but it made me happy to cut it.
Edible Lavender cake
Edible lavender is a beautiful item to use for cakes. It's versatile and available in different forms so you can have lavender syrup or the edible flowers themselves.
How to use lavender in a cake
If you use lavender in a cake first of all make sure it is edible. Normal garden lavender isn't edible so be careful. There are a few places online including amazon where you can get the edible lavender from.
Once you have the edible lavender you can use a pestle and mortar to grind it down to use in a cake. You can also add the pieces to sugar to make lavender sugar. There is also edible lavender extract which is the best and quickest way to get those beautiful flavour and scent in to your bake.
Lavender Vanilla Bundt Cake
This beautiful Lavender Vanilla Bundt Cake tastes incredible and has the fragrant wonder of lavender as you slice in to it.
Ingredients
220

g

unsalted butter

450

g

white caster sugar

4

medium eggs

350

g

plain flour / all purpose flour

½

tsp

bicarbonate of soda

tiny pinch of salt

1

heaped tablespoon of edible lavender plus extra for decoration – crush in a pestle and mortar

350

g

vanilla yoghurt

a few drops of vanilla extract

The seeds of 1 vanilla pod

not necessary but a nice addition

1

teaspoon

of lavender extract

not necessary & will work without
Instructions
Preheat the oven to gas 150 (fan) 160 (regular)

Grease the tin well. I use melted butter and paint it on with a pastry brush and when that has cooled a dusting of flour which helps to find any places on the tin I've missed to grease. (good on this tin as it is so detailed)

In the mixer cream together the butter and sugar until fluffy.

Add the eggs one at a time, mixing in well each time. The mixture will get lighter.

In a separate bowl measure out and sieve the flour, bicarbonate of soda, salt and add the crushed lavender.

Add the yoghurt and extracts into the butter/sugar/egg mixture and mix well.

Mix the flour mix in slowly until all the flour has disappeared.

Put the mixture in the tin.

Bake in the centre of the oven for about 1 hour 15 minutes or until a skewer comes out clean. When the cake pulls away from the edge of the tin the cake is ready.

Allow the cake to cool in the tin before turning out.

Decorate and enjoy.
Notes
Make sure you buy edible lavender and use a pestle and mortar to crush it up well. It is so pretty.
Please note that the nutrition information provided above is approximate and meant as a guideline only.
Follow me on instagram to see what I've been making recently. www.instagram.com/sewwhite
Enjoy a slice of the Black Forest Christmas Bundt Cake this festive period. It's made with delicious cherry yoghurt and chocolate chips.
Have you been picking blackberries or have some to use up? This moist and slightly spicy Blackberry Cake is a yoghurt based bundt cake with mixed spice, ground ginger and fresh blackberries. It is a warming bake for blackberry fans. Plus a great way to use up any extras to make them last a little longer.
My cherry bundt cake is a light and fruity cake perfect to accompany a cup of tea or coffee this spring. Enjoy my delicious recipe today and get baking.
This is one of my favourite recipes. The Strawberry and Banana Smoothie Bundt is easy to make and tastes wonderful no matter what the event.