My Summer Fruit Traybake is a simple lemon sponge dotted with summer berries. Raspberries, blackberries, blueberries and cherries. An easy tray bake cake.
I love all the summer fruit around at the moment. With so much on offer I took advantage of it to make this delicious summer fruit tray bake. It is a simple lemon sponge dotted with raspberries, blackberries, blueberries and cherries.
Summer Fruit Cake
Summer fruit is a joy and with so much available it's brilliant being turned into a cake. The Summer fruit cake is so easy to make and even easier to eat. A soft moist cake studded with fresh berries. What could be better!
Perfect picnic cake
It works very well as a cake to take on a picnic. Cakes can be a difficult thing to transport but luckily with a tray bake you can use the tin you cooked it in to move it. After baking, leave in the tin until cool. Wash up the cake tin and dry. When the cake is cool gently pop it back in the tin. Wrap it up in cling film or silver foil and it's ready to go. It will be a very popular picnic cake after this. This is always a popular choice in my family for a picnic in the park.
Making the Summer Fruit Tray Bake won't take long. It's a good old fashioned sponge and my absolute favourite go to sponge recipe. To make sure the cake bakes evenly I would recommend studding the top of the cake with the fruit. This is so they sink down naturally when cooking but doesn't stop the sponge from cooking through. It also makes it a lot easier to test it's cooked with a thin kebab stick or cake tester. As you can dodge the fruit knowing you're testing the cake.
What fruit is best for Summer Fruit traybake
Fresh fruit works best for this type of traybake as frozen fruit once thawed will be too wet and can stop the cake from cooking and rising properly.
You can use any fruit you want for this traybake. I love a mix but when I've only been able to get raspberries, I've made it only with raspberries. In Autumn I when I pick brambles/blackberries I do an autumn version and add a little ground ginger into the mix. It's wonderful! This is so easy to adapt to the fruit you have.
I would recommend choosing fruit which isn't to wet. If you want to use strawberries then cut them and dry them off before you add them or if you can find smaller ones add them in hole.
Raspberries and other berries work so well for this summer fruit traybake. Blueberries are a favourite of mine and I always want to add blueberries if I can get them.
Dried fruit – you can use dried fruit as it won't interrupt or interfere with the cake. Mix the dried fruit in with the flour and cook exactly the same. I prefer the fresh fruit as it goes jammy and you get those beautiful gooey pieces.
What is a British Traybake?
A British traybake is a type of cake or baked goodie that is made in a shallow pan which is easy to divide up once baked. Perfect for parties and events.
Can you use frozen fruit in cakes?
If you want to make a fruity compote use frozen berries. Pop them in a saucepan and on a low heat warm them up and once squidgy. When back to normal add a tablespoon of sugar mix in and allow to cool.
How long do traybakes last?
Traybakes can usually last about 2-5 days depending on what are in them and how you store them. The Summer fruit traybake is best stored somewhere cool (not the fridge) and wrapped up in cling film or in an airtight container. It will last about 2 days in delicious condition and then start to dry out.
Let's get baking the Summer Fruit Tray Bake
I can't tell how much I love this recipe. It's so simple, it doesn't need decorating when it's out of the oven – maybe a drizzle of icing might be nice or a dusting of icing sugar. If you are going to a party or picnic you can transport the cake in the tin. Cool it out of the pan and pop it back in when it's cold. Make sure you try this cake when it's still warm. You will love it.
The finished delicious cake ready to eat. I love a tray bake cake.
Once cooked and cooled you can pop it in the microwave to warm it up and serve it with ice cream. This is definitely a serving suggestion! Even warm from the oven with ice cream is delicious.
I am entering these delicious brownies into the The Great British Blackberry Recipe Round Up being hosted by Farmersgirl Kitchen and Lavender and Lovage.
Check out my other cakes and sweet treats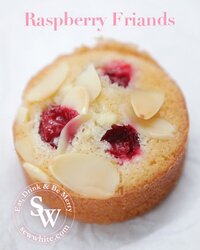 These little raspberry friand cakes are small, delicate and perfect for afternoon tea! They're only little cakes – much like cupcakes, but they're a great snack even if you aren't planning on having afternoon tea. After all, who could say no to a fruity little friand cake?
Enjoy a slice of my incredible Strawberry Prosecco Cake this summer. It's a fruity light strawberry sponge with a strawberry and Prosecco jam to keep it soft and moist. Plus add a lot of flavour. It's the perfect bake for a party or summer event. Strawberries and prosecco are the best mix. Made in a Le Creuset Kugelhopf tin but also a lovely strawberry prosecco bundt cake recipe.
This Black Forest Cheesecake is inspired by the gorgeous chocolate cherry and cream flavours of a traditional Black Forest Cake. Juicy kirsch spiked cherries are piled onto a super creamy no-bake cheesecake layer and bourbon biscuit base then topped with lashings of dark chocolate shards. Small but perfectly formed, this is an ideal dessert at any time of year!
My Summer Fruit Bundt Cake is so fruity and perfect served warm from the oven. Great for afternoon tea, parties and events all year round.
Summer Fruit Tray Bake
My Summer Fruit Tray Bake is a simple lemon sponge dotted with raspberries, blackberries, blueberries and cherries. An easy tray bake cake.
Ingredients
250

grams

(

1.1

cups

)

unsalted butter

250

grams

(

1.25

cups

)

caster sugar

zest of 1 lemon

juice of half a lemon

5

(

5

)

medium eggs

250g

(

2

cups

)

self-raising flour

1

teaspoons

(

1

teaspoons

)

baking powder

5

tablespoons

(

5

tablespoons

)

milk

½ teaspoon of vanilla extract

200

grams

(

1.35

cups

)

blueberries

100

grams

(

0.75

cups

)

cherries

weight after stones removed

150

grams

(

1.

cups

)

blackberries

150

grams

(

1.25

cups

)

raspberries
Instructions
Grease and line a 12in x 9in cake tin.

Preheat the oven to 180º degrees/ 160º fan oven / 356ºF.

Cream together the butter and sugar.

Add the eggs one at a time and don't over mix.

Add the lemon juice and zest.

Sieve in the self raising flour and baking powder.

Add the milk and stir in gently.

Chop the cherries roughly. Leave the other fruit whole so they don't make the mixture wetter.

Gently stir in three quarters of all the fruit to the mix.

Pour the mix in to the tin and stud the remaining fruit in to the top.

Bake for 50-60 minutes until golden brown and use a cake tester to make sure the middle is done.

If it starts to brown too quickly cover the cake with silver foil for the remaining time.

Allow to cool in the tin for 15 minutes before turning out and leave to cool on a wire rack.
Notes
It tastes lovely served with more fruit, a dollop of cream or a scoop of ice cream.
Nutrition
Calories:
217
kcal
Carbohydrates:
26
g
Protein:
3
g
Fat:
12
g
Saturated Fat:
7
g
Polyunsaturated Fat:
1
g
Monounsaturated Fat:
3
g
Trans Fat:
1
g
Cholesterol:
68
mg
Sodium:
40
mg
Potassium:
78
mg
Fiber:
2
g
Sugar:
15
g
Vitamin A:
405
IU
Vitamin C:
5
mg
Calcium:
32
mg
Iron:
1
mg
Please note that the nutrition information provided above is approximate and meant as a guideline only.