These little raspberry friand cakes are small, delicate and perfect for afternoon tea! They're only little cakes – much like cupcakes, but they're a great snack even if you aren't planning on having afternoon tea. After all, who could say no to a fruity little raspberry friand cake?
These special little raspberry almond cupcakes are easy to make and absolutely delicious for whoever gets the honour and pleasure of eating them! They feel very fancy and grown-up, too. But really, they're perfect for all ages – any sane human would find them delicious!
Friands are small, very light almond cakes that often feature fruit – like my blueberry almond cake bars, which are actually friands in disguise! After all, fruit and almonds go brilliantly together to make a perfect, flavourful combination. So flavourful, in fact, that they're my current favourite cakes to both make and eat!
But don't be put off by the fact that they're perfect for afternoon tea and have a posh name! Really, they're just almond and raspberry cupcakes in disguise. They're perfect for casual get-togethers where you still want to make a good impression – like when relatives pop over and you want something more special to serve with tea or coffee than your regular chocolate digestive biscuits!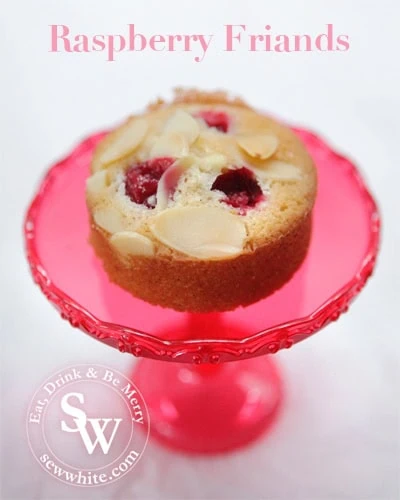 The Raspberry Friands is such a special little cake but is so easy to make and delicious to enjoy. It is a little fancy/ grown up bite size cake which is packed full of flavour.
The mix between raspberries and almonds is beautiful. This is my absolute favourite cake to make and enjoy at the moment. Hands down the beats cupcakes!
What do I need to make raspberry friand cupcakes?
These little raspberry almond cupcakes are super easy to make despite seeming so posh! Trust me – once you've made them once, you'll be making them regularly for friends, family and kids alike! Plus, they're rather addictive so there's a fair chance you'll be stashing some for yourself too!
You don't need any particularly rare ingredients either – nothing too expensive, unusual or bizarre!
Unsalted butter – specifically unsalted because you need to control the amount of salt here to keep the ratios perfect
A touch of vanilla extract or the seeds from half a vanilla pod
Icing sugar – not granulated sugar. This is because icing sugar is finer than granulated sugar and so helps to give the cupcakes a finer, lighter, more airy texture which makes them just melt-in-the-mouth delicious!
Plain flour – not self-raising flour!
Ground almonds to give the inside of the cupcakes a slightly nutty flavour that's subtle but important.
A pinch of salt – literally, just a pinch is enough.
This is optional, but a small sprinkle of cinnamon is an absolutely delicious addition!
Medium egg whites. Don't use large egg whites here as they're a different size and so will affect the consistency of the batter. It's also very important to only use the whites as the egg yolks will add richness and will both throw off the ratios and affect the flavour and texture.
Fresh raspberries – the amount is up to you, but I'd recommend having approximately 3 per cupcake to make sure that every bite has some delicious berry flavour. That means you'll probably want around 36 raspberries as this recipe makes 12 almond cupcakes.
The zest of an orange. Again, this is a subtle addition, but it does make a big difference to the final flavour by adding a little bit of zing. Now, that's not a technical term, but I know that you know what I mean!
A touch of caster sugar to coat the raspberries.
Flaked almonds to decorate the tops of your raspberry cupcakes. After all, it's not an afternoon tea cupcake if it doesn't look pretty!
So while this is a moderately long list of ingredients, you probably already have the butter, vanilla, icing sugar, cinnamon, eggs and caster sugar.
That means that really, all you need to buy is ground almonds, raspberries, an orange and flaked almonds. And considering how posh these fancy little cupcakes look, that really isn't too much of a long list! After all, you don't even have to go through the hassle of making icing when it comes to raspberry friands!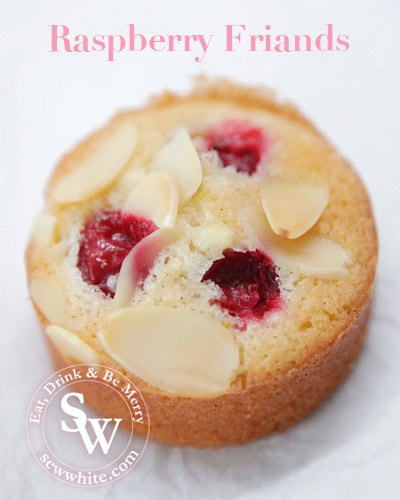 How do I make these raspberry almond cupcakes?
The method for these raspberry friands is very similar to my blueberry almond friand bars, which are absolutely delicious and perfect for classy on-the-go snacking.
Preheat the oven and lightly grease either a friand tin or a loose-based mini sandwich tin – or just use fairy cake cases and a cupcake tin!
In a pan, gently melt the butter together with the vanilla and set the infused butter aside to cool. It's important for this to cool to about room temperature before you use it so that it doesn't start to cook your other ingredients when you add them!
In a bowl, sift together the icing sugar, flour and salt and then add the ground almonds and cinnamon. Sifting together the ingredients is important to break up any lumps and to incorporate air.
In another bowl, whisk the egg whites until they just start to thicken – no need to start making meringue here, but they need to start to thicken before you use them so that they contain air. This helps to make sure that your afternoon tea cupcakes are nice and light rather than dense and dry.
Add the egg whites, melted butter and orange zest to the dry ingredients and stir to combine using a metal spoon or spatula. Once again, the choice of spoon is important to help keep the air in the batter as wooden spoons aren't so useful at keeping batters light.
Lightly coat the raspberries in the caster sugar and spoon the friand mix into the prepared tin.
Top the friands with raspberries and flaked almonds. Don't go overboard here – 2 or 3 raspberries is about perfect, and there shouldn't be too many almonds or they'll overwhelm the delicate flavours in the cupcakes.
Bake, then leave to cool in the tin. Before serving, you may want to dust them with icing sugar.
See? Pretty easy! Not a one-bowl recipe for sure, but they certainly aren't too complex for any home baker who can follow a recipe!
Can I make these raspberry friands gluten-free?
Yes! This recipe is perfect for making gluten-free. It's very easy to just substitute the plain flour with gluten-free plain flour. If the batter is a touch wet, just add an extra tablespoon of the gluten-free flour. Easy peasy!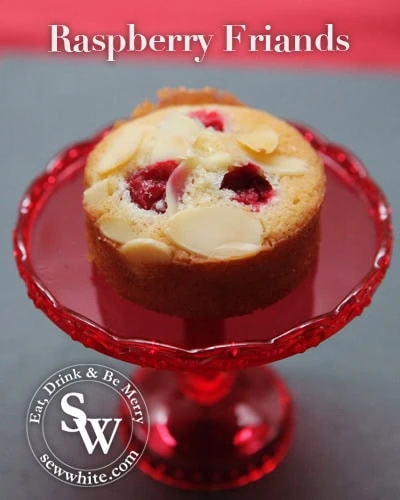 Raspberry Friand Cupcakes for Afternoon Tea
These little raspberry friand cakes are small, delicate and perfect for afternoon tea! They're only little cakes – much like cupcakes, but they're a great snack even if you aren't planning on having afternoon tea. After all, who could say no to a fruity little friand cake?
Ingredients
100

g

unsalted butter

seeds from half of a vanilla pod or half a teaspoon of vanilla extract

120

g

icing sugar / confectioners sugar

40

g

plain flour / all purpose flour

80

g

ground almonds

Small sprinkle of cinnamon

optional but a delicious addition

1

pinch

salt

3

medium egg whites

fresh raspberries

1

orange

zest only

1

tablespoon

caster sugar

flaked almonds for decoration
Instructions
Preheat the oven to 180ºC/160º Fan

Lightly grease a friand tin – I used a 12 Hole Loose-Based Mini Sandwich Tin from Lakeland but you can also use fairy cake cases in the tin to cook them.

In a pan gently melt the butter with the vanilla seeds or extract. Set aside to cool.

Sift the icing sugar and flour into a bowl with the salt and add the ground almonds and cinnamon.

Whisk the egg whites in separate bowl just until they start to thicken.

Add the egg whites, melted butter and orange zest in to the dry ingredients.

Stir together to combine using a metal spoon or spatula.

Lightly coat the raspberries with the sugar.

Spoon the mix in to the prepared tin and stud with 2 or 3 raspberries depending on size and add a few of the flaked almonds.

Bake in the oven for 20 minutes until golden brown.

Leave to cool in the tin and dust with icing sugar to serve.
Nutrition
Please note that the nutrition information provided above is approximate and meant as a guideline only.
Store in airtight box, if you don't eat them all straight away, and they'll last a few days.
Follow me on instagram to see what other cakes I've been making recently. www.instagram.com/sewwhite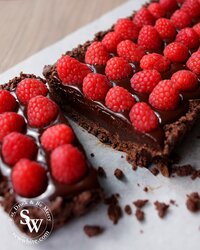 Enjoy a slice of my Chocolate Raspberry Tart with my easy 5 ingredient recipe. A lovely rich truffle recipe studded with fresh raspberries on a bourbon biscuit base.
With so much gorgeous fresh fruit available in the summer, I decided it was the perfect time to make my easy strawberry and raspberry jam!
Prosecco, Raspberry and Cranberry Cake is a super delicious Christmas bake combining a little bubbly and juicy cranberries perfect for winter afternoon tea.
Enjoy a slice or two of my delicious gluten-free flourless raspberry chocolate cake. Easy to make and tastes wonderful with afternoon tea. It is a perfect gluten-free celebration cake made with almonds and yummy chocolate plus of course juicy raspberries. As flourless chocolate raspberry cakes go this is a winner time and time again.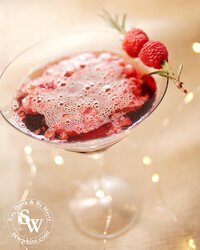 This delicious Rum and Raspberry Cocktail is always a winner at a party. The spiced rum and raspberry flavours work so incredibly well together.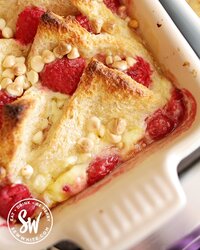 This Raspberry Bread & Butter Pudding with White Chocolate Chips recipe is wonderful twist on a classic hot British dessert. The fresh raspberries pair beautifully with the creamy custard bread pudding. This family favourite is easy to make in advance and is perfect when you want a lighter pudding with fresh flavours. So all that remains is to decide on custard, cream or ice cream?
This is an epic chunky cookie! It is my super easy to make raspberry white chocolate cookie traybake. Now a family favourite and the perfect bake for relaxed afternoons or even a party.