These Blackberry and Lemon Cupcakes have a jammy centre from a blackberry which is absolutely incredible. These are a next level bake!
It's Autumn and that means blackberry bakes need to happen. I love blackberries and I will use them anyway I can. They bake so well and it's surprising how much they can be used in. From sweet to savoury dishes. I had to go for sweet first of course and decided to whip up a tasty batch of blackberry and lemon cupcakes first. I love how the blackberries glisten after.
Jam centre cupcakes
It is so easy to make these cupcakes extra special by adding a blackberry to the centre of the cupcake. Once cooked the blackberry will reduce down into a squidgy jam and it will be wonderful. It is great to find and no one expects to find it. I usually add a little mix to the bottom of the cupcake cases. Add a big blackberry and then top up the mix over the top. Hidden centre cupcakes are definitely a lot of fun!
There is still time to enjoy the huge amount of in season British fruit and my favourite is blackberries. This summer I have been using them in everything and they are a joy to bake with. These very fresh tasting cupcakes (or are they muffins?) are so simple to make and very easy to enjoy. They are also lovely as a lunch box treat!
Just look at that beautiful blackberry centre. You wouldn't know it was there unless you took a bite or cut in to it. For these cakes I don't want to add a lot of icing to the top. A bit swirl of buttercream I feel would take away from the soft and delicate taste of the cupcake. I wanted to add a little icing so I went for a simple icing sugar drizzle, some lemon zest and topped with a blackberry.
Blackberry and Lemon Cupcakes
These Blackberry and Lemon Cupcakes have a jammy centre from a blackberry which is absolutely incredible. These are a next level bake!
Ingredients
200

g

unsalted butter

200

g

caster sugar

4

medium

eggs

1

lemon

(zest and juice of one lemon – save half the zest for the decoration)

200

g

self-raising flour

pinch

salt

50

ml

milk

250

g

blackberries

200

g

icing sugar / confectioners sugar

water

(a few tablespoons)
Instructions
Line a 12 cupcake hole tin with cases.

Preheat the oven to 180º/160ºfan.

You can do this in a mixer or by hand.

Cream together the butter and sugar until light and fluffy.

Add the eggs, the lemon juice and half the zest and mix in.

Sieve in the flour, salt and baking powder.

Add one tablespoon of mix into all the cases and top with a blackberry. Cover with the remaining mix and bake for 10-15minutes until golden brown.

Allow to cool on a rack before decorating.

Sieve the icing sugar into a bowl and add the water gradually to get a thick but movable paste.

Put a blob of icing over each cupcake, sprinkle with the remaining zest and stud with a blackberry.
Nutrition
Please note that the nutrition information provided above is approximate and meant as a guideline only.
Follow me on instagram to see what I've been making recently. www.instagram.com/sewwhite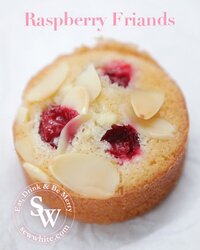 These little raspberry friand cakes are small, delicate and perfect for afternoon tea! They're only little cakes – much like cupcakes, but they're a great snack even if you aren't planning on having afternoon tea. After all, who could say no to a fruity little friand cake?
These White Chocolate Christmas Cupcakes are the cutest addition to a Christmas party. They are easy to make, taste delicious and look wonderful.
These mini blueberry cake bars with almonds are a super treat – perfect for picnics and lunch boxes! They're very similar to friands – made with ground almonds and fresh blueberries. These blueberry almond cakes are a unique sweet and sharp treat!