Pick out the best advent calendars for the countdown to Christmas with inspiration from my top 5 advent calendars for Christmas.
Christmas is edging ever closer and I've been exploring the shops to come up with my top 5 advent calendars for 2019. I love having an advent calendar as it really does mean Christmas is coming. Each year I turn into a child when it comes to Christmas. I get way to excited and it's definitely my favourite time of year. I've had fun exploring the range of all the calendars you can find this year. I hope you enjoy my picks!
Whittard's Luxury Tea Advent Calendar in the top 5 advent calendars for Christmas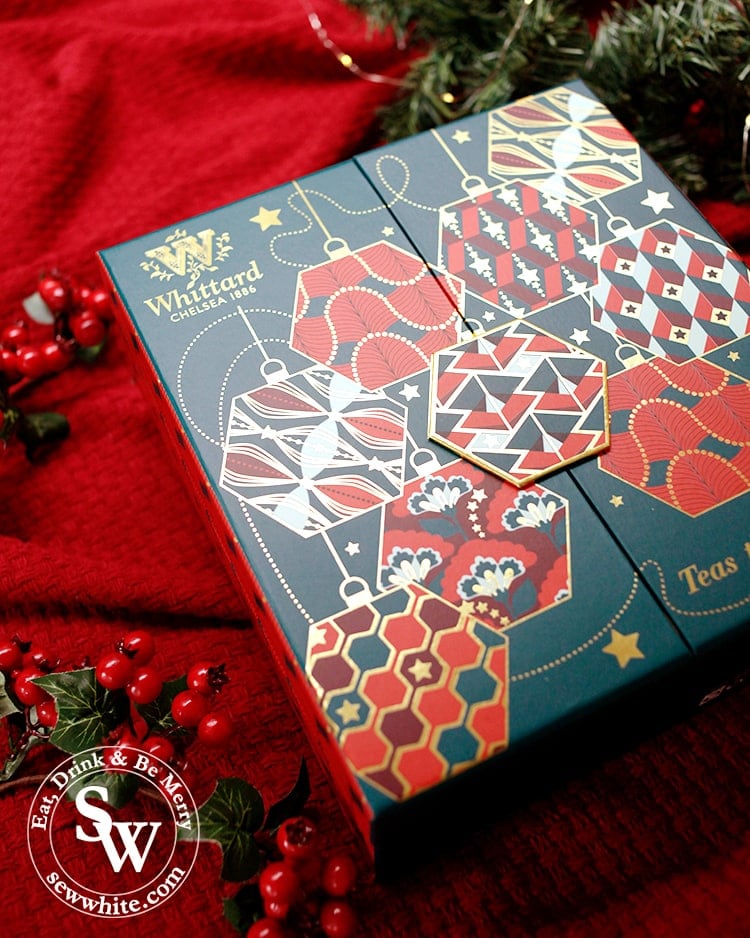 This luxury advent calendar is the best way to count down to Christmas for tea lovers. The stunning calendar will take pride of place and make you excited each day to see what tea is inside. On December 1 you get your first 3 tea bags and a special extra gift. A ceramic dish with a gorgeous bee illustration to hold your used tea bags.
The advent calendar contains a show stopping selection of tasty tea. There are 21 unique flavours, with a grand total of 94 individually wrapped teabags to enjoy. With multiple tea bags for each day it's a great way to get the family drinkers in your family in the Christmas spirit. Plus allowing you to have some quality time together which is a lovely added extra.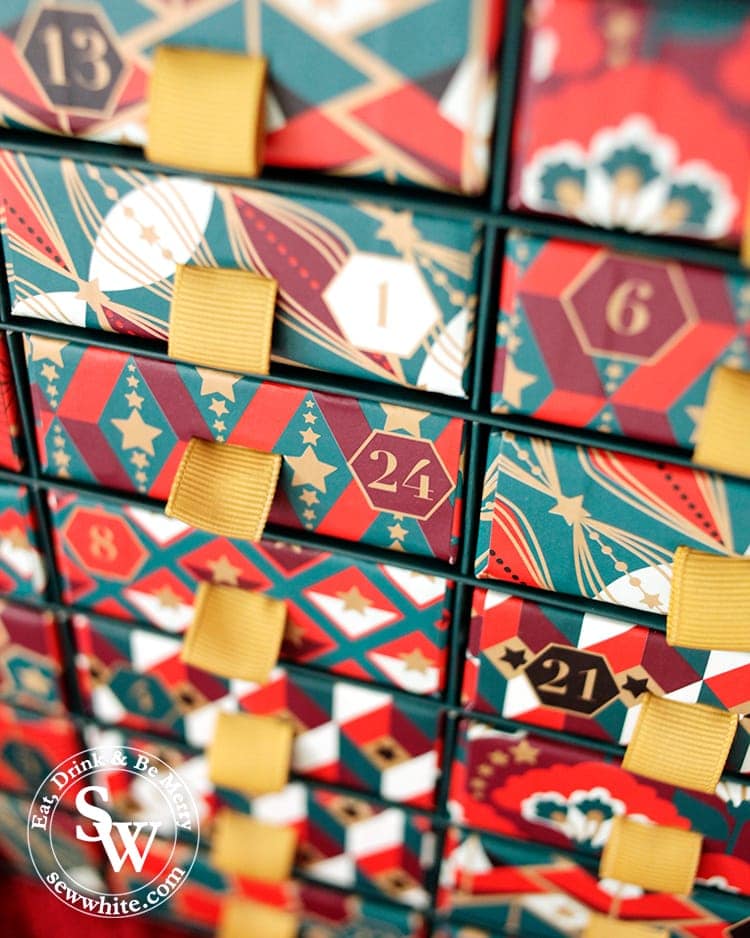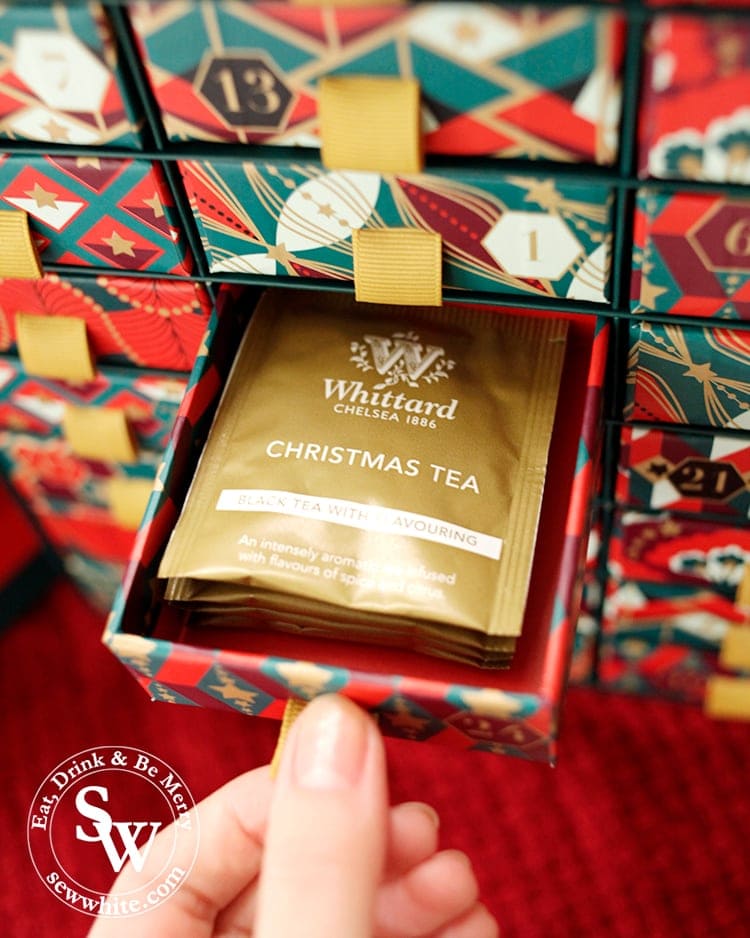 Buy your Whittard Advent Calendar in store or order directly from their website here.
Personalised Family Advent Candle Set from Forest & Co
This is one of those items you will treasure as a family for years to come. The Personalised Family Advent Candle Set from Forest & Co comes with a beautiful glass jar to hold the candles plus the lid acts as the candle holder. This makes it compact and space efficient as well as incredibly cute. As an extra treat the jar can be personalised with a metal tag. Forest & Co also sell replacement candles so you can use this gorgeous display glass and holder for years to come.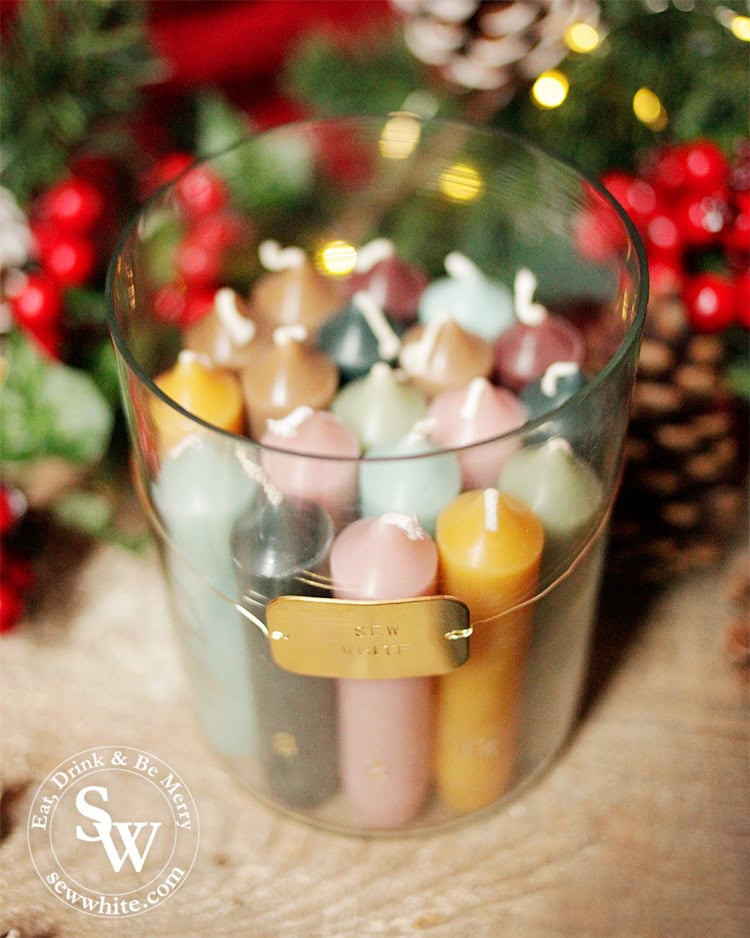 The candle set is so so much bigger than you think it will be. I was so surprised how substantial, sturdy and impressive it is. On the fireplace it looks absoloutely wonderful. The candles are chunky and will definitely last a good evenings worth on each day in the run up to Christmas. The sets are available with these gorgeous colour candles or with a classic white set. I love the range of colours in the mixed set. Holly green and clementine orange, alongside my favourite soft pastel pink and light turquoise.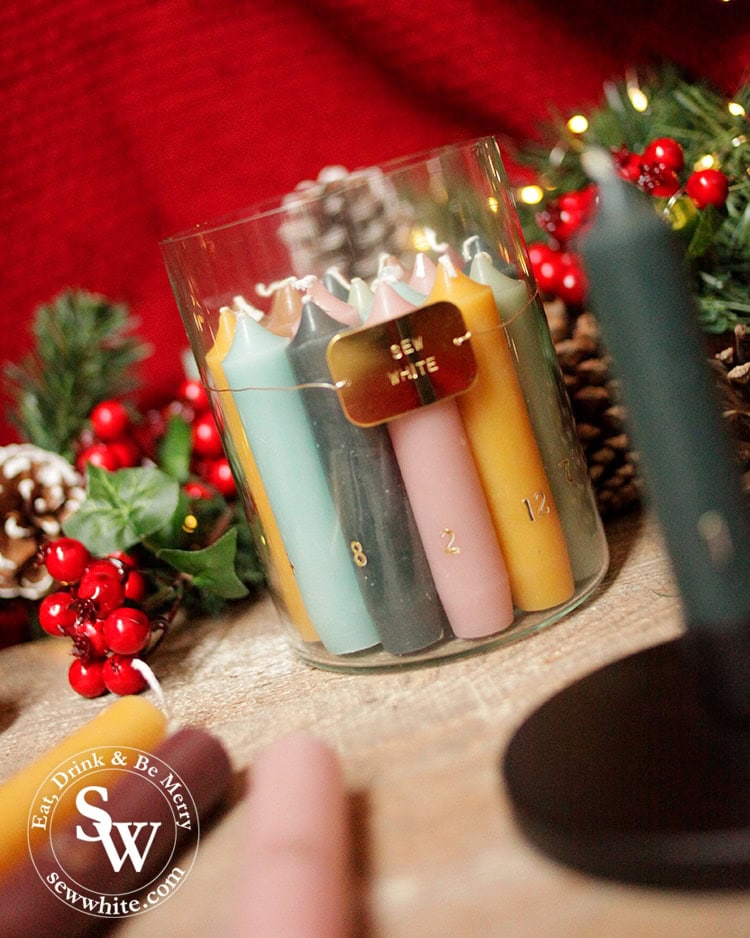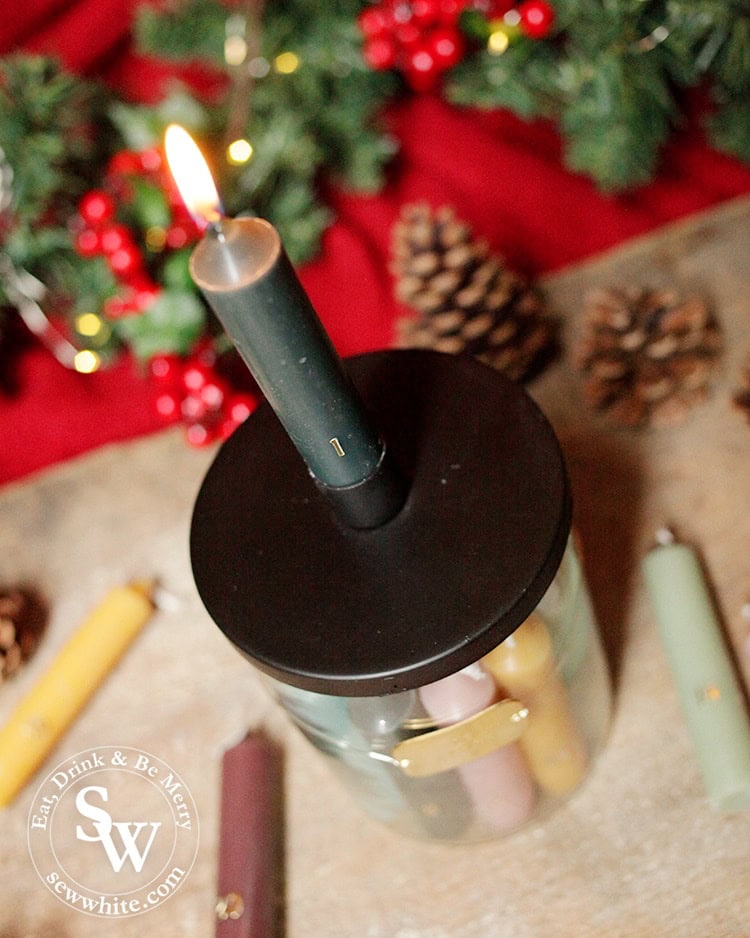 With the lid as the candle holder it makes the piece multi functional as well as beautiful. A perfect present that will last a life time. Getting the extra option to add a little personalisation to the tag really adds a little extra Christmas magic. This beautiful set was gifted to me with Sew White on the tag. I will treasure it for years.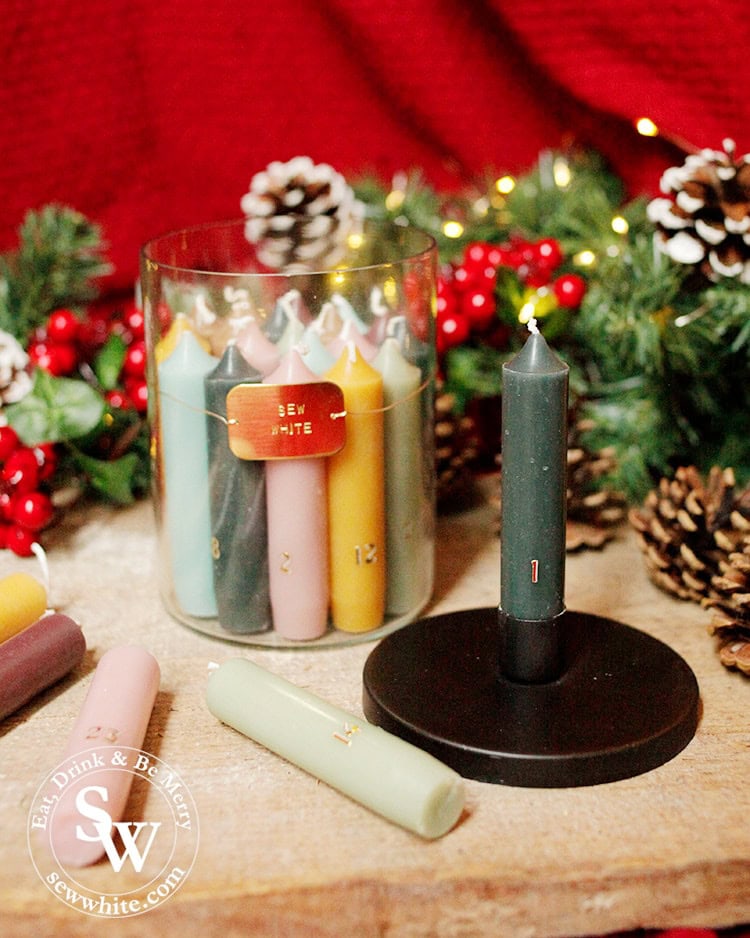 Order your personalised candle advent calendar from Forest & Co here.
Getting Creative with Hobbycraft
Crafting at Christmas is definitely a highlight of the festive time for me. Any opportunity to try something new. I love Hobbycraft for finding new crafts I haven't done before. In their Christmas section this year they had this make your own reindeer advent calendar. This would be a great family activity to create around the kitchen table on a cold November day. Perfect for Mum and Dad to stock up with some treats before December 1. The kit has all the pieces you would need to create it, I would recommend having some extra glue and pens if you want to add your own artistic touch.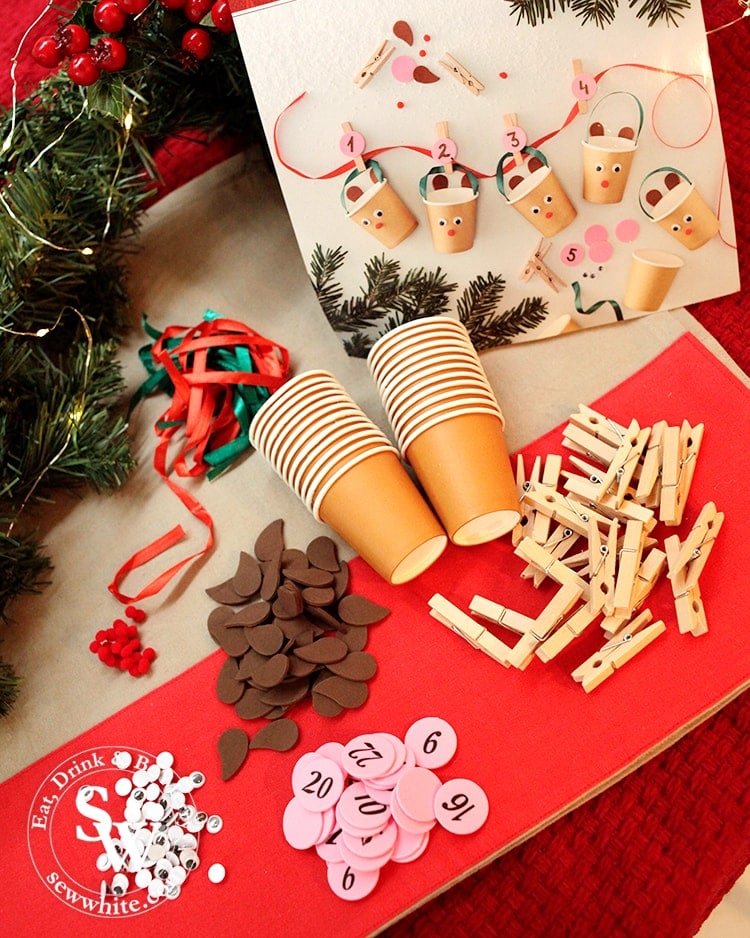 Order your make your own reindeer advent calendar from Hobbycraft here
Advent Boxes from Santa Sacks
The top 5 advent calendars for Christmas
This Christmas me and the boyfriend are making each others advent calendars. While picking the little fun items for the advent calendar I realised I wanted to have a beautiful box to present it. The great Christmas company Santa Sacks came to my rescue.
The beautiful wooden boxes comes in a range of a wonderful seasonal designs which can be personalised too. The print quality on the box is also superb. I was surprised at how hand painted it looked. Although usually sold as Christmas Eve boxes, using them as advent boxes makes them last for the whole of December. It's a beautiful item to have on display for the festive period. The boxes would also double up as a lovely gift box for friends and family, no matter what your age!
Santa Sacks lovingly gave me this gorgeous box for me and my boyfriend to store our advent presents for each other in. I love how it says Have yourself a Merry little Christmas Sisley and Sam. It's an item we're going to treasure for years to come.
Pick up your personalised Christmas Eve Box from Santa Sacks. Find the one featured here.
Chocolate and inspiration from Beatrix Potter and Charbonnel et Walker
Exploring the top 5 advent calendars for Christmas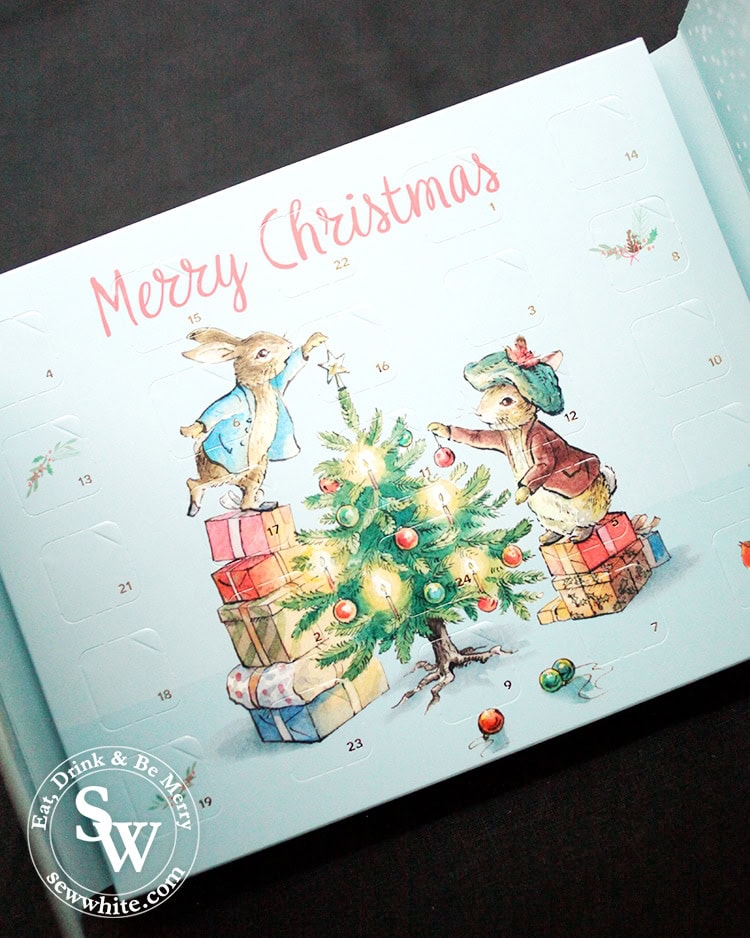 Of course I couldn't have a top 5 for advent calendars countdown without a chocolate calendar. Charbonnel et Walker have collaborated with the Beatrix Potter Foundation to create this gorgeous advent calendar. As soon as I saw it I felt the excitement of being a child and the magic that Christmas holds.
The calendar features Peter Rabbit and Benjamin Bunny decorating the Christmas tree on the main window page. On the inside of the doors is two gorgeous Beatrix Potter illustrations including the one pictured below of Peter Rabbit making a snow man. They are so gorgeous, beautifully printed and worth cutting out to use for decorations once the calendar has been enjoyed.
The incredible Christmas illustrations mixed with the delicious Charbonnel et Walker chocolate make this experience. An experience to last throughout December.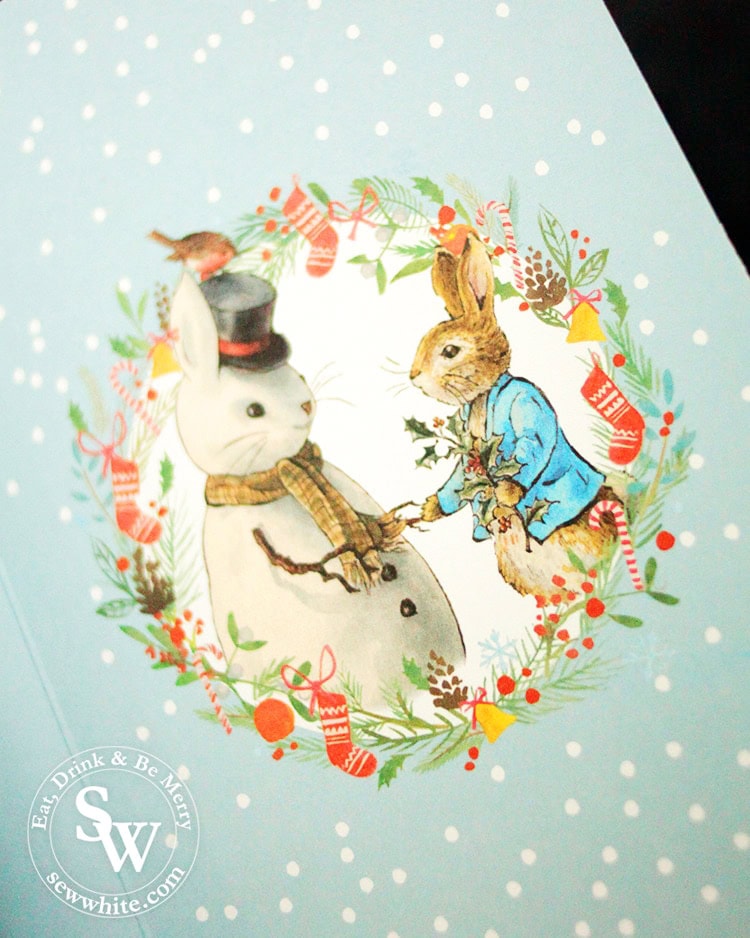 The gorgeous Beatrix Potter advent calendar is available at different department stores and online from Charbonnel here.
One Little Extra… Lighting the way to Christmas with Wax Lyrical
Last year I first discovered the Wax Lyrical Christmas advent calendar. It was a wonderful discovery and I've been hoping all year I would find it again for Christmas 2019. This advent calendar is made up of beautifully fragranced candles to light your way from December 1st to Christmas Eve.
The first of December also includes a cute glass votive to use through out the month. Plus you can then keep it for the next year as it says Merry Christmas on it. The candles have a range of winter, autumn and fruity spice smells which get you into the Christmas spirit in seconds. Last year we had a few extra candles left over that we didn't get to use. We lit them in January and they were a great way to beat the January blues by remembering the great festive period we'd just had.
Wax Lyrical candles are available in range of department stores but I picked up this one in Elys Wimbledon.
Check out my other Christmas Gift Guides.
Disclaimer - Some of these items were gifted. All opinions are my own.
Christmas Gift Guides for 2019