With cold nights it's great to be at home in the warm getting crafty. Take a look for what I've chosen for my top 5 Craft Gifts for Christmas 2019.
The Enchanting Christmas Colouring Book
A great book for the whole family especially the littler ones who might need some distraction during the day. It is a lovely enchanted Christmas book with the original colour illustrations next to the colouring in pages. I really love the feel of the book it's magical and atmospheric.
Colouring is a fantastic mindfulness activity for kids and adults. It keeps you in the moment and focuses you on the activity at hand.
The illustrator is Margaret Tarrant who is a much-loved English illustrator. She specialises in charming depictions of fairy-like children and religious subjects. For many years she produced illustrations for greetings cards for the Medici Society. She painted and published into the early 1950s. Her iconic work fits into a traditional Christmas setting perfectly.
Elys Christmas Crafts in the Top 5 Craft Gifts for Christmas
Elys Wimbledon have a wonderful haberdashery department. This Christmas they have the cutest range of crafting gifts perfect for stocking fillers. Or I'd recommend treating yourself so you get crafty in the countdown to Christmas.
There is a fantastic range of make your own felt decorations. There are Christmas puddings, mistletoe, a prosecco bottle, a nutcraker and even a festive Dachshund, plus more in store. They come with everything you'd need to create the ornament and instructions too. They don't take long to make and would be perfect to create when watching a Christmas movie. The kits are only £3 each which makes them a great price for gifts. I've picked up a few to send to friends as they are super light to post.
Elys also have pompom kits which will definitely be great for Christmas day crafts. Like the decoration kits everything you need is inside and ready for you to start creating. The gingerbread man is definitely the cutest. You wind the wool around give him a big fluffy tummy. I really love these kits. They are joyous little quick-ish crafts which are wonderfully fun to do.
Visit Elys in Wimbledon and find the crafty kits in the haberdashery department on the 2nd floor. Find out more about Elys Wimbledon here.
Christmas Cross Stitch Bothy Thread
Bothy Threads are incredibly well known by craft fans for producing wonderful cross stitch and tapestry kits. This Christmas they have created a beautiful range of crafting kits which will take up your time from now until Christmas if you bought them all. There are little patterns perfect for making into Christmas cards or turning into little stuffed decorations for the tree. Plus big kits which would look wonderful turned into Christmas cushions or framed when completed. With kits perfect for beginners, children up to pro level stitchers there is something for everyone.
Above is the 'Snowy Stack' design which is so super cute. I'm currently working on it so hopefully will have it to show you on social media soon! The packs from Bothy Threads are brilliant because they contain everything you will need to complete each project. For example the kit for this design includes the 14 count pale blue Zweigart Aida, pre-sorted stranded cottons, Lana (a woolly thread), Perle, needles, beads, sequins, stitch diagram and instructions. The threads are even divided up for you ready to go which saves a lot of time when you want to start.
Visit Bothy Threads to order from their wonderful range of kits here
Dot Art Sticker Seurat
This is a brand new type of craft for me. Dot art is literally what it says on the tin. This craft kit contains hundreds of coloured stickers and a poster with the corresponding colour to stick them on to create a famous work of art. In this case it's the iconic Seurat painting Bathers at Asnières. As a piece of work that the uses the pointillist technique it lends itself very well to the dot art kit.
As you can see below there are a lot of stickers to place on the poster. The poster is pretty large and makes finding the right colours to go in the right place pretty tricky as there is no key or help on which colours go where. However it is really enjoyable and gets addictive. The finished piece is pretty glorious… or at least it will be when I stick the last few stickers down. I will post it on social media so make sure follow me on Instagram @sewwhite to see it.
hereOrder your dot art poster from the National Portrait Gallery shop here.
Create your own Affirmation Advent Calendar
Top 5 Craft Gifts for Christmas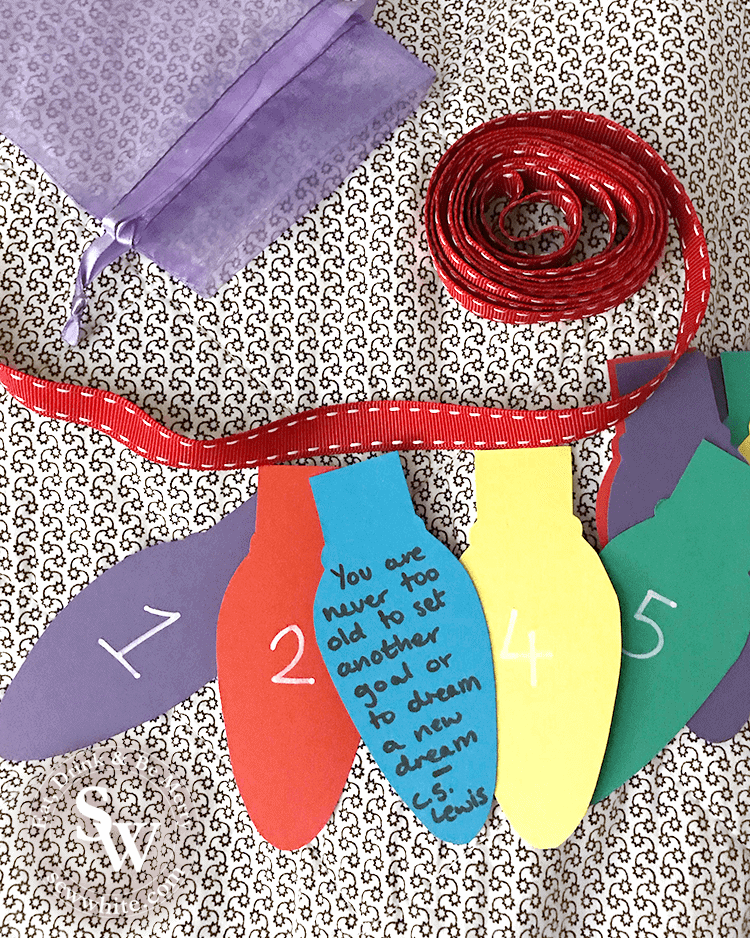 Last year I created affirmation advent calendars for friends. It was a great crafty thing to create and made with love too. I created them in different shapes including the old school Christmas lights above, holly leaves, gingerbread men and stars. Once they were all cut out, I wrote personalised messages for each day. These included nice quotes, truths about the person and a few little inside jokes to make them laugh. I then wrapped them up with a nice ribbon and some pretty miniature pegs so they could be hung up in time for December 1.
Check out how I made my affirmation advent calendar here
Check out my other Christmas Gift Guides.
Disclaimer - Some of these items were gifted. All opinions are my own.
Christmas Gift Guides for 2019