Check out my picks for the best Valentine's Day Gift Guide 2020. From make up, to chocolates and cuff links. Explore my list below.
For Valentine's Day I have rounded up a range of gorgeous gifts perfect to give to the one you love. I've tried to include things for everyone so please let me know what you think.
Kiss the Cook with Kate Guy in the Valentine's Day Gift Guide
A gorgeous apron is always on my wish list as the prime cook and baker in the house. Also as I'm the messiest so as I might as well protect my clothes and cook style. The incredible printmaker Kate Guy creates beautiful food themed designs which she prints on a range of beautiful items.
Kate is a print maker and designer working from her studio in Camden, North London where she also teaches print making for those interested. She works principally with lino cut, printing directly onto paper and textiles. Including tea towels, aprons and other home wares.
The design of the apron is stunning. It's of a pantry stocked full of food and drink. It's really detailed and every time I look at it I find more aspects I hadn't seen before. The bottle of gin, jar of mustard and jars of goodies on the bottom shelf. The bright blue colour is eye catching with the white making it look very contemporary. While the subject matter has a cottage cosy feel.
Order your beautiful apron from Kate Guy on Etsy.
Treats for a sweet tooth with Bumble and Goose
I think it's safe to say no matter what time of year a sweet treat is always accepted with open arms. The wonderful baker Bumble and Goose have created the cutest little iced biscuits for Valentine's Day 2020. They can also personalised to make them even more perfect for the one you love.
As well as the cutest biscuits Bumble and Goose also have a range of postable brownies. I know right! What can be better that delicious brownies delivered right to your door. The brownies are gooey & fudgey and come in a range of flavours to chose from. These handmade brownies are wonderful and I could be definitely tempted to enjoy a box of them again soon.
The box contains 6 large pieces and one really is too much for one person to eat in one go. The box will bring a smile to anyone who loves a sweet treat and wouldn't expect to get brownies in the post.
View all the goodies available at Bumble and Goose
Valentine's Day Beauty with Note Cosmetics
Note Cosmetics have a lovely range of cosmetics and gifts for beauty fans. For Valentine's day however I would recommend their Must Have box. This is a box of simple sophisticated style. You could argue the three best items you would need for a classic look. Bright red lipstick that lasts, pin point accurate black eye liner which does not smudge and leaves a sharp line and mascara which extends your eye lashes making your eyes look huge.
The eye liner is like a felt tip with a sharp point which gives a beautiful line. The mascara has a big applicator and I feel like my eye lashes had doubled in size after using it. It definitely drew more attention to my eyes which I like. The red lipstick is mega bright! It went on smoothly and the colour lasted really well. It didn't smudge too much – I did put some lip balm over the top to keep it lock it in for longer. The three aspects perfect to create a bold look for Valentine's Day.
The box is beautifully presented. I can say when I received it to try it out I was thrilled. This is a really useful collection of items which will be used time and time again.
Check out this gift box and other products from Note Cosmetics.
Sip to a successful Valentine's Day with Tom Savano
Tom Savano is a drinks brand, passionate about the discovery of craft spirits. They wonderfully support small batch distillers to create pre-batched, bar quality cocktails. These are perfect for a drinks at home and great to celebrate Valentine's Day sipping in style.
They want to bring to great cocktails ready to drink at home and they really achieve it. Unlike other pre-made cocktails these are beautifully balanced and have the right amount of sweet and sour.
The flavours available are Devon Coastal Negroni, English Garden Lychee Martini, Kentucky Winter Old Fashioned and Single Estate Reposado Margarita. I think they are some of the most iconic cocktails and thy are definitely going to be a great gift no matter when. I can see myself ordering a few bottles ready for the summer and evenings perfect to sip a drink in the sunshine.
Check out the range of Tom Savano cocktails an order online.
Naturally delicious grown-up drinks with no alcohol with Borrago
Borrago is a mouth-wateringly delicious non-alcoholic spirit. Perfect to use as a base for cocktails at home. Borrago is a naturally delicious steam distilled botanical spirit. It is designed to mixed not drunk straight and called a spirit as it can be used as the base for grown-up non-alcoholic cocktails.
The taste has a deliciously dry flavour, with sweet floral notes on the nose, a layered, textured middle and a long finish, its a drink worth celebrating with.
As it is not a specific style of spirit it is really versatile for drinks. If you want to keep it simple use it as a gin substitute for a gin and tonic. You won't notice the difference flavour wise. It's really easy to favour this over the alcoholic spirits, especially on a school night when you still fancy something to chill out with.
Find out more about Borrago and shop
A little something for men on the Valentine's Day Gift Guide
Trendhim are a fashion accessory company perfect for gifting men who love to be stylish. They have an incredible range of cuff links, suit accessories, gloves, hats bags, wallets, watches and so much more. Their prices vary and offer something for everyone. For the Valentine's Day Gift Guide I had to choose the twisted heart cuff links to feature.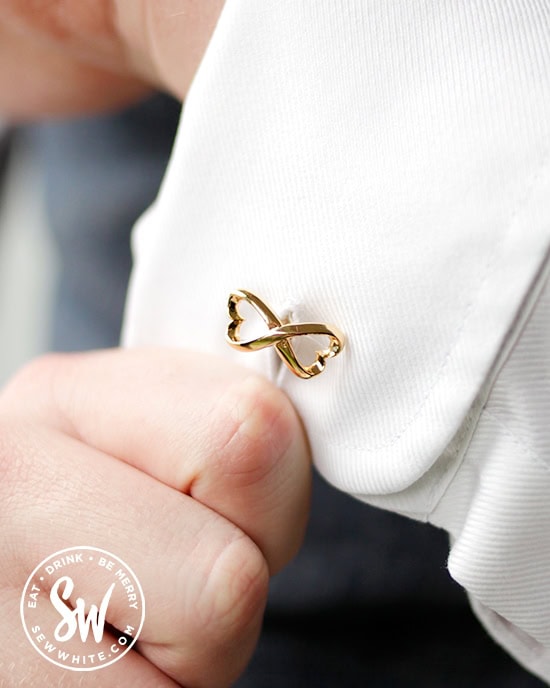 The twisted hearts are subtle but still full of love. They are also super shiny which I love. On a crisp white shirt for work the other half they looked gorgeous. Super stylish and it was nice knowing he had my heart on sleeve going to work.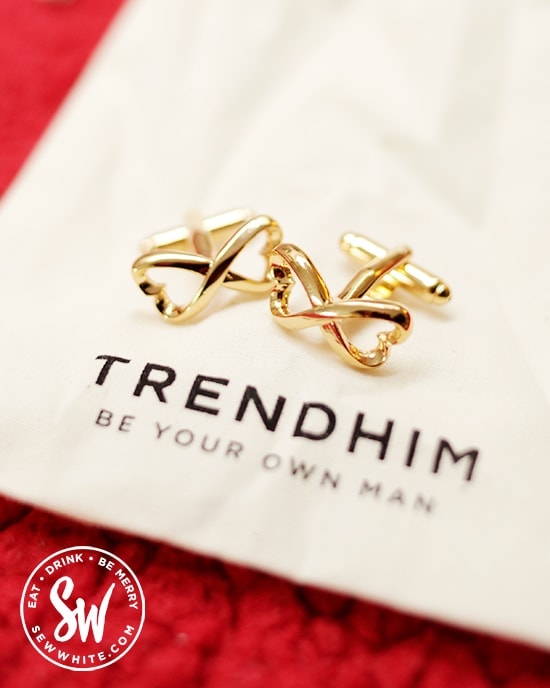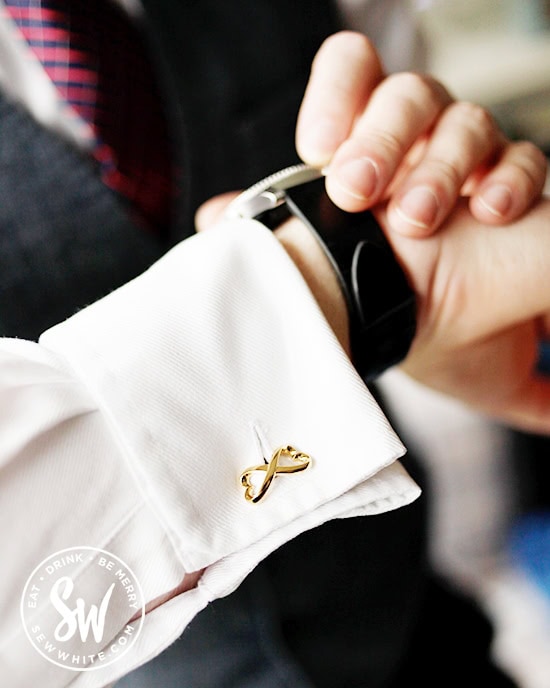 Explore the full range of cuff links, accessories and jewellery at Trendhim.
Truffles perfect to share on Valentine's Day with Davenports Chocolates
It couldn't be a Valentine's gift guide without chocolates. For this delicious choice I have picked the raspberry and rose chocolates from Davenport's chocolates. These chocolates are delicious. I think rose has to be one of my all time favourite flavours. These chocolates are expertly made and the mix of raspberry and rose are balanced perfectly.
Of course I ate most of them to the make sure they were all quality. They were! I have already sent the link to the boyfriend to order me some for Valentine's Day. There was no way they they would last until Feb 14 in my house. The flavour is light and rich at the same and definitely worth trying if you like floral and fruity flavours.
Click here to order your delicious chocolates in time for Valentine's Day.
The gift of a great nights sleep with Sleep Master
Who doesn't long for a great night sleep! This great design combines light elimination and sound reduction resulting in the conditions necessary for deep sleep.
The Sleep Master sleep mask is made of soft stretch satin which is cool the face which is instantly calming. It is padded enough to block out light and muffle sound as it covers the ears too. Unlike a lot of other sleep masks this one has been designed to fit around your nose which makes it more comfortable.
As well as perfect for a day time nap, it's so light weight and compact so it's perfect for taking on holiday. At night I have worn mine to block out the light of my partner on his phone or when he is watching TV. I have to say I also love the colour! This rich teal colour is striking and very stylish.
Plus if you are looking for a multi-purpose item it could be used for Valentine's night, as makes an amazing blindfold. Cheeky but worthy mentioning!
Order your mask for a great night sleep.
Big gifts for foodies with Le Creuset
This is definitely a big present. The large cast iron casserole dish from Le Creuset is a beautiful piece of kitchenware and one that will last years. For Valentine's Day it will definitely be pleasing present for foodies. Of course for Valentine's Day I had to chose the cerise red. This casserole gets used for everything in my house. Over Christmas it had mulled wine in, I've done one pot dinners including stews and roasts, risottos and so much more.
Find the range of casseroles and their beautiful colours.
Last but not least flowers for the Valentine's Day Gift Guide
It might seem simple but I don't know many women who wouldn't love to have a gorgeous bouquet on Valentine's Day. You can go big bouquets, a pot of bulbs to grow and enjoy at home or my favourite type at the moment – jam jars with a small but gorgeous bouquet inside.
This is a beautiful Clifton hand tied bouquet from Gardenia of London. It's absolutely adorable. A perfectly petite jam jar arrangement of passionate reds and opulent purples, with rich green foliage and crisp white lisianthus.
Order yours here in time for Valentine's Day
Follow me on instagram to see what I've been making recently. www.instagram.com/sewwhite
Fancy baking up a Valentine's Day storm check out my Valentine's recipes.
Disclaimer - These products were gifted to be featured in this gift guide. All opinions are my own.