Bleeding Apple Mummy Pastries are a cute and gruesome bake perfect to make this Halloween. A cute of pastry and apple filling with berries to make it look the mummy! This is a fun bake to make with children who want a sweet treat for Halloween. It's a lovely Halloween dessert and quick to make.
It's nearly Halloween and that calls for special bakes!
The mummies have come for dinner!
It's a perfect pudding or snack for Halloween and is very easy to make too. These little mummified monsters were a lot of fun to make with children and each one turns out to be so individual. I used edible eyes I bought on ebay. They were simply printed onto rice paper which I cut out and stuck on. Using a mix of apples and frozen fruit gave them a nice taste but also a bleeding bloody quality perfect for Halloween.
These are so cute as every time you make it you will get completely different results. The pastry moves and expands in different ways. I did the mummies exactly the same and with the eyes they look completely different. I love how they get a character as soon as you add the eyes. The one on the left looks so happy while the mummy on the right looks very sacred for Halloween. It was almost too hard to eat them but we did and they were delicious.
How to make the Mummys.
To make this even quicker I used ready made puff pastry. I laid the soften apples on top in the centre third and then popped the frozen fruit on top. I then folded over each of the scored sides over to wrap them up. It's very easy and everyone loved the finished bake. Great for making with children and perfect for a Halloween party.
So simple but it produces a gloriously grisly result.
Baking the Bleeding Apple Mummy Pastries
Bleeding Apple Mummy Pastries
Bleeding Apple Mummy Pastries are a cute and gruesome bake perfect to make this Halloween. Easy to make with children and fun to eat too!
Ingredients
1

pack of ready rolled pulled pastry

roughly 320g

2

red skin apples

1

tablespoon

of lemon juice

250

g

frozen fruit

1

egg

splash of milk
Instructions
Unroll the pastry and cut into quarters.

On each of the pastry pieces cut diagonal cuts into the outer thirds.

Cut the apples in half, scoop out the core and chop into thin/medium slices.

Pop them into a microwavable proof bowl and just cover with water and add the lemon juice.

Warm in the microwave to soften the apple slightly for about 90-120 seconds.

Drain and allow to cool.

Preheat the oven to 180ºC.

Overlap the slices in the middle third of the pastry.

Add a few frozen berries.

In a cup of jug mix together the egg and splash of milk.

Fold the outer pieces over each other, like a plait, over the fruit.

Using a pastry brush, brush the parcels (this will help them go golden brown).

Move them on to a baking sheet lined with greaseproof paper and bake until golden brown about 15-20 minutes.

Allow to cool before adding the eyes and serve straight away.
Notes
Notes Best served hot but also work very well cold.
Nutrition
Please note that the nutrition information provided above is approximate and meant as a guideline only.
Pin me for later
Follow me on instagram to see what I've been making recently. www.instagram.com/sewwhite
Are you looking for a delicious way to use up your Halloween candy? Then check out this delicious No Bake Halloween Cheesecake. This can be made ahead of your Halloween party and topped with your delicious Trick or Treat candy. A fantastic centre piece and show stopper for a Party food too! The best of Easy Halloween Desserts!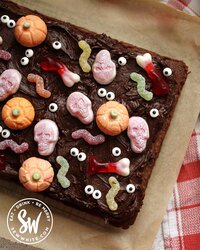 If you are looking for an Easy Halloween Chocolate Cake then you need this easy Halloween sheet cake recipe. An easy way to use up leftover Halloween candy and create a beautiful piece perfect for a Halloween party. The Easy Halloween Cake is a simple chocolate sponge traybake decorated with a rich chocolate cream cheese buttercream. For the easy Halloween cake decoration I used my favourite Halloween sweets.
Halloween can be healthy! These Healthy Halloween Snacks are the cutest thing to make and will get the kids creative too.
This is the best spooky dinner for All Hallows Eve! My Halloween Graveyard Pie takes a delicious cottage pie and makes it a little scarier.
It's time for another gruesome Halloween dinner and this time it's bleeding ribs spicy sausage rolls.