Halloween can be healthy! These Healthy Halloween Snacks are the cutest thing to make and will get the kids creative too.
Create a really fun, quick, artistic and healthy Halloween snack. Take satsumas or small oranges and wash them to remove some of the grease on the skin. Let children use marker pens to draw on pumpkin faces and leave to dry for an hour. It really is that simple.

They look so cute and I love seeing how excited children get when they get a little pumpkin they can take around with them but also eat when they're hungry. They take a lot less effort than carving pumpkins. You can even get really creative with paint, glitter and pompoms if you want to make a really fancy one. I love the making these. There are endless amounts of faces you could create.
Healthy Halloween Snacks
Then, peel and eat – a spookily healthy treat, that is perfect for children and big kids too. They don't take long at all. I think I did these in about 10 minutes. If you need some pumpkin inspiration head to Pinterest or Instagram or even use the emojis on your phone. There are hundreds of options of faces you could make. . Or use my little orange cuties to inspire your healthy snack pumpkins.
These are so fun to make and I absolutely love getting to create different faces. I think I prefer doing the cute faces rather than the scary ones. The top orange with his little smile it just so cute. Healthy Halloween Snacks exist can get you creative too!
I created this for my food news page for the Wimbledon, Wandsworth, Putney & Barnes issue of Time & Leisure.
Healthy Halloween Snacks Oranges as Pumpkins
Halloween can be healthy! These Healthy Halloween Snacks are the cutest thing to make and will get the kids creative too.
Ingredients
4

satsumas or oranges

sharpie pen
Instructions
Take your oranges and give them a wash. Dry them.

If you aren't confident using a sharpie straight away lightly pencil the design on to the orange and then colour in with the sharpie.

Leave them to dry and then Happy Halloween.
Nutrition
Please note that the nutrition information provided above is approximate and meant as a guideline only.
Check out these other healthy Halloween recipe from brilliant bloggers.
This Halloween Smoothie Bowl is packed with delicious pinapple, banana, carrot, orange juice, kiwi, apple and lime juice and topped with pumpkins seeds and dried apricot for a fun healthy treat.
When it comes to Halloween food it's all about simple here – like these veggie Halloween mummy sausages. These spooky little mummies are simply vegetarian sausages wrapped in shortcrust pastry strips before cooking. My kids love these for dinner or in their lunchbox the next day.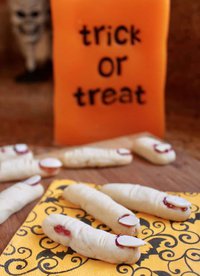 Witches' Digits are truly scary Halloween cookies that look terrible, but taste really good! Give them a try this Halloween and see how many people are brave enough to take a bite!
Delicious healthy pumpkin muffins sweetened with dried fruit. Can be enjoyed on their own or topped with sweet potato frosting to make them extra special. Perfect for babies, toddlers and everyone who wants to reduce their sugar intake. Suitable for vegans.
Follow me on Instagram to see what I've been making recently. www.instagram.com/sewwhite
It's time for another gruesome Halloween dinner and this time it's bleeding ribs spicy sausage rolls.
Are you looking for a delicious way to use up your Halloween candy? Then check out this delicious No Bake Halloween Cheesecake. This can be made ahead of your Halloween party and topped with your delicious Trick or Treat candy. A fantastic centre piece and show stopper for a Party food too! The best of Easy Halloween Desserts!
I adore these Chocolate Marshmallow Pops. Marshmallows dipped in chocolate are one thing but these are next level treats. Marshmallow pops are so easy to make, look beautiful and will make always be popular with adults and kids alike. Dress them up with sprinkles, dried fruit and even chopped nuts.
This is the best spooky dinner for All Hallows Eve! My Halloween Graveyard Pie takes a delicious cottage pie and makes it a little scarier.
Bleeding Apple Mummy Pastries are a cute and gruesome bake perfect to make this Halloween. Easy to make with children and fun to eat too!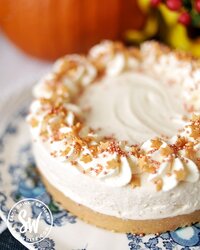 I love pumpkin spice! It's pumpkin spice season and that means it's time to enjoy this gorgeous no bake pumpkin spice cheesecake. It's a smooth fridge bake cheesecake made with all the iconic flavours of the classic pumpkin pie.