Love your Christmas Pudding leftovers with my deliciously simple Christmas Pudding Ice Cream recipe. The straightforward no-churn method and a little extra Christmas spice makes this Christmas ice cream a really special winter dessert. With just 5 ingredients including the pudding, this rich cake spiked creamy ice cream will make you want to buy extra puddings just to more – it really is that good!
This creamy Christmas ice cream is such a treat with its spices and chunks of leftover pudding making it extra yummy. It's rather rich but that means a little scoop is just enough. Every year I count down the days until I make another batch. Although of course I have to make my Christmas Puddings first!
The great thing about no churn ice cream recipes is that you don't need any fancy equipment to make them and no more room in the freezer than for the ice cream itself. And you'll almost certainly have all the ingredients you need in the pantry and fridge already.
So there is no excuse to combat food waste and make sure to make the most of your leftover Christmas pud.
What is Christmas pudding?
A traditional English Christmas pudding is a steamed dessert made with dried fruit. Puddings usually contain alcohol and they are steamed for several hours. Once cooled, more alcohol is "fed" to the pudding each week in the run up to Christmas day.
After another quicker steam or stint in the microwave, Christmas pudding is served covered in flaming brandy or sprigs of holly with brandy butter, brandy sauce or custard.
It is usually served after the main Christmas Dinner or Lunch although inevitably people are often too full to each too much. Christmas pudding is very dense and rich so a little goes a long way. Which means that leftover pudding is really quite common!
Homemade Christmas Pudding vs Store-Bought Christmas Pudding
Like with most food, homemade is usually much more delicious and satisfying than anything you can buy in the shops. Stir-up Sunday is the traditional day towards the end of November when families come together to make their puddings.
Every year I stir up my Traditional Steamed Christmas Pudding with Stout which is rich and delicious. My recipe makes two smaller puddings which is ideal for minimising leftovers on the day. But also means that I have a spare pudding to make delicious leftovers dishes like this no-churn ice cream.
But not everyone has the time or inclination to make their own Christmas puddings, there are many still perfectly tasty options available in the shops. As well as traditional puddings, you can also buy them with twists like chocolate orange flavour puddings. You can also buy nut, gluten, alcohol or dairy-free versions.
Making Ice Cream at Home
The main benefit of no-churn ice cream is that you don't need to churn it! Traditional custard based ice creams need to be stirred as they freeze. This usually means using an ice cream machine.
There are two main types of ice cream recipe. Traditional custard based ice creams, usually made with eggs. And simple no-churn ice creams which more often than that use cream and condensed milk as their base.
Traditional ice creams need to be stirred as they freeze. This aerates the mixture and prevents large ice crystals from forming. Which make the ice cream nasty to eat. There are two main ways to churn ice cream at home:
Ice Cream Machines
These fall into two main categories for the home cook. The first is the kind where an insulated bowl needs to be kept in the freezer for at least 24 hours before you want to make ice cream. The ice cream mix is then added to the bowl, put in the machine and a stirrer churns the ice cream which the cold of the bowl slowly freezes the ice cream.
Whilst relatively cheap, these ice cream machines need you to be very organised and have sufficient room in the freezer for quite a large bowl. You are then limited to making a fairly small batch of ice cream each day.
The second kind of home ice cream machine includes a freezing mechanism in the machine itself. These machines are much more continent but they are very expensive. So unless you are planning on making ice cream several times a week and don't mind the financial investment, they are really a luxury item. They're quite large to store too.
Hand Churning Ice Cream
You can make traditional ice cream without a machine. This involves regularly taking the ice cream out the freezer and beating it by hand. If you don't do this, the mixture sets rock solid and the texture isn't pleasant to eat. It is a very labout intensive way to make ice cream.
The Benefits of No-Churn Ice Cream
No churn ice cream doesn't need any fancy equipment or constant attention. The aeration is all done before the mixture even goes near the freezer. And the mix of simple ingredients means that ice crystals forming simply isn't an issue.
So the main benefit of no-churn ice cream is that is doesn't need churning!
But there are more benefits too. For starters, no-churn ice cream is is super easy to make. With just a few minutes of whisking , the base recipe is ready to go. Another 30 seconds stirring in any flavourings and you are good to pop it in the freezer and forget about it until you are ready to dig in.
Talking of digging in, one of the other great advantages of cream and condensed milk ice cream is that is soft scoop. Which means that you can serve it right out of the freezer. There is no waiting 20 minutes for it to start thawing or needing to go full hulk with a spoon to get it into a serving bowl.
I'm not a patient person. I want my ice cream now so this is a real selling point for me!
What Container Should I Use For No-Churn Ice Cream?
You can use an old ice cream tub or any kind of lidded container. Clip lock style tupperware is perfect for this. You can also use glass dishes like the pyrex kind that come with plastic lids.
As long as it has a lid and isn't made of something that will crack in the cold, the world is your container oyster.
How Long Does No-Churn Ice Cream Take to Freeze?
There are a few factors and things to consider that will affect this.
How deep your container is. A larger but shallow dish will freeze quicker than ice cream in a deep but smaller container.
How effective your freezer is. This will include how full it already is, whether you have a fast freeze section and where in the freezer you put the ice cream.
What additional flavours you add to the ice cream. As this Christmas ice cream only contains dry spices and then chunks of Christmas pudding, it will freeze fairly fast. Something with any kind of liquid ingredient stirred in will freeze more slowly.
Taking all the variables into account, I would recommend expecting to your ice cream to take at least 6 hours to freeze. It would be even better to not count on it being frozen properly until the next day.
You might find that it is ready in as little as 3 hours. Just don't' stake anything on it.
What Do I need to Make Leftover Christmas Pudding Ice Cream?
The ingredients list is surprisingly simple.
Double Cream
Cream is the main base of the ice cream. Which isn't so surprising when you think about the name!
Double cream is the best cream to use because of its richness, thickness and fat content. Plus its willingness to whip up to be light and airy.
Whipping cream is also fine to use and if you are in the US, you will want to use heavy cream.
Condensed Milk
Canned condensed milk is really a wonder ingredient. It's sweet, thick and delicious. Condensed milk provides much of the sweetness in the recipe and body too. Don't leave the condensed milk out, it really is essential.
Icing Sugar
Using icing (powdered) sugar in the recipe means that there are no pesky granules of sugar to have to melt into the mix. Icing sugar blends straight in without any need for heat or cooking.
Mixed Spice
Mixed spice is basically the British equivalent of pumpkin spice. It is a pre-blended mix of winter spices which does vary a little depending on which one you buy. But mixed spice almost always contains cinnamon, ground nutmeg, ginger and ground cloves.
Don't confuse mixed spice with allspice. Allspice is a spice in its own right and it quite a different thing.
If you cannot get hold of mixed spice, you can simply use any similar type of spice blend like pumpkin pie spice or apple pie spice. Or if you are really struggling, leave it out entirely and simply up the amount of ginger and cinnamon that you use.
Christmas Pudding
You can use any leftover Christmas pudding you like. You can even use Christmas cake if you prefer – but I would remove any decorations first. Saying that, cutting up any marzipan and mixing that in would probably be rather delicious.
Of course I do recommend using my Traditional Steamed Christmas Pudding with Stout because it is amazing.
What can I serve with no churn Christmas Pudding ice cream?
Ice cream is of course amazing on its own – it doesn't matter if it is eaten from a bowl or straight from the tup with a spoon (we've all done it!).
As it's Christmas I have a few suggestions of tasty toppings and ways to serve this leftover pudding ice cream:
Ginger biscuits – crumbled up and sprinkled over the topor served on the side to dip and scoop.
More Christmas pudding – maybe hot this time – because why not?
Chocolate brownies.
Try pouring over a hot espresso coffee to make a Christmas affogato.
Serve alongside a hot mince pie or my Cranberry Mince Pie Filo Rolls.
Serve with a slice of stollen.
Christmas sprinkles. I am a big fan of extra sprinkles to serve ice cream with.
More No-Churn Christmas ice cream flavour ideas
From this basic recipe for Christmas ice cream you can change the flavours to be even more Christmassy or to include your own favourite Christmas flavours. Here is my list of my favourites to try if Christmas pudding isn't your favourite.
Glacé cherries and chocolate chunks for a black forest flavour ice cream
White chocolate and marshmallow ice cream
Cranberry and dark chocolate ice cream
Ground ginger with crumbled up gingerbread pieces
Ground cinnamon and crumbled shortbread ice cream
Pin This No Churn Leftover Christmas Pudding Ice Cream Recipe For Later
Leftover Christmas Pudding Ice Cream (No Churn)
Love your Christmas Pudding leftovers with my deliciously simple Christmas Pudding Ice Cream recipe. The straightforward no-churn method and a little extra Christmas spice makes this Christmas ice cream a really special winter dessert. With just 5 ingredients including the pudding, this rich cake spiked creamy ice cream will make you want to buy extra puddings just to more – it really is that good!
Equipment
Sieve

Large spoon

Freezer safe boxes with lids
Ingredients
600

ml

(

2 ½

cups

)

double cream / heavy cream

200

ml

(

¾

cups

)

condensed milk

200

g

(

1 ⅔

cups

)

icing sugar / confectioners sugar

1

tsp

(

1

tsp

)

mixed spice

450

g

(

1

lb

) Christmas pudding
Instructions
Add the double cream and condensed milk to a large mixing bowl and mix together.

Sieve the icing sugar and mixed spice into the whipped cream and whisk until the mixture nearly doubles in size and thickens.

You can do this by hand but you will need super strength and stamina. I use an electric hand whisk or you can use a stand mixer with the whisk attachment.

Use your fingers to crumble the Christmas Pudding into the cream mix. . Gently stir the crumbled pudding in.

Do not use an electric whisk for this step.

Spoon the mix into a freezer safe container with lid and freeze for a minimum of 6 hours or ideally overnight.
Nutrition
Calories:
643
kcal
Carbohydrates:
78
g
Protein:
7
g
Fat:
35
g
Saturated Fat:
20
g
Polyunsaturated Fat:
2
g
Monounsaturated Fat:
10
g
Trans Fat:
1
g
Cholesterol:
120
mg
Sodium:
120
mg
Potassium:
395
mg
Fiber:
3
g
Sugar:
55
g
Vitamin A:
1118
IU
Vitamin C:
3
mg
Calcium:
150
mg
Iron:
1
mg
Please note that the nutrition information provided above is approximate and meant as a guideline only.
These Filo Pastry Mince Pie Rolls are a delicious twist on the classic British festive treat. Extra crispy and spiked with cranberry sauce, they're easy to make, easy to bake and easy to eat. What more could you ask for?! They're ideal as a simple festive snack, a fun addition to a buffet or party spread or even as a cheeky appetiser. Or warm them through and serve with brandy butter for the ultimate Christmas dessert.
Cookie Jars are a super low effort but fabulous present which are perfect as birthday or Christmas gifts for kids and adults alike. They're low cost, easy to scale up and always loved! Plus this cookie mix in a jar is long lasting so you can make them in advance with the topping of your choice. My free printable labels with baking instructions included will make this perfect gift even easier to make and super cute too!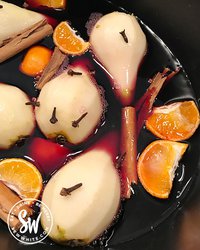 A quick and easy winter dessert! Mulled Wine Pears are a super delicious pudding and with using the slow cooker can be made in advance.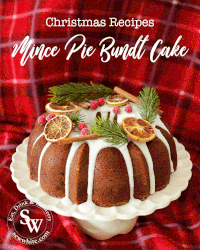 It's beginning to taste a lot like Christmas with my Mince Pie Christmas Bundt Cake. Filled with mince pie filling and spices it's great Christmas bake.