Filo Mince Pie Rolls with Cranberries
Looking for a new way to make delicious mince pies this Christmas? Then try out these easy filo mince pie rolls made with filo pastry. These delicious Christmas mince pies are fun take on the traditional shortcrust pastry mince pie. Using filo pastry and rolling the sweet cranberry mincemeat up you get a beautiful bite size treat. They are perfect easy Christmas party food, would make a lovely addition to a Christmas buffet and are lovely Christmas finger food that the whole family can enjoy.
A delicious and fun way to make mince pies even more easy to eat. The filo pastry is so crisp against the warm spiced cranberry mince. Make sure you try my Cranberry Mince Pie Filo Pastry Rolls.
Cranberry Mince Pie Filo Pastry Rolls are so easy to make and far to easy to nibble on. I will definitely be making these each year and will be no doubt making seasonal changes as I love filo pastry and how crispy it is. If you want to be even more decadent try adding a little pot of chocolate to dip them in to. It really really works! Or dust them with cinnamon sugar before serving. cranberry mince pies are delicious and my favourite to make each Christmas time. For this recipe I wanted to change up the normal mince pies in shortcrust pastry for something easier to have as snack food.
These would be great to make with children as it's fun to roll, a little messy and the results are fun to enjoy. They taste fantastic when they're still hot from the oven, however they taste lovely cold. I really enjoyed dipping them into a little brandy cream.
What pastry are mince pies made from?
Traditional mince pies are made with shortcrust pastry. It's easy to make at home and I think tastes incredible when handmade. If you want to make your shortcrust pastry even more spectacular than add in some freshly grated orange zest. An extra flavour of Christmas added right into the pastry.
For the filo mince pie rolls I used filo pastry. Filo pastry is hard to make at home, not impossible but hard enough for me to get ready made filo pastry from the supermarket. Another way that this recipe is so quick to make. Quick Christmas starters and quick Christmas nibbles are the best. Especially when they taste so delicious.
Do mince pies have alcohol in them?
Different mincemeat jars that you get from the supermarket can have alcohol in them but there are definitely ones available which are alcohol free.
If you are making the mincemeat yourself I would encourage you to use some brandy in the mix. It adds a flavour that you just don't get without it. It also helps combine everything together and the dried fruit will plump back up with its gorgeous flavour. The addition of spices and a little fresh orange juice and you will have a great mincemeat to get baking with.
The mincemeat I used for this recipe does have alcohol in but can be made in the same with alcohol free mincemeat.
Making Cranberry and apple mince pies
A gorgeous part of these mince pie rolls using cranberry and apple to make the mince pies with. The mincemeat I use is apple based, as most are. Apple is a great ingredient if you're making your own mincemeat. Along with all the delicious dried fruit and spices, mincemeat is a gorgeous ingredient to use for Christmas bakes. It also helps that it is available in every supermarket ready made if you don't want to make it at home.
To turn normal mincemeat into the delicious filling for cranberry and apple mince pies and for these filo mince pie rolls you need one (possibly 2) new ingredients. You can use cranberry sauce which is nice and lump and mix it in. You will need to taste to see if the mix is sweet enough. Some cranberry sauces can be very tart so you might need to add some sugar to the mix to taste and stir in.
You also have an option for using fresh cranberries which takes a bit longer. You would need to need to pop them in a saucepan with a little water and sugar. On a low/medium heat let the cranberries soften down. Then add the mince meat to the bowl and stir it all together. If you do it this way make sure you leave the mix to go cold before making mince pies or these filo pastry mince pie rolls. A hot mincemeat mix will melt the pastry before you get it in the oven and we don't that.
Both ways are perfect to make the filling for the cranberry mince pies.
Easy Cranberry Mince Pies
I love mince pies, but I adore cranberry mince pies. They are so easy to make and are very quickly eaten. There are different ways to make the cranberry mincemeat for this recipe. You can either make it by simmering down fresh cranberries and then stirring in the mince meat. Or the easier way is to get cranberry sauce from a jar – make sure it's lumpy as we want the texture. Take the cranberry sauce and add it to the mincemeat and give it a good stir. Have a little taste as you might need to add some sugar to make it sweeter.
Want to make your own mincemeat?
If you want to make your own mincemeat try my vegan mincemeat with my slow cooker recipe.
In this Christmas slow cooker mincemeat , I have created delicious Christmas slow cooker vegan mincemeat which still tastes exactly like regular mincemeat but without any meat products. Mincemeat is perfect to use for making mince pies at home! The great thing about yummy mince pies is that you can really easy make the mince pies vegan if you make the mincemeat at home.
Can I eat filo mince pie rolls straight from the oven?
Just be warned that these lovely filo mince pie rolls will be very hot after being cooked, as the sugars in the mincemeat are going to be bubbling. Molten sugar will burn so do let them cool down slightly before eating. They will still be hot for a long time as the heat will hold inside.
Step by step – How to make Cranberry Mince Pie Rolls using filo pastry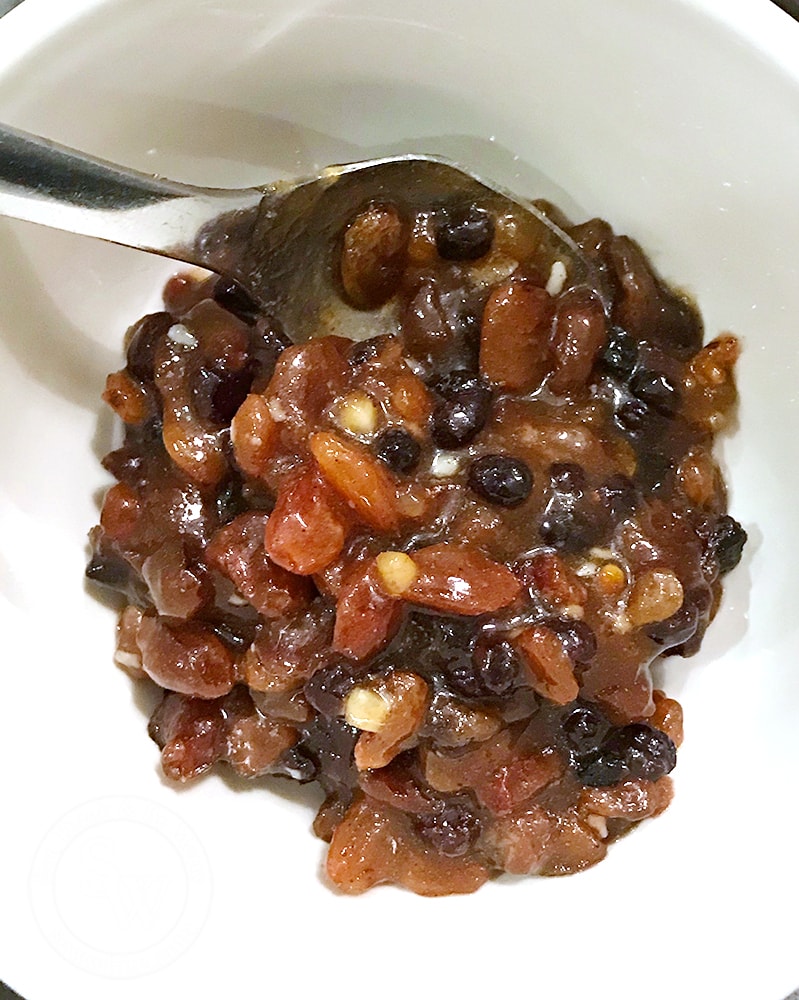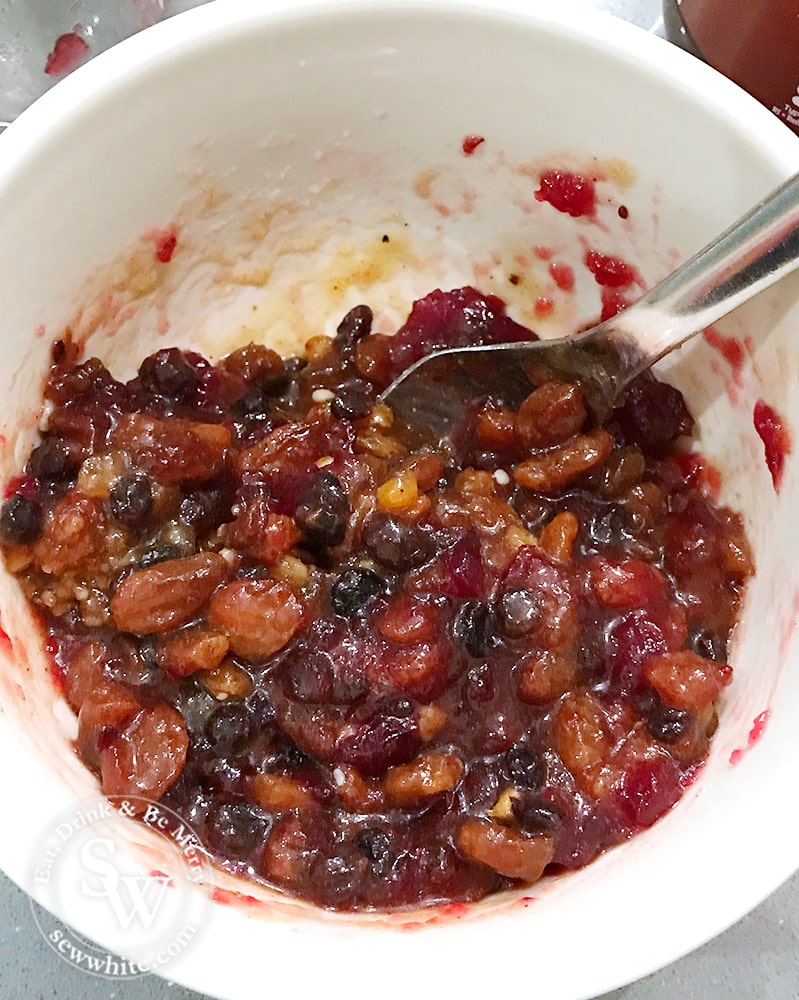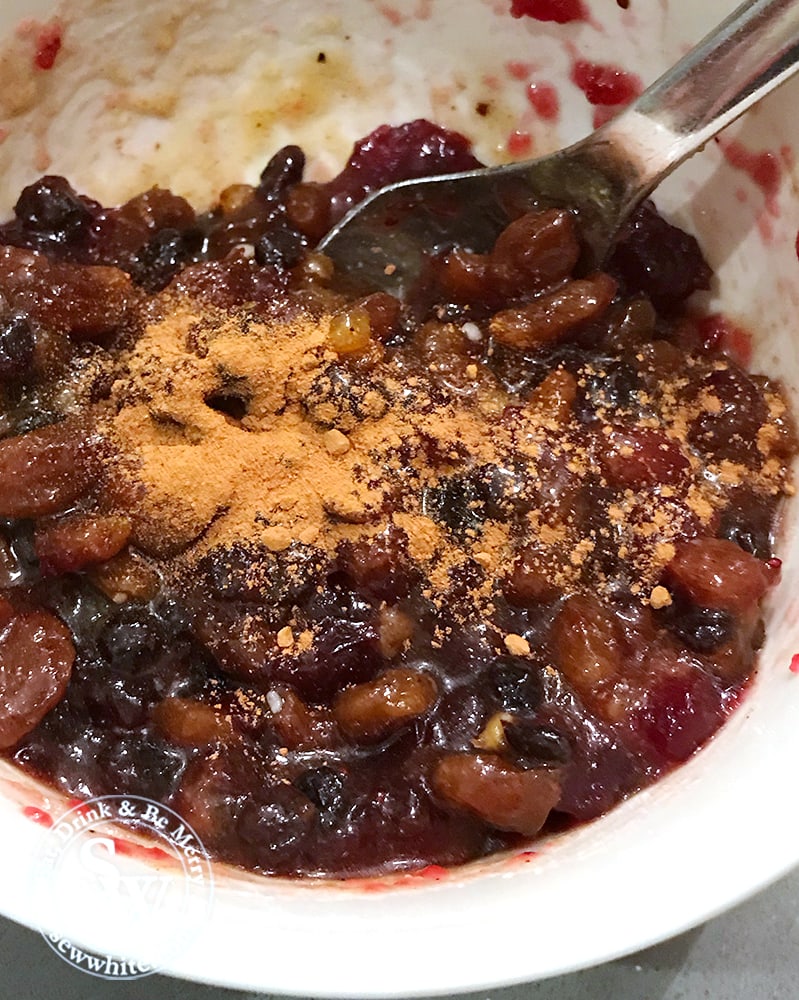 1)Mix the mincemeat with cranberry sauce and then the spices. It will smell incredible. Really give it a good stir to make sure it is really well combined.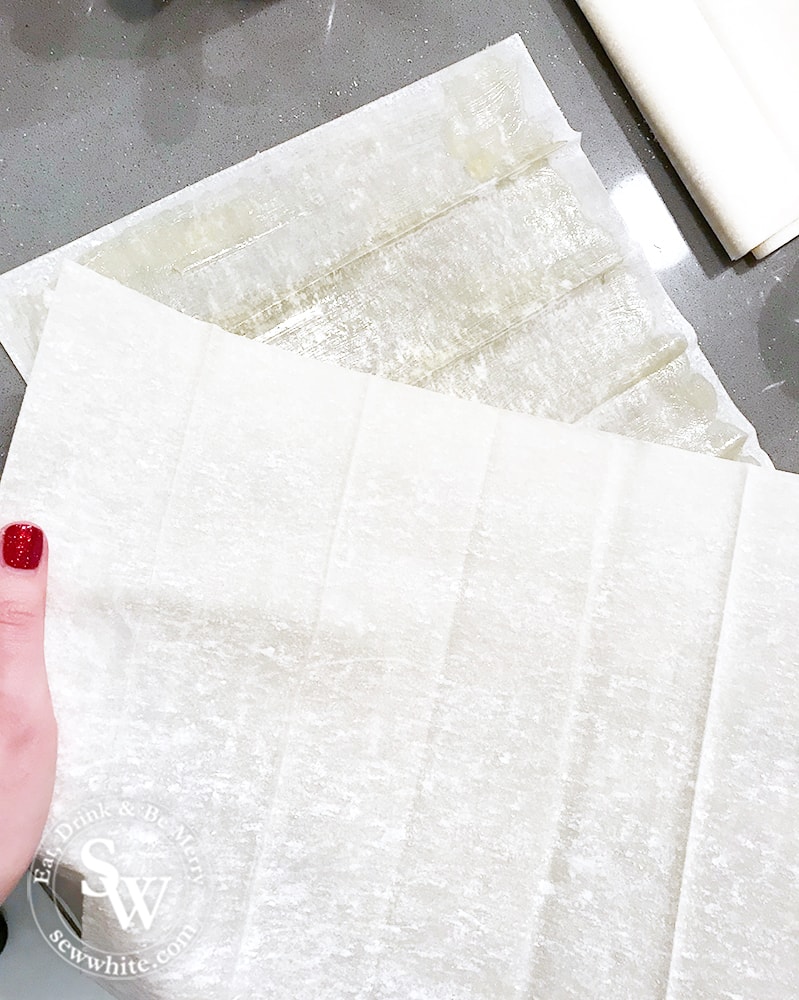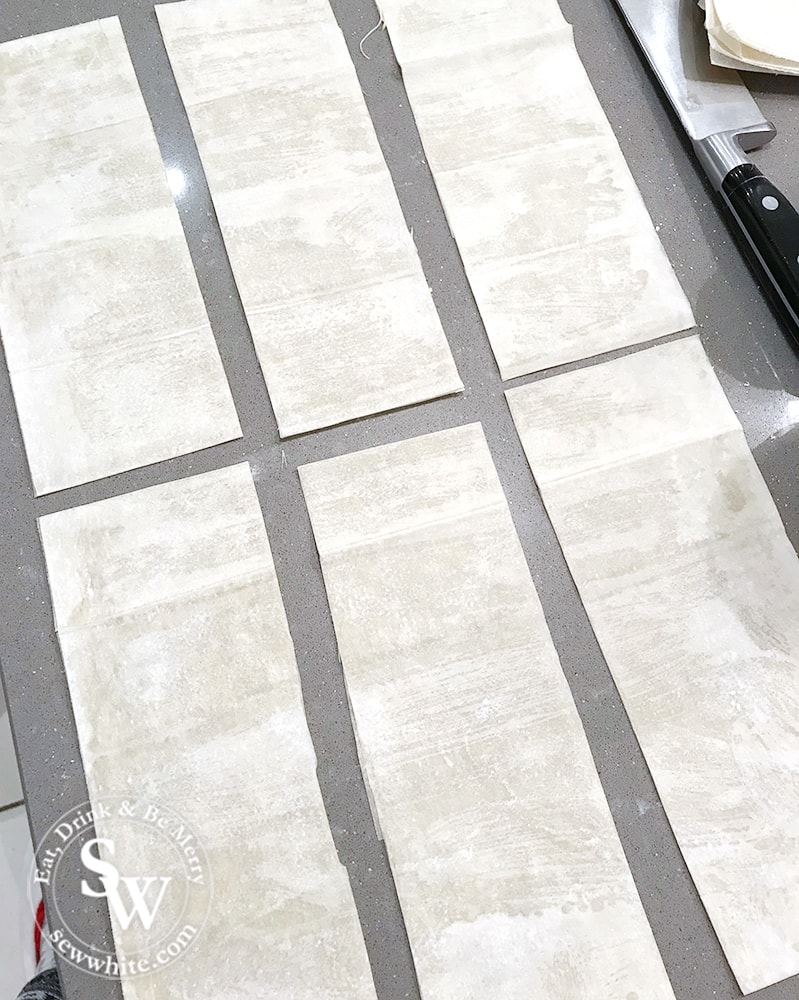 2) Brush one layer of the filo pastry with melted butter and place another on top. Cut it into six pieces like this. Each starting piece for the rolls is two pieces of filo pastry thick.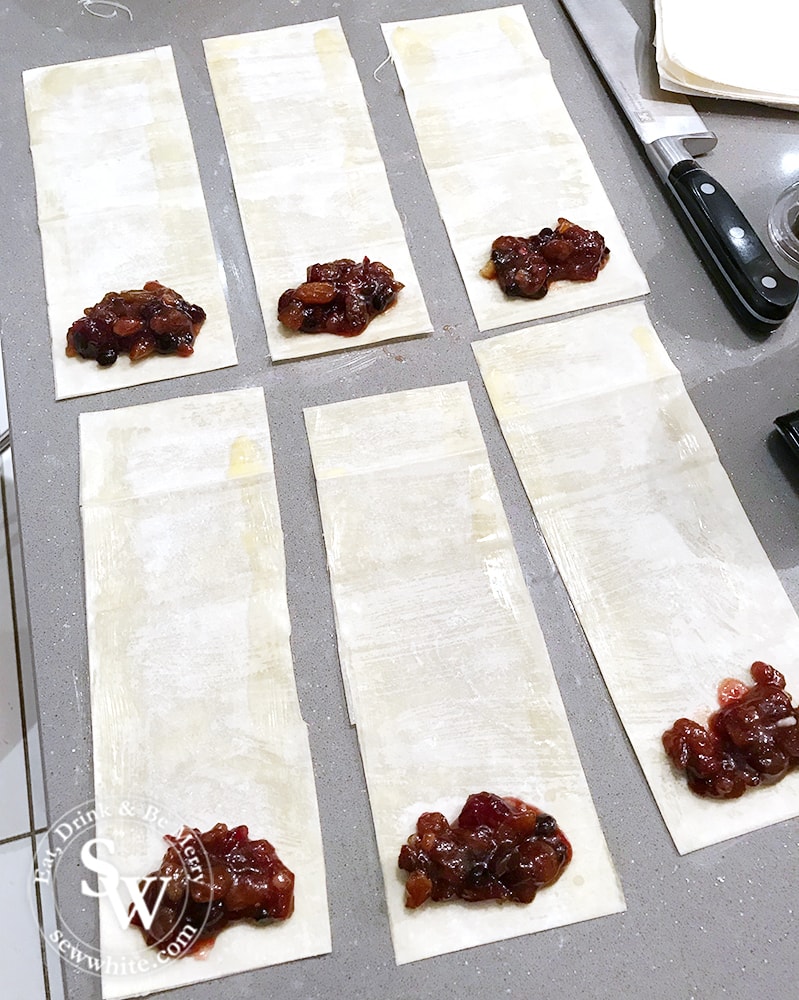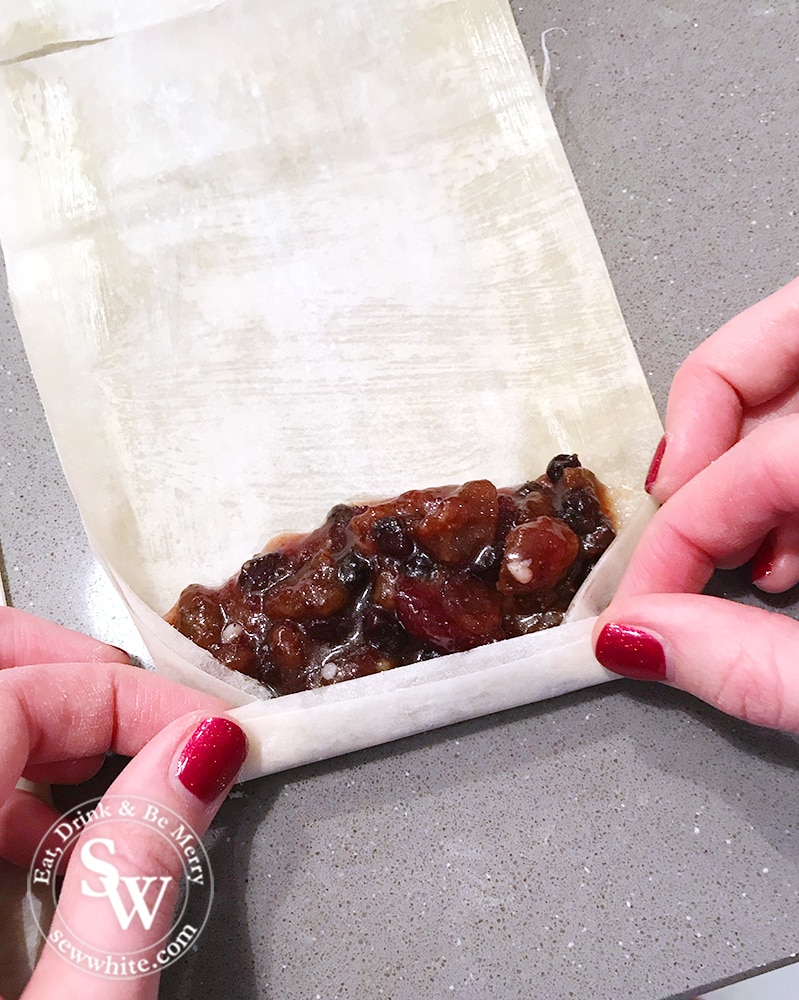 3)Spoon the mincemeat on the bottom edge of the filo pastry. Fold in the sides to hold it in and then start rolling. It's fiddly to keep the sides in but after you've done a few you'll be an expert. If they don't work perfectly it doesn't matter too much, When golden brown and ready to eaten they will look gorgeous and everyone will love them.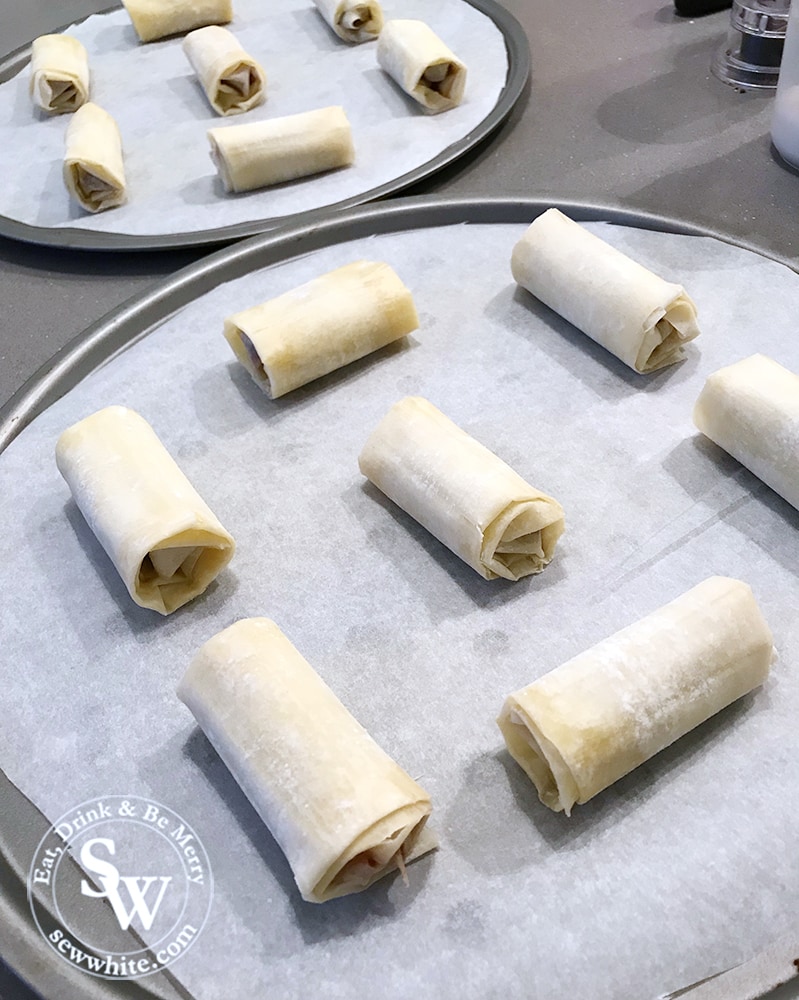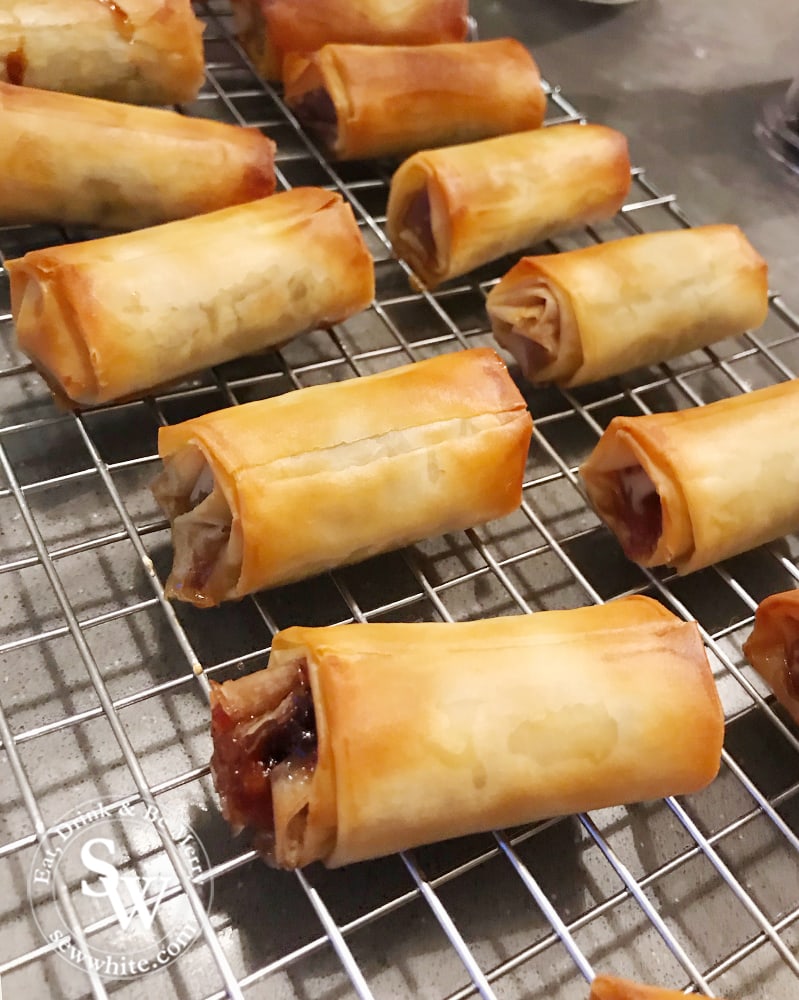 4)Keep rolling to the end. Use a little brush of butter to secure the end. Place on a greaseproof paper lined tray with the close line down. Brush them with the last of the melted butter and bake them for approximately 8-10 minutes until golden brown.
Pin me for later
Follow me on instagram to see what other cakes I've been making recently. www.instagram.com/sewwhite
Check out my other recipes – Keep scrolling for the Mince Pie Rolls recipe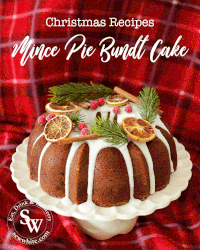 It's beginning to taste a lot like Christmas with my Mince Pie Christmas Bundt Cake. Filled with mince pie filling and spices it's great Christmas bake.
My orange cranberry loaf cake is a delicious, fruity and moist loaf filled with Christmas flavours perfect for enjoying freshly baked from the oven.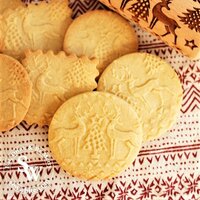 This easy to follow and lightly spiced Embossed Cookie recipe produces a dough which holds the pattern of an embossed rolling pin whilst tasting great! I've got all the tips and tricks you'll need to make perfect rolling pin cookies plus a troubleshooting guide so you'll be able to make the most out of your patterned rolling pin. These spiced sugar cookies are simply perfect and you can use the same recipe to make simple cookie cutter biscuits too.
This is a delicious, lovely, fun and festive dessert. My Christmas Strudel Wreath looks gorgeous on the dinning table and tastes pretty good too. A Christmas strudel is a fun Christmas dessert to make. You build up layers of filo pastry to give a beautifully crisp shell that holds the beautifully sweet mincemeat filling inside.
These White Chocolate Christmas Cupcakes are the cutest addition to a Christmas party. They are easy to make, taste delicious and look wonderful.
Looking for easy Christmas cookies? Then look no further, this is the Christmas recipe for you. My Cranberry White Chocolate Cookies are my favourite bake at Christmas. The creamy white chocolate and sweet cranberries are fantastic together in these oat cookies. Cranberry and oatmeal cookies are loved by the whole family and Santa has enjoyed them too when we've left them out for him. These finished results of these cranberry white chocolate chip oatmeal cookies are Delicious Crunchy & Soft Cookies which are the perfect Christmas cookies.
I love apple crumble so I had to put a Christmas twist on it and make Apple and Cranberry Crumble. Adding cranberries makes them extra special.
Filo Mince Pie Rolls
Looking for a new way to make delicious mince pies this Christmas? Then try out these easy filo mince pie rolls made with filo pastry. These delicious Christmas mince pies are fun take on the traditional shortcrust pastry mince pie. Using filo pastry and rolling the sweet cranberry mincemeat up you get a beautiful bite size treat. They are perfect easy Christmas party food, would make a lovely addition to a Christmas buffet and are lovely Christmas finger food that the whole family can enjoy.
Ingredients
Cranberry Mincemeat
400

g

ready made mincemeat

150

g

cranberry sauce

3

tablespoons

sugar

1

teaspoon

mixed spice

1

teaspoon

ground cinnamon
Mince Pies
7

sheets filo pastry

(they come in packs of 7 sheets in the U.K.)

100

grams

unsalted butter

cranberry mincemeat
Instructions
Making the cranberry mincemeat
In a bowl mix together the mincemeat with the cranberry sauce, sugar and spices.

Making the mince pies
Preheat your oven to 180ºC / 160ºC fan.


Take the first sheet of filo pastry, brush with the melted butter and place the second sheet of filo pasty and place on top. The butter will act like glue and stick them together. Repeat with the rest of the sheets. On the 7th sheet butter half and fold over.


Take the first the filo pastry double sheet and cut into 6 slices. (See the how to make the filo pastry mince pies photos above ).

Using a pastry brush, brush a rectangle around the filo pastry like a frame. Spoon one tablespoon of the mince meat on to the thin side of the rectangle.

Fold in the outside edges first and start rolling up the filo pastry mince pie. Repeat with the rest of the filo pastry. (If you have any mincemeat in you can pop it in a sterilised jar and store in the fridge for a days).


Put the rolls, join side down on a greaseproof paper lined baking tray.


Brush with melted butter and pop them in the oven for approximately 10 minutes and until their gold brown. Check after 5-8 minutes.


Allow them to cool a bit before eating as they will be really hot. The also work really well cold and will last a few days.

Nutrition
Please note that the nutrition information provided above is approximate and meant as a guideline only.