Mulled wine pears are a super delicious and quick dessert to make. These easy to make slow cooker pears means they are made in advance and kept warm until serving. The mix of the mulled wine and Christmas spices makes it a lovely winter pudding, Christmas dessert perfect or an indulgent dinner party dessert.
Mulled Wine Pears are a lovely light pudding. They are fruity and warm and the best thing is they are so easy. Pop everything in slow cooker and leave to warm and poach. Pears are a beautifully delicate fruit and the mulled wine infuses very very well.
Mulled Wine Poached Pears
It was a beautiful fruity dessert. The pear is so soft and warm with the spices from the mulled wine are clear to taste. We served it with a scoop of ice cream but it would have tasted wonderful on it's own.
Easy Christmas desserts
There are some brilliant easy Christmas desserts that you can make including this recipe and poached pears in red wine. Other easy Christmas desserts include gingerbread broken up over ice cream and hot coffee poured over the top. A Christmas take on the famous Italian affogato.
Other quick and easy Christmas desserts you might enjoy
Cornflake cakes that look like Christmas Puddings
Christmas Pudding Corn Flake Cakes are great fun to make and even more fun to eat. Perfect for children to make during the festive season.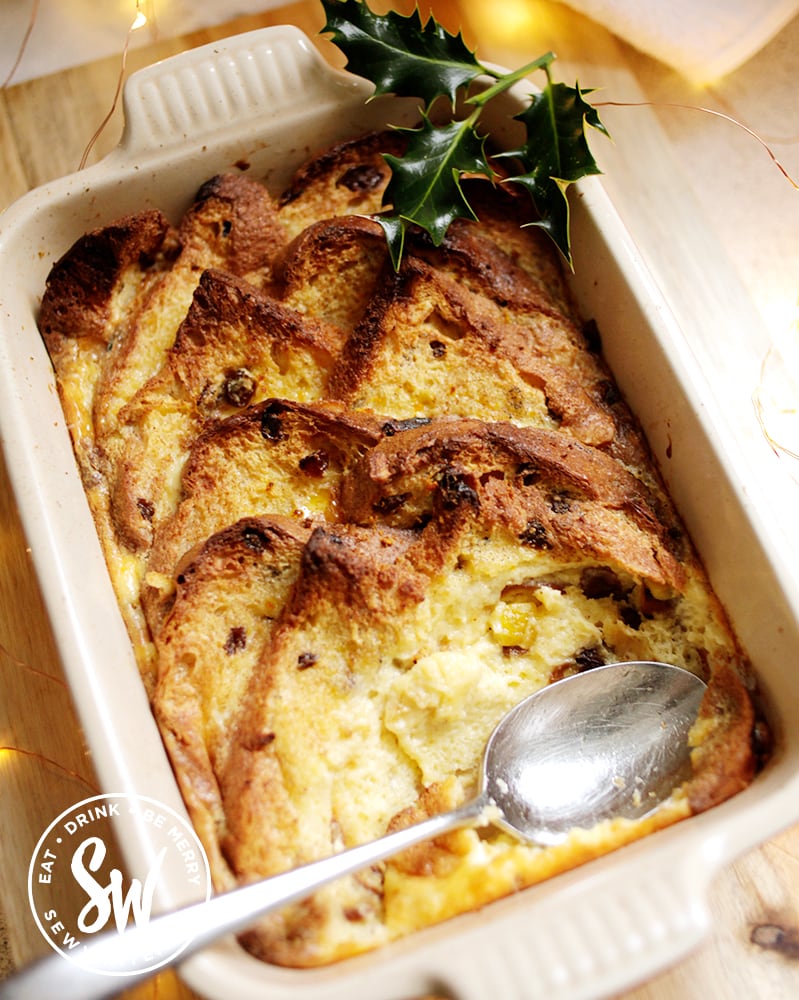 Panettone Bread and Butter Pudding
I adore bread and butter pudding and of course with Christmas on the way I had to make it with Panettone. It's so fruity with smooth custard and toasty too. Enjoy this delicious Panettone Bread and Butter Pudding.
White Chocolate Christmas Cupcakes
These White Chocolate Christmas Cupcakes are the cutest addition to a Christmas party. They are easy to make, taste delicious and look wonderful.
I'm still trying to work out the best way to serve the pears. I really like having them in wine glasses as you can hold them while enjoying the pear and then sip on the mulled wine left in the glass.
simple poached pears red wine
Poaching pears in red wine is easy and a simple dessert perfect to make at home and leave while you get on with other things. Take a bottle of red wine and add it to a saucepan or slow cooker. Peel the pears and add them to the red wine. Leave them to gently simmer in the wine.
I prefer to use the slow cooker as I know I can leave it to cook and not need to worry. It will be gentle for a few hours and takes care of itself.
If it's being cooked in a saucepan you will need to watch it and keep it on a low gentle heat. The red wine would need to be warm but not on a rolling boil. This will burn the red wine slightly and can change the flavour.
How to make mulled wine peaches in a slow cooker
It really is so easy to make and it only used 4 ingredients. You pop everything in the slow cooker and let it take over the cooking process. It's a lovely easy recipe in time for Christmas.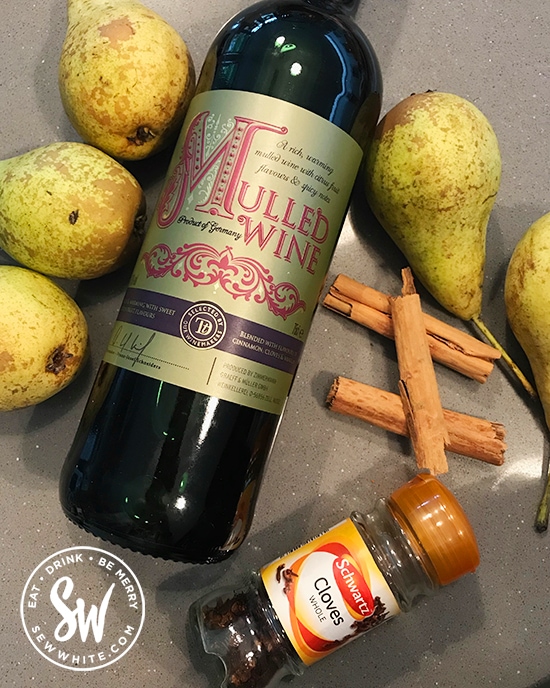 For such a delicious recipe you only need 5 ingredients! Mulled wine, pears, cinnamon sticks, cloves and clementines as an extra ingredient.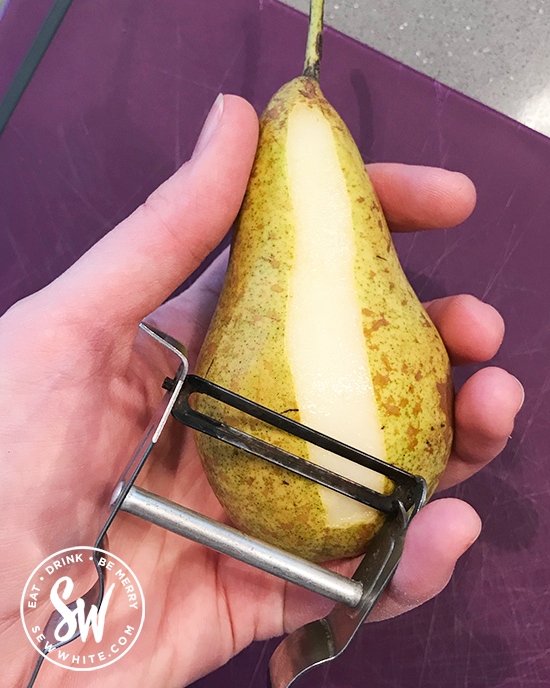 Start by peeling the pears but leaving the stalk attached. You can take them off if you like but aesthetically I think they look nicer left on.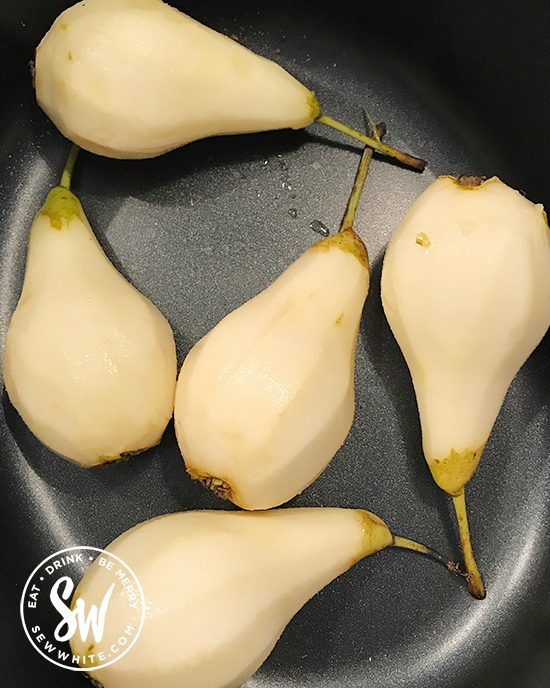 Pop the pears into the slow cooker. having the stalks left on makes them look pretty but it also helps them to be taken out after they are cooked. Be gentle as they are more likely to fall out if pulled.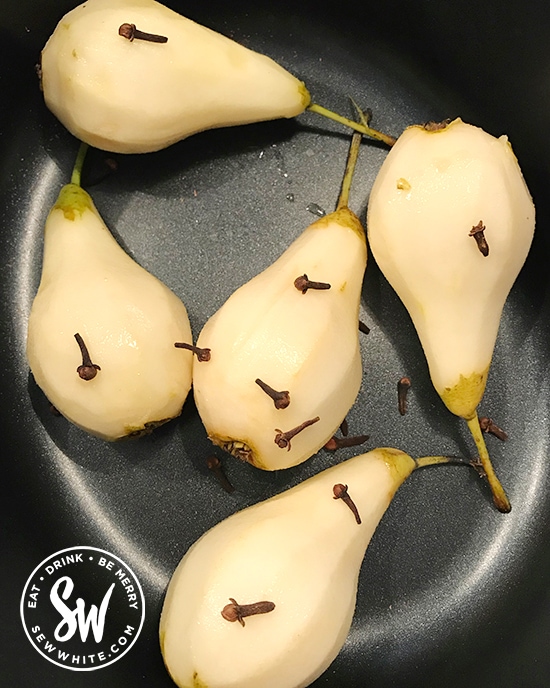 Add cloves to the slow cooker. You can either stud the pears with them or just throw them in. If you have any little muslin bags you can add them to that so they are easy to remove at the end.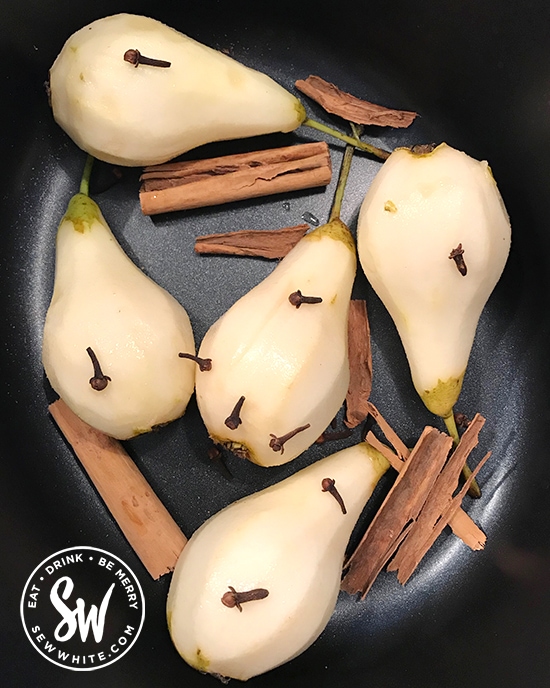 Add the cinnamon sticks. (Mine had fallen a part a bit but they normally look a bit more whole).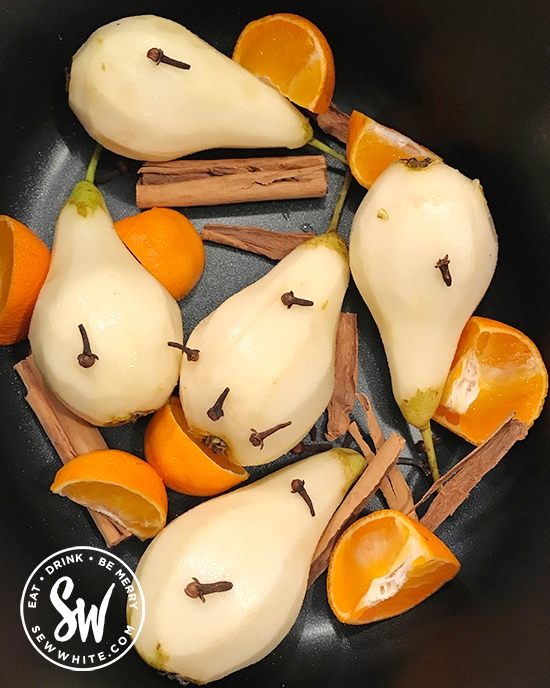 Chop up the clementines and add them to the slow cooker. You can leave the skins on.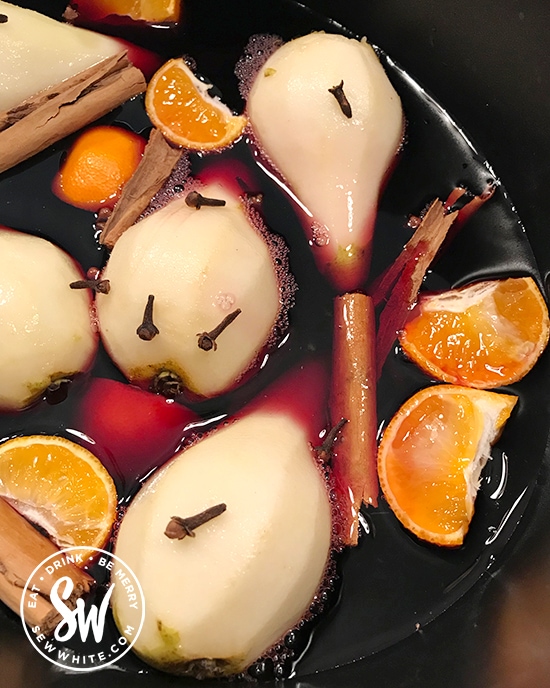 Pour over the mulled wine and apple juice (optional. If the mulled wine isn't enough to cover the pears you can add more mulled wine or apple juice to thin it out a bit but still taste wonderful)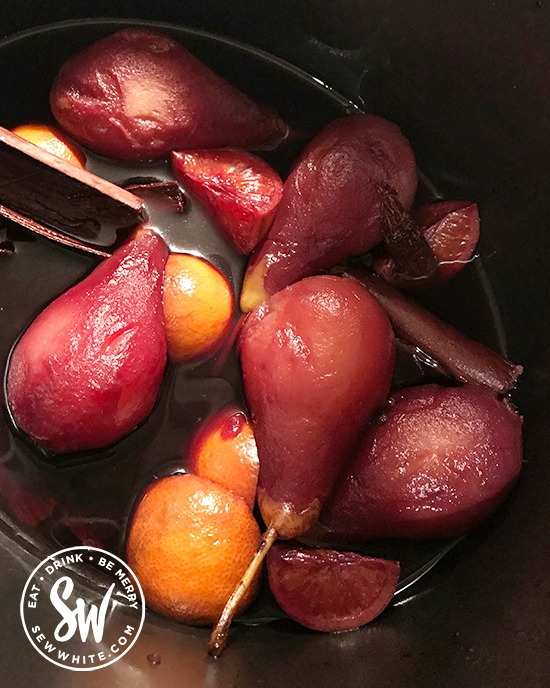 Leave the pears to poach in the mulled wine. Every 45 minutes to an hour give it a stir and move the pears so they are coated in the wine and turn the colour of the mulled wine all over.
Mulled Wine Poached Pears Recipe
I love how easy this mulled wine poached pears recipe is. It's assembled in less than five minutes and you can leave it for the rest of the time to cook itself. It's a great easy recipe. Once you've made them you will be making them again and again. The longest part of this is peeling the pears and that is still only minutes.
What do I need to poach pears in mulled wine?
To poach pears in mulled wine you only need a few things. The mulled wine, plus some apple juice if you want to bulk up the liquid to cover the pears. You can use more mulled wine but sometimes it's more affordable to add some apple juice. Also when you then drink the mulled wine after you get a softer apple taste coming through. Mulled apple juice is wonderful.
You will also need some pears, spices like cinnamon and cloves, plus some oranges or clementines. It doesn't need a lot to make this but I assure it's worth doing.
If you don't have mulled wine
If you can't get hold of mulled wine you can use red wine to poach the pears instead. Use a bottle of red wine and add the spices in. This will help add those extra delicious winter Christmas flavours to the finished pears.
Easy mulled wine desserts
There are so many easy mulled wine desserts you can create including this recipe. Apples are also lovely to cook in mulled wine. Making mulled wine jam is a favourite summer activity to use up fresh berries and cook them in mulled wine. For the colder weather I use the mulled wine jam as a layer on a rice pudding. The addition of the delicious jam with the soft rice pudding is wonderful. I love it.
Pin me for later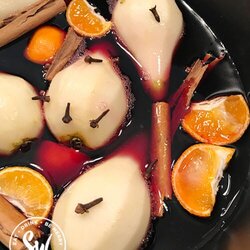 Mulled Wine Pears
A quick and easy winter dessert! Mulled Wine Pears are a super delicious pudding and with using the slow cooker can be made in advance.
Ingredients
6

(

6

)

pears

1

bottle

(

1

bottle

)

mulled wine

3

(

3

)

cinnamon sticks

1

teaspoon

(

1

teaspoon

)

cloves

3

(

3

)

clementines

200

ml

(

200

ml

)

apple juice

(optional)
Instructions
Peel the pears, leaving the stalks on, and add them to the slow cooker.


Add the cloves to the pears or into the slow cooker.

Add the cinnamon sticks to the slow cooker.


Chop the clementines into quarters and add them along with the spices. You can peel them but it also works if you keep the skins on.

Pour over the mulled wine. (If you have a large slow cooker and the mulled wine doesn't cover the pears you can add apple juice to help cover or an extra bottle of mulled wine).

Put the slow cooker on a hot setting for 1 hour. Then turn it on low for 2 hours and until you're ready to serve. Turn the pears over if the mulled wine doesn't cover them completely. (3 hour cook time in total)

Serve the pears and enjoy the mulled wine.

Video
Notes
You can leave the pears in the slow cooker for a while to keep warm if you are running later to serve them.
They also taste great with some custard, ice cream or whipped cream. Plus a ginger bread biscuit works with it ever so well!
Nutrition
Calories:
139
kcal
Carbohydrates:
37
g
Protein:
1
g
Fat:
1
g
Saturated Fat:
1
g
Sodium:
4
mg
Potassium:
313
mg
Fiber:
7
g
Sugar:
24
g
Vitamin A:
45
IU
Vitamin C:
26
mg
Calcium:
47
mg
Iron:
1
mg
Please note that the nutrition information provided above is approximate and meant as a guideline only.
Follow me on Instagram to see what I've been making recently. www.instagram.com/sewwhite
Looking for an easy Christmas punch? Then you are in the right place. Christmas parties, time with friends and days with family are approaching and this is the drink you can use for every event! This Christmas cranberry punch is easily adapted to use the spirit of your choice. It can be a vodka Christmas punch, rum Christmas punch or even a gin Christmas punch. This cocktail is made from fruity cranberry juice, fiery ginger beer and sharp lime resulting in a wonderful cranberry punch.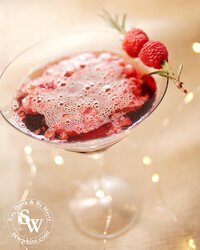 This delicious Rum and Raspberry Cocktail is always a winner at a party. The spiced rum and raspberry flavours work so incredibly well together.
This is definitely going to be a Christmas favourite! My Christmas Cranberry Gin Cocktail is a Christmas twist on a classic gin cocktail.
Pears on toast with blue cheese and figs is a classic collection of flavours and it's the perfect time of year to make it with in the season fruit.
Are you looking for an easy seasonal Autumn recipe to use up your pear harvest? Then look no further than this tasty pear crumble cake. Combining the best of a crumble, cake and seasonal pears. I adore this recipe.