This mulled wine jam is the most delicious and easy-to-make preserve for a Christmas breakfast or brunch. Mulled wine jam is full of festive flavours and is also perfect for filling cakes, mixing into porridge or slathered on toast. It also makes a great edible Christmas gift.
As soon as the temperature drops and the days get shorter I start reaching for the mulled wine. The festive smell of the mulled wine spices just instantly puts me in a good mood and this plum and mulled wine jam is the only way to enjoy Christmas jam and toast.
Mulled Wine Jam Top Questions
What is mulled wine?
How alcoholic is mulled wine?
Does mulled wine jam contain alcohol?
Can I use frozen fruit to make jam?
What spices are in mulled wine?
Why you'll love this mulled wine jam recipe
While you make the christmas jam your house will be filled with the smell of cinnamon, nutmeg, orange and all things Christmas. It's a great recipe to start the festive season.
Mulled wine jam can be kept for about two weeks so is great to make before the Christmas panic sets in. Although, I recommend making a big batch as there is rarely any left once it's started.
Christmas spiced jam is a great ingredient to other bakes. I used mulled wine jam in my Christmas Mine Pie Cake or you could use it on your breakfast toast, croissants or just eat it with a spoon from the jar…
Ingredients
For the full christmas jam recipe and instructions scroll to the bottom of the page for the recipe card.
MULLED WINE
It wouldn't be mulled wine jam without a good helping of mulled wine. You can pick up mulled wine in any supermarket at a variety of price points. There is no need to use fancy mulled wine for this mulled wine jam recipe.
If you make your own mulled wine you can use that too.
CHRISTMAS SPICE
You can use your favourite festive spices for the Christmas spice jam. For my recipe, I use a mix of ground cinnamon and ground ginger.
The full list is in the recipe below. Just be sure not to overdo as the mulled wine will have a lot of those flavours in it too.
MIXED BERRIES
For ease, I used a bag of mixed frozen berries for the mulled wine jam. This way I get a variety of flavours without having to spend ages prepping and washing all the separate berries. Frozen fruit is also a lot cheaper.
For example, I was getting a 1kg bag of fruit berries for about £2. If that was fresh fruit it would have cost a lot lot more. You can use frozen berries from frozen just start them on a low heat. If you get them out of the freezer and leave them for half an hour or so they will be fine to start using.
How to make Mulled Wine Jam – step by step
In my photos I was making larger batches which you can do if you scale up the recipe in the recipe card below.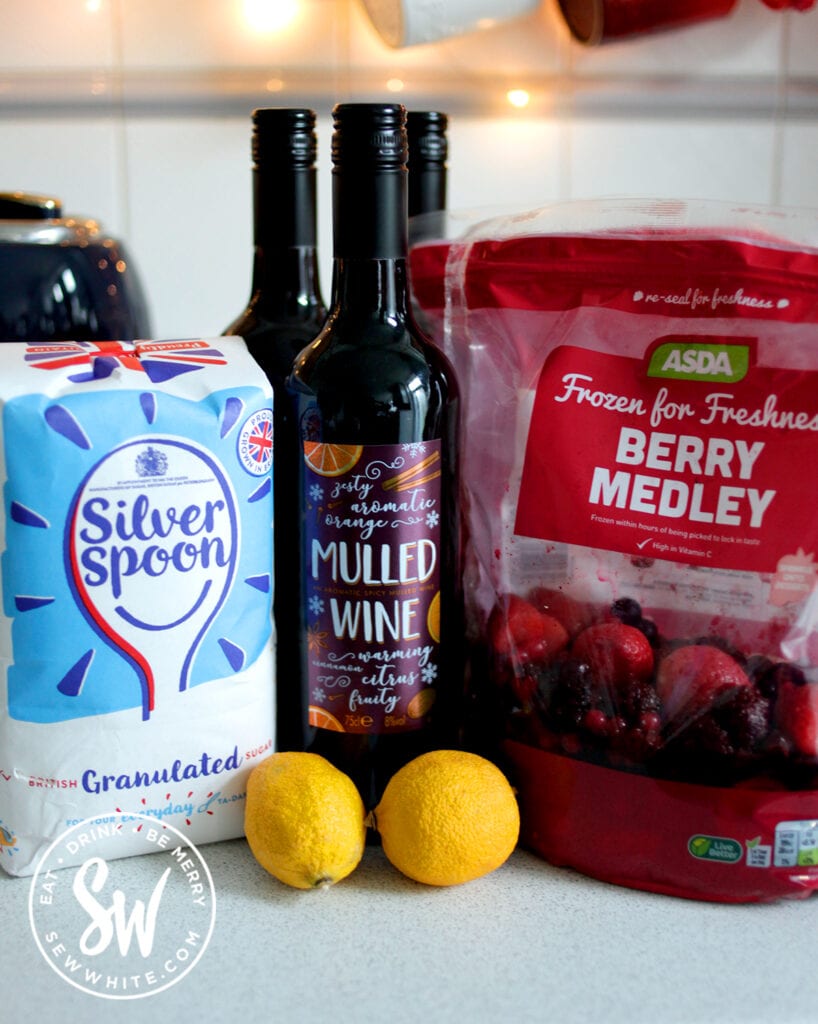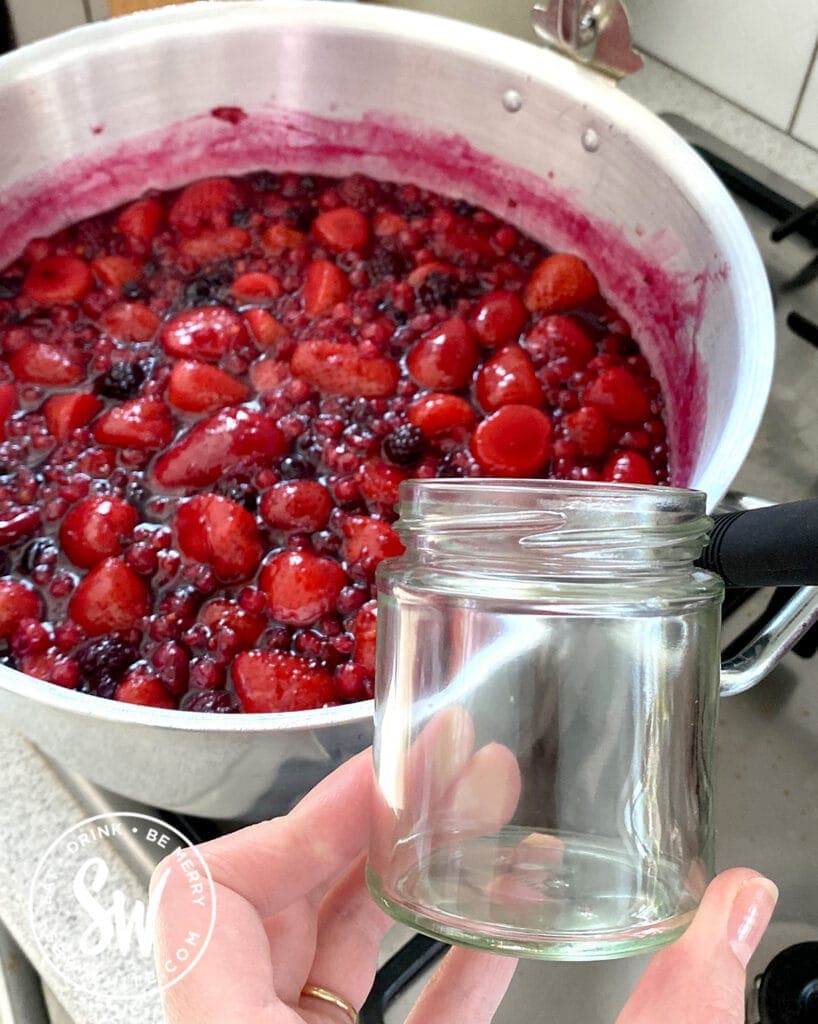 Lay out all your ingredients and sterilise your jam jars (with either a hot wash with boiling water and dry in the oven on a low temperature to keep them hot. Or a short dishwasher cycle).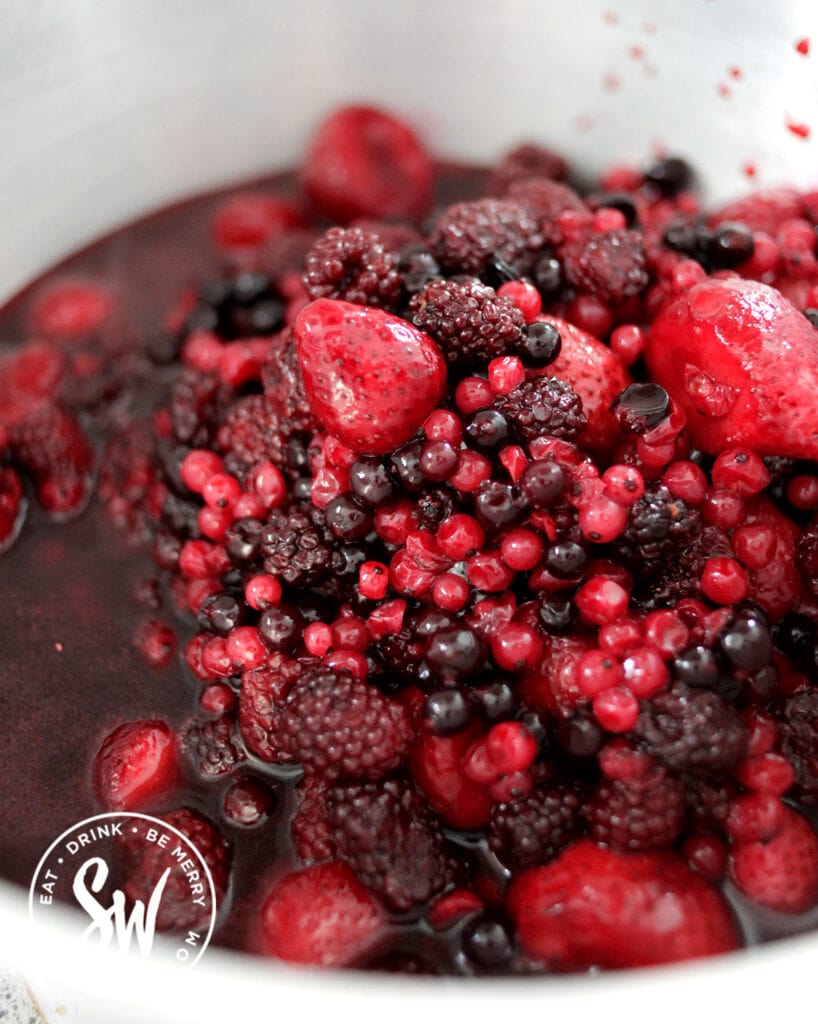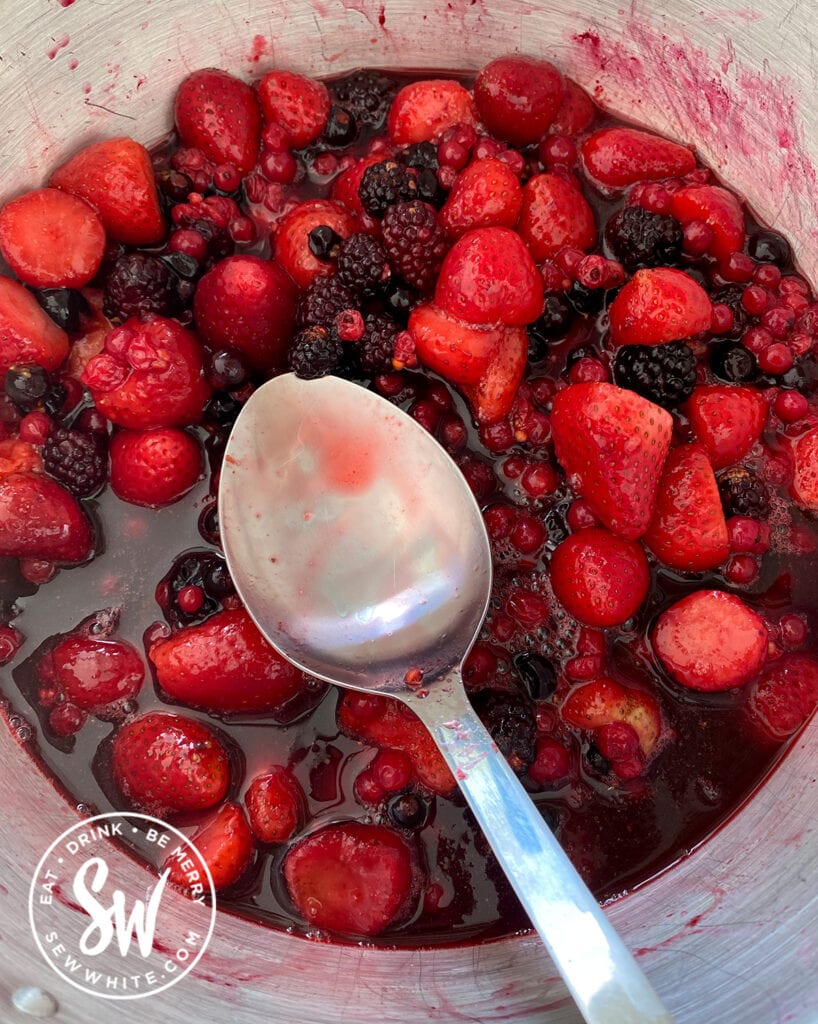 Pop your berries into a saucepan or jam pan on a low/medium heat and stir, as the berries start to defrost stir in the mulled wine.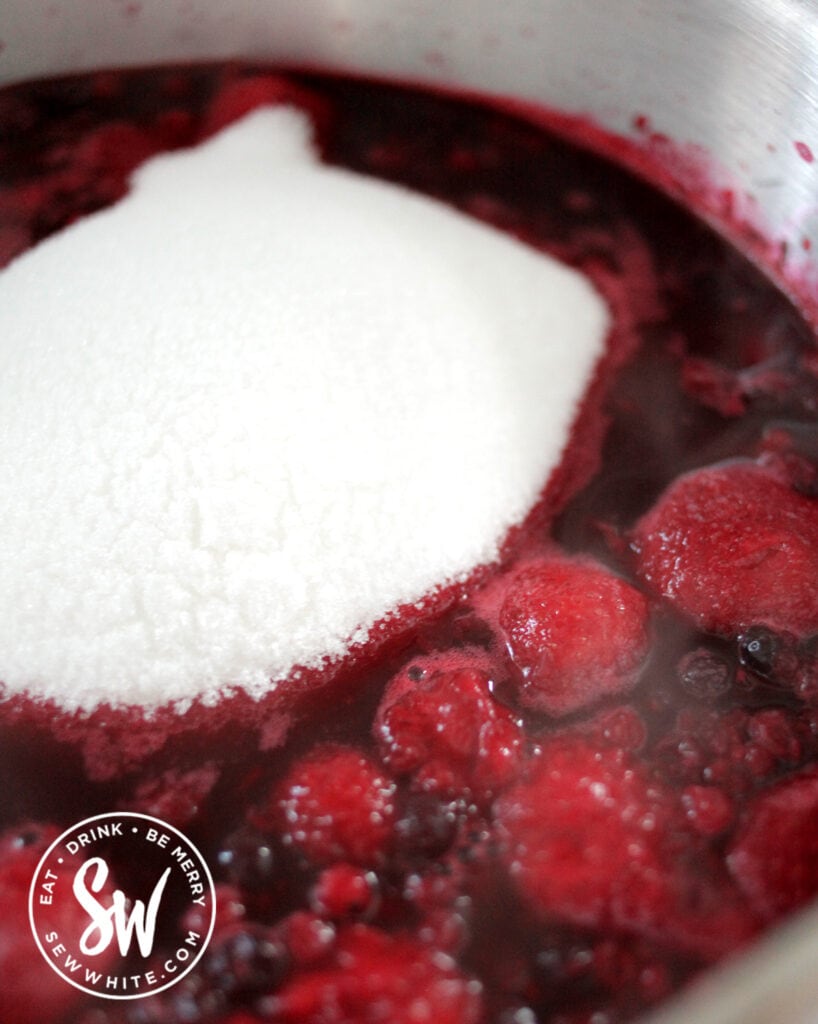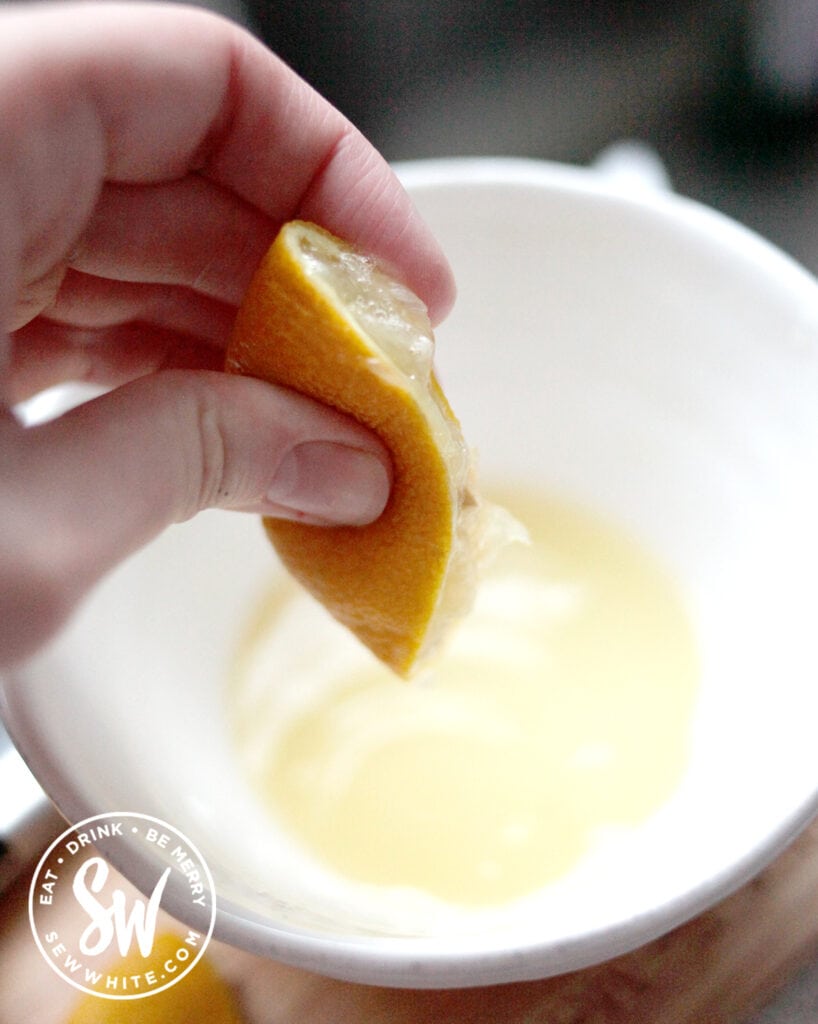 Once the fruit is almost fully softened add your sugar and the juice of 1 lemon. Toss the rinds in to release their natural pectin and a little bit of extra flavour (don't worry we'll be taking these out later).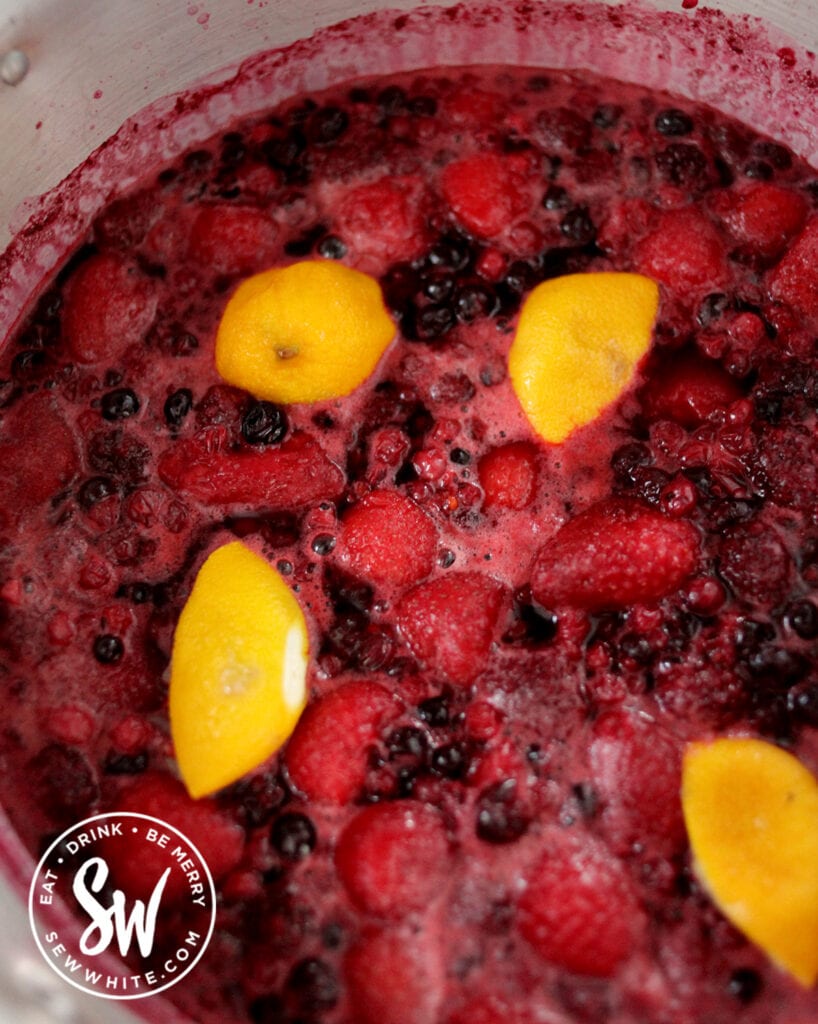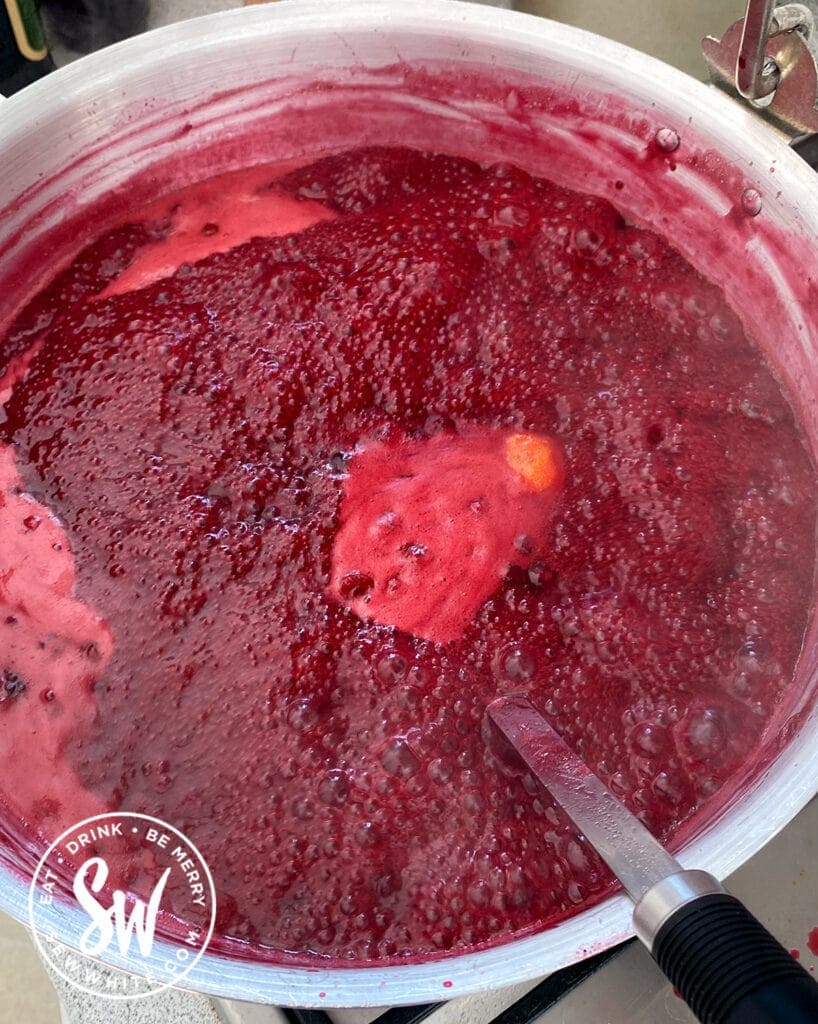 Stir gently until everything has dissolved and combined. Then turn the temperature up and let it go to a rolling boil. After about 5 minutes of bubbling you'll want to test your jam on a pre-cooled plate to adjust how firm or soft you want it set.
Drop a few drops to the plate and leave it a minute then gently push the jam to see if it creases. Once it just holds the crease you know the jam will be a soft set.
The more you cook it from there the thicker the set of the jam will be. I love a soft set jam so I will add it to the jars as soon as it starts to hold the wrinkle.
Once you're happy with the set, pour the mulled wine jam into your sterilised jars (learn how to sterilise the jam jar in the oven or sterilise them in the air fryer) and allow it to cool.
Top Tips For Mulled Wine Jam
•The mulled wine and plum jam is best when stopped cooking so it has a semi-soft set.
You can test the jam's set level but placing a spoonful of jam onto a plate that's been chilled in the fridge for about 10 minutes.
If, when pushed, you get a small soft wrinkle in the jam I would cook it for a further 2 minutes and then test it again. For a soft set jam, you want it to wrinkle and hold slightly but still be soft. As soon as you get it to the consistency you want add it to the sterilised jars.
•Adding the rind of the lemon to the jam not only adds a little extra flavour but adds the natural pectin to the jam that allows it to set.
•Mulled wine jam makes a great gift! Give edible gifts this year but decorate your jam jars with personalised labels and cute ribbons.
Serving Suggestions
You can serve Mulled wine jam with any typical breakfast food to sweeten your first meal of the day. I loved adding a big spoonful onto Weetabix, spread onto a croissant or as a pimped-up strawberry jam sandwich. It is also lovely mixed into rice pudding.
Mulled wine jelly is also the perfect cake filling. Swap out the strawberry jam for mulled wine and plum jam and spread in between two layers of Victoria sponge, or as decoration for the Christmas tray bake.
Equipment
This list contains affiliate links
jam jars (depending on the size of berries and how much quantity you want to make you will need jam jars. I would recommend getting a few so you can make jam again and again. It is really addictive).
Mulled Wine Jam – Substitutions and variations
ALCOHOL FREE MULLED WINE JAM
If you're hoping to keep the tipsy levels low this season or just make it alcohol free, swap out the mulled wine in this recipe for orange juice or cranberry juice. Each of the flavours pairs perfectly with the mulled spices and the finished product is still amazing.
MULLED WINE AND PLUM JAM
Follow the recipe as normal but add some chopped plums to the mixed berries at the start. The cooked plums give such a rich, deep flavour and really takes the mulled wine jelly up a level.
Who wouldn't love a jar of christmas jam in their stocking… especially if was mulled wine and plum jam.
ORANGE MULLED WINE JAM
If you're looking for a stronger, tangy-flavoured jam, I recommend using fewer berries and adding a little freshly squeezed orange juice and orange zest.
If you want to make other small batch jams then check out my Strawberry champagne jam, small-batch strawberry jam and blackberry jam.
Storing / Making ahead of time options
Fresh homemade jam can last for days if not months in the fridge once opened. If stored properly you can keep jam for up to a year so you could make your mulled wine jam gifts nice and early to save you the end-of-year panic.
I'm still eating my way through 2 year old mulled wine jam and it still tastes incredible.
Edible Christmas gifts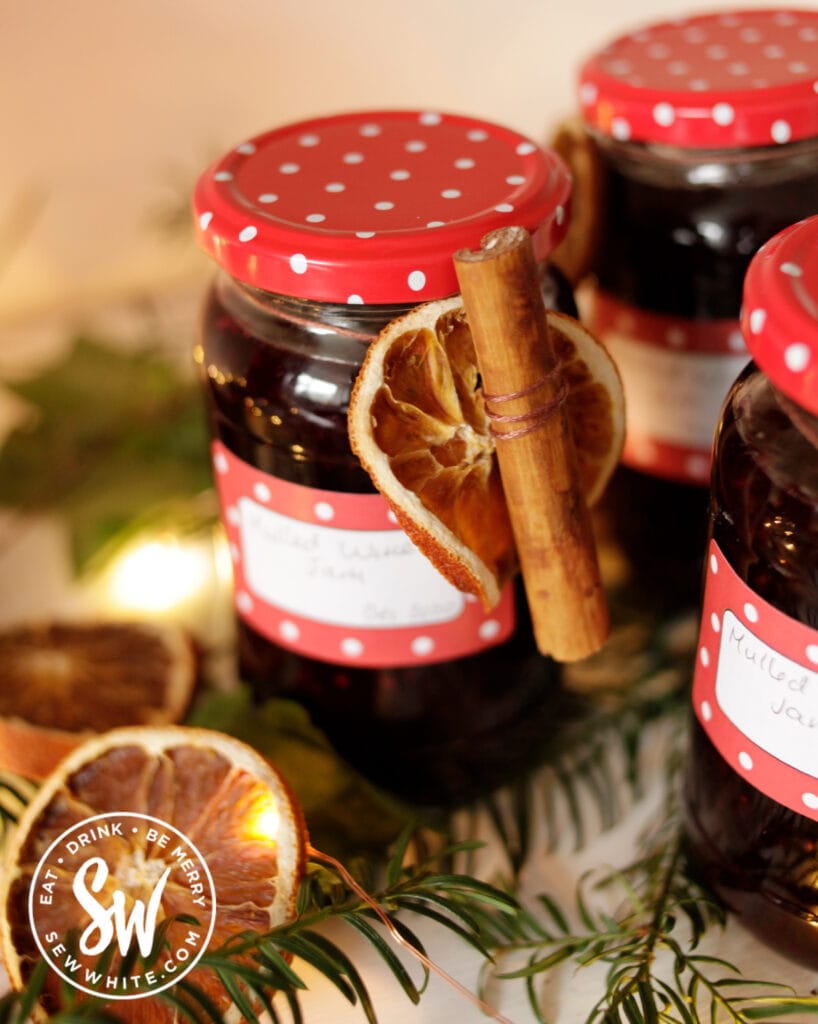 Homemade mulled wine jam makes a great edible Christmas gift. They can be made to look so beautiful. This year I have gone for some vintage inspired fabrics with some red and white twine.
In previous years I've gone for a cinnamon stick and a dried orange slice to decorate. If you want to make your, you can use my dried orange slices recipe.
FAQS
What is mulled wine?
Mulled wine is red spiced wine that is often drunk at Christmas. It's fruit and full of festive spices like cinnamon, cloves and nutmeg. It's a rich full-bodied wine that can be drunk warm.
How alcoholic is mulled wine?
Mulled wine is about as alcoholic as normal wine. It has to be at least 7% alcohol content and usually averages at about 14%. This can vary brand to brand so do be aware when baking with mulled wine.
Does mulled wine jam contain alcohol?
Mulled wine jam does contain alcohol as mulled wine has an alcohol content of about 14%. But as you are cooking it with the fruit, a large portion of the alcohol will burn off. If you are worried about the alcohol content, try finding an alcohol free mulled wine or use juice instead.
Can I use frozen fruit to make jam?
I use frozen fruit to make jam all the time. It's a great time saver, not having to wash and prep all the fruits and frozen fruit defrosts in the pan whilst cooking so you don't have to have too much extra liquid.
What spices are in mulled wine?
The spices in mulled wine can vary but they are most commonly, cinnamon, nutmeg, ginger, star anise and cloves. It's best to use whole spices rather than ground as they release a strong flavour as you heat them through. Making your mulled wine taste amazing and your house smell even better.
Other Recipes you might like
Pin this recipe to enjoy later
Pin me for later or follow me @sewwhiteblog on Pinterest for my latest recipes and to discover my others.
Recipe
Mulled Wine Jam
This mulled wine jam is the most delicious and easy to make preserve for a Christmas breakfast or brunch. Mulled wine jam / jelly is full of festive flavours and is also perfect for filling cakes, mixing into porridge or slathered on toast. It also makes a great edible Christmas gift.
Equipment
Jam jars

(I find small jars about 190ml are a great size for this recipe and great for gifting)
Ingredients
500

g

(

2

cups

)

frozen fruit

500

g

(

2 ½

cups

)

sugar

I use granulated

150

ml

(

150

ml

)

mulled wine

1

(

1

)

lemon

⅓

teaspoon

ground cinnamon
(Easy to adapt – The amount of sugar needs to be equal to the weight of the fruit)
Instructions
Place a plate in the fridge to chill. You will use the plate to see how the jam sets later.

Place the saucepan or jam pan on low heat and add the frozen fruit.

Pour over the mulled wine.

As the mixed berries are softening weigh out the sugar and add it in.

Squeeze the juice from a lemon and place the used lemon rind into the saucepan as well.

When the sugar has dissolved turn up the heat so the jam is lightly bubbling in a rolling boil for 5 minutes and keep stirring as it gets thicker. (Photo from batch making mulled wine jam. If you are making a bigger volume of jam this will take a longer time.)

Remove any scum from the top of the jam as you go.

Take off the heat and add a few drops to the cool plate. After a minute push the jam with your finger and when it starts to gently wrinkle and hold that wrinkle the jam is done. If it doesn't wrinkle put the jam back on the heat for another 2 minutes. A gentle wrinkle will give a soft set, for a thicker set get the jam to a stage where the wrinkle is very strong.

Remove the lemon rinds and spoon the jam into warm sterilised jars (see notes for how to sterilise them) and screw the lids on and leave to cool.

Enjoy on your croissants, as a filling for your cakes, on your pancakes or with a spoon!
Notes
To sterilise the jars you can either wash them in hot soapy water and then place in an oven for 20 minutes at 120 degrees fan oven. Leave the lids to drain after washing. 
or
I wash the jars and lids in a hot dishwasher (steam setting if yours has one) and allow them to stay warm and dry in the machine until I'm ready to use them.
Nutrition
Calories:
1153
kcal
Carbohydrates:
282
g
Protein:
1
g
Fat:
2
g
Saturated Fat:
0.1
g
Polyunsaturated Fat:
1
g
Monounsaturated Fat:
0.2
g
Sodium:
9
mg
Potassium:
215
mg
Fiber:
7
g
Sugar:
271
g
Vitamin A:
115
IU
Vitamin C:
6
mg
Calcium:
29
mg
Iron:
1
mg
Please note that the nutrition information provided above is approximate and meant as a guideline only.