This is the best way to make a full English breakfast even more fun and super easy for a weekend treat. The Oven Fry Up is the perfect family breakfast. Making a full English breakfast on a sheet pan or in a baking tray makes it so much easier than the normal way.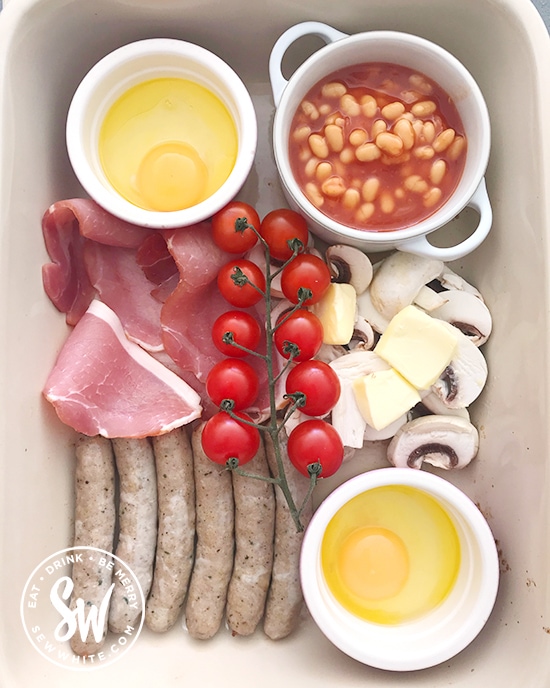 Having an option to make a Full English Breakfast in the oven saves time and washing up! A traybake breakfast is definitely the future for easy brunches. Scroll down for the full English breakfast traybake recipe.
I love a full English breakfast and for a special treat I tend to pop it in the oven. Especially if I'm going to be baking other things during the day. It saves using all the frying pans and making a huge mess in the kitchen.
Plus I really believe the finished result tastes so much better. There is something in it being roasted over frying that gives a great flavour. Scroll down for my full English breakfast traybake.
Oven Fry Up – Full English Breakfast Traybake
There will need to be different times for each thing in the fry up but you can group things together. Sausages go in first for about 10 minutes, then you add everything else apart from the eggs. Then finally the eggs in their little pots for the last few minutes. It requires a little checking but it's really easy.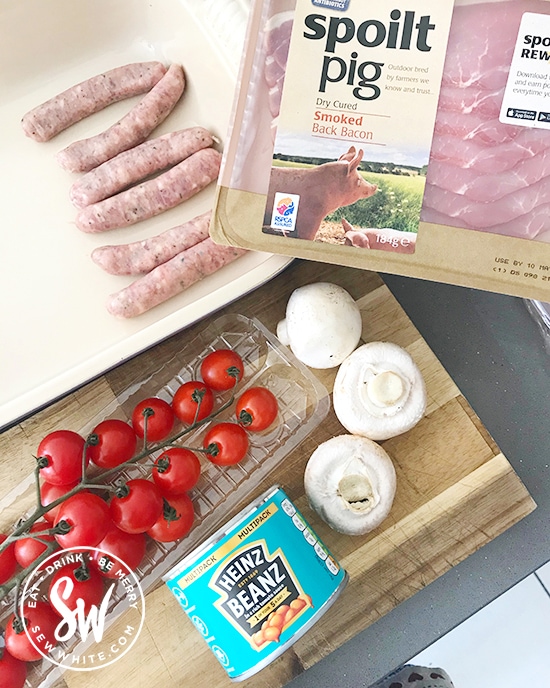 Vine ripen tomatoes for the Oven Fry Up
I love using tomatoes on the vineyard for this roast. They look gorgeous in the finished dish and they taste rather wonderful too. Check with your guests who wants tomatoes. As we always all want them we need to add extra to make sure we all get some.
What you need for a fry up?
For a proper fry up you need sausages, bacon, beans, eggs, mushrooms and tomatoes. You can also have hash browns and blood pudding if you really like those too.
You also need some good thick cut toast with lashings of butter too. Then comes the questions – white bread/ brown bread or even the king of breads the sourdough loaf.
How long do bacon rashers take in the oven?
Bacon in the oven can take about 15 minutes. In a large traybake like this it took a little longer and was beautifully crisp on the edges while soft in the centre. It also needed a little longer because of all the other ingredients in the tray also cooking.
Full breakfast ideas
There are a good few ways to cook a full English breakfast. You have frying and saucepans, microwave and of course the oven. I love the oven as you get a more intense flavour… and less washing which is always bonus to me.
What is a cooked breakfast?
Exactly what it sounds like. A breakfast which is cooked and for the United Kingdom it usually has to incorporate a few key ingredients including bacon, tomato, eggs and beans. There are more lavish options like hash browns, blood pudding and vine ripened tomatoes.
Oven English breakfast
Cooking a full English breakfast is made even easier when you pop it all in the oven. An oven English breakfast is delicious and there does seem to be a more wonderful flavour given off when cooked this way.
How to cook bacon and sausage in the oven for the full English breakfast traybake
Sausages and bacon are really easy to cook in the oven. I would recommend cooking them in shifts. Cook the sausages first and when they are approaching golden brown add the bacon. You will need to turn the bacon over after a few minutes. As soon as they are done they are ready to serve.
How long to sausages take in the oven?
I wish there was an easy way to cook it all without adding things at different times but this works really well to produce a great dinner. The little pots are great for adding in at different times. Plus it's worth it for how the finished breakfast looks.
I love placing the big tray down in the middle of the table and allowing people to take out what they want. An oven English breakfast is a wonderful way to cook this recipe.
The sausages when cooked in the oven take on a stronger taste and I don't know why I definitely prefer them like this. Maybe from having the heat around cooking them, instead of just from the bottom. I don't know the magic but it definitely exist.
If you need more information on how to cook sausages in the oven, then I have a recipe for oven-cooked sausages here.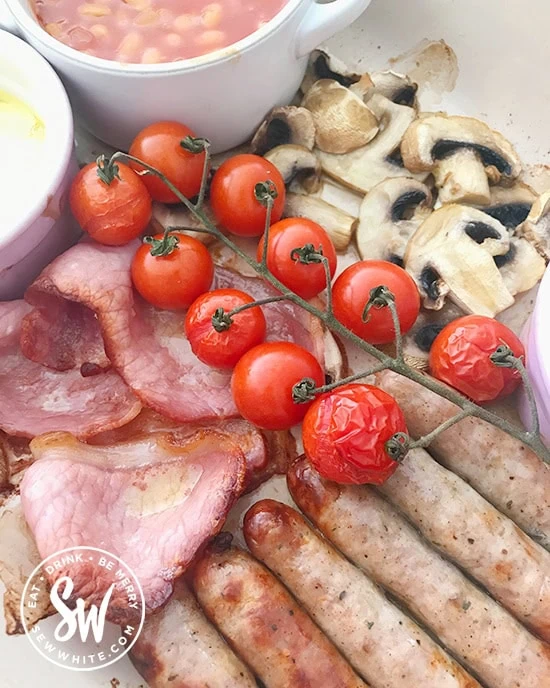 Before and After – oven fry up
I place everything in the dish before I cook it so I know it will fit. I find it helps so I don't find out half way through cooking that I need another dish. Rookie mistake but it's worth making sure it all fits.
If it doesn't then use multiple trays. Sometimes I put the little ramekins on a baking tray if I have more bacon and sausages to cook for more people.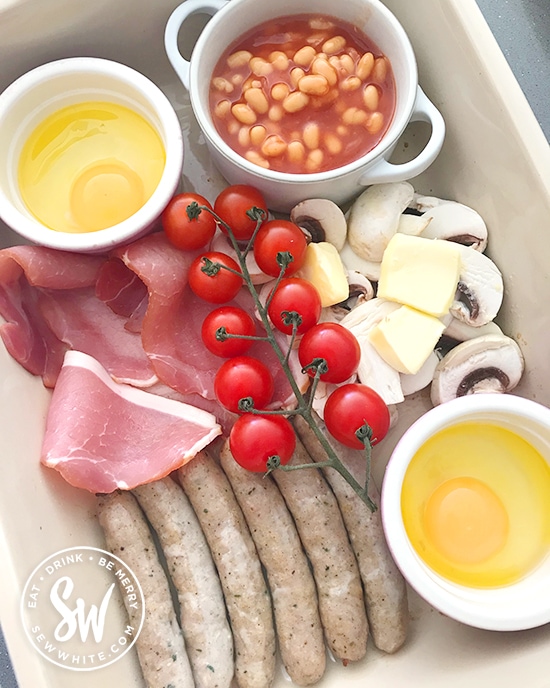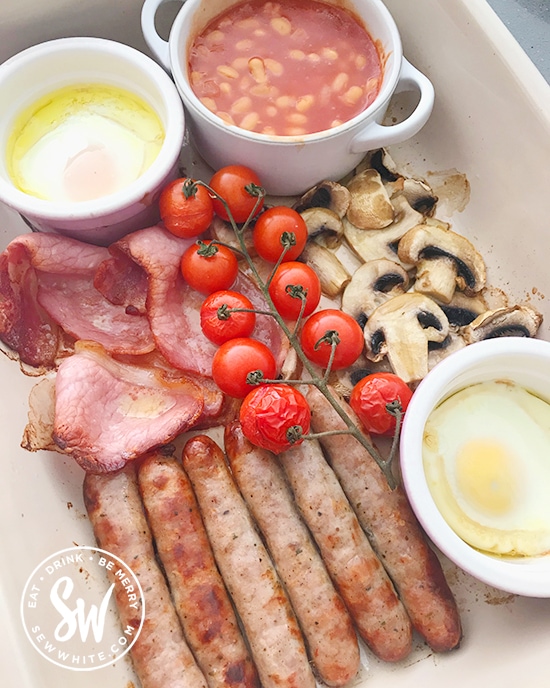 I love seeing how gorgeous full English breakfast traybake looks after being oven roasted. An oven English breakfast will be your new favourite thing! Adding the butter to the mushrooms keeps them really soft and having the eggs ready to be added at the right time makes sure they are still delicious. If they are cooked too much they can go a bit rubbery.
It's great to be able to make something in one dish ready for you. If you need feed a few people you might need to do two oven proof trays. For three this was big enough.
Pin me for later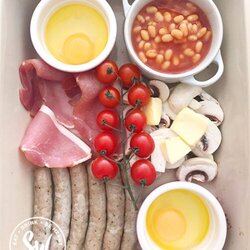 Oven Fry Up – Full English Breakfast Traybake
This is the best way to make a full English breakfast even more fun and super easy for a weekend treat. The Oven Fry Up is my family favourite breakfast. An oven english breakfast is the new way to cook it which you will try time and time again.
Ingredients
6

chipolata sausages

(if you use normal sausages add a few more minutes to cook them)

4

Bacon

2

eggs

4

mushrooms

unsalted butter

1

small tin of baked beans

cherry tomatoes on the vine

olive oil
Instructions
Preheat the oven to about 160ºC.

Lightly grease a large oven proof dish with a little oil and place the sausages in.

Bake for about 10 minutes until they are just starting to go lightly brown.

While the sausages are cooking prepare everything else. Chop up the mushrooms and add a little butter to them.

Add a little oil to 2 oven proof ramekins and add an egg to each one.

Add the baked beans to another ramekin.

When the sausages have just started browning remove the oven proof dish and add in everything except the eggs. Bake for another 10 minutes.

Add in the eggs and bake for another 8-10 minutes until the egg whites are set but the yolks are still slightly runny.
Notes
•Best served with a chunky buttered piece of toast.
Nutrition
Calories:
1195
kcal
Carbohydrates:
33
g
Protein:
59
g
Fat:
92
g
Saturated Fat:
31
g
Trans Fat:
1
g
Cholesterol:
387
mg
Sodium:
2621
mg
Potassium:
1388
mg
Fiber:
9
g
Sugar:
1
g
Vitamin A:
445
IU
Vitamin C:
6
mg
Calcium:
133
mg
Iron:
7
mg
Please note that the nutrition information provided above is approximate and meant as a guideline only.
Follow me on Instagram to see what I've been making recently. www.instagram.com/sewwhite
Start Valentine's Day off which a delicious heart shaped French Toast breakfast with sweet strawberry compote. Enjoy my Valentine's Day French Toast recipe.
Apple pancakes are an incredible way to celebrate brunch, birthdays and of course pancake day. This easy breakfast pancakes are not only healthy pancakes filled with fresh apple but they also take incredible too. I love the mix of fresh apple which adds a little crunch to soft stack of pancakes recipe.
Pears on Toast – Bacon and Balsamic Vinegar. A lovely way of adding pear to create a beautiful breakfast. The balsamic vinegar adds a tartness to the sweet.
These Chocolate Cherry Pancakes are absolutely delicious. The mix of cherries and chocolate chips in the fluffy black forest pancakes is just incredible to give that iconic rich and fruity Black Forest taste.