Raspberry Bread and Butter Pudding with White Chocolate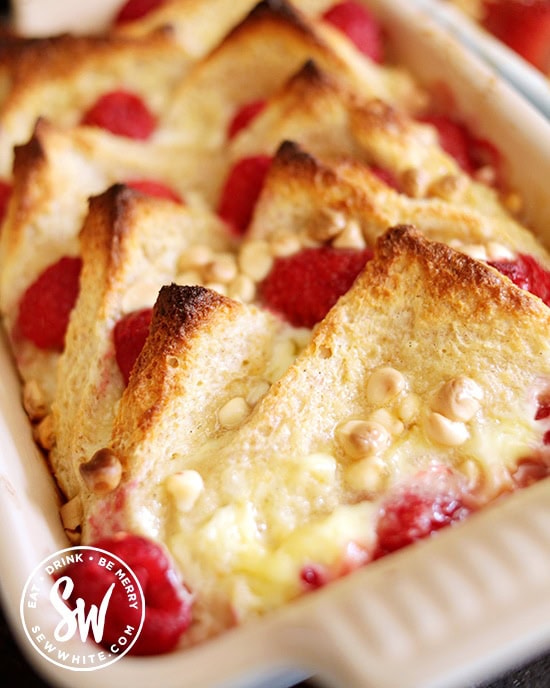 Raspberry Bread and Butter Pudding with White Chocolate Chips is wonderful twist on a classic. The fresh raspberries works so well with the creamy custard bread pudding. This is an easy oven dessert and a family favourite recipe. Perfect for a hot dessert when you want a lighter pudding with fresh flavours.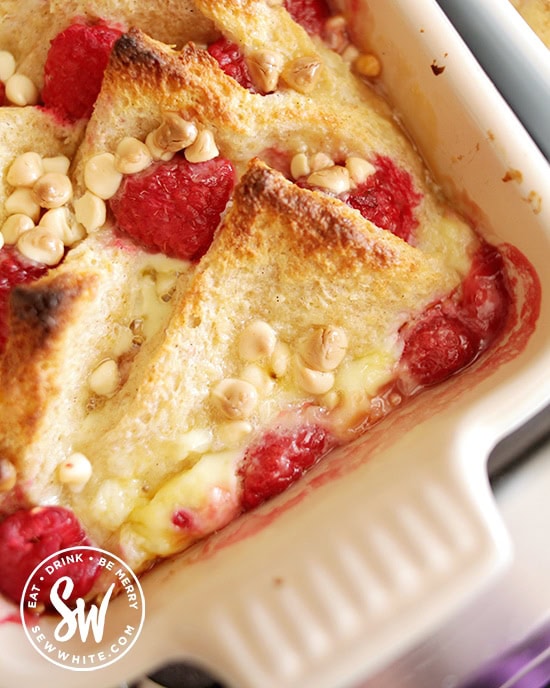 This is such a brilliant dessert and I can't rave about it more. The lovely raspberry flavour mixed with the creamy custard and sweet white chocolate is heaven on earth. In the best pudding form. Bread and butter pudding is so easy to make and is a great way to use up bread which is drying out and not as great to eat. Fresh bread of course also works. I tend to like using it as the way to make sure we don't waste any bread.
Raspberry Bread and Butter Pudding
For this absolutely incredible pudding I wanted to combine by favourite flavour duo – raspberries and white chocolate. The really are wonderful together. Bread and butter pudding is as simple as buttering bread, arranging it and pouring custard over the top. Then you add fruit and pop it in the oven to bake. The bread absorbs the custard and it so good.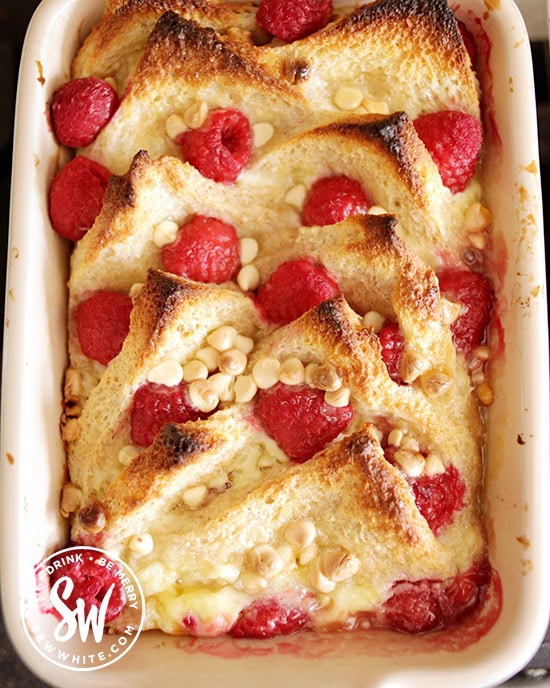 Ready, set, go!
I love building up the layers! I butter both sides and remove the crusts and then arrange with points up so the tops catch and toast in the oven. When I use raspberries I pop a few in between the layers so they keep the slices up. Also it allows there to be a good amount of berries soaked in the custard too.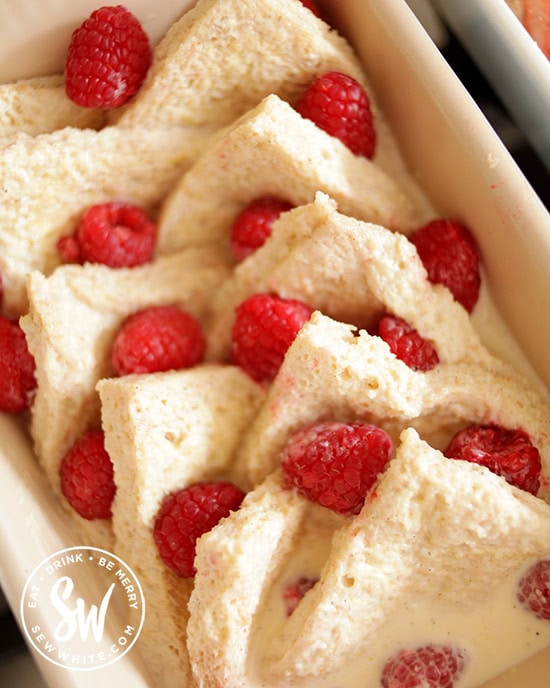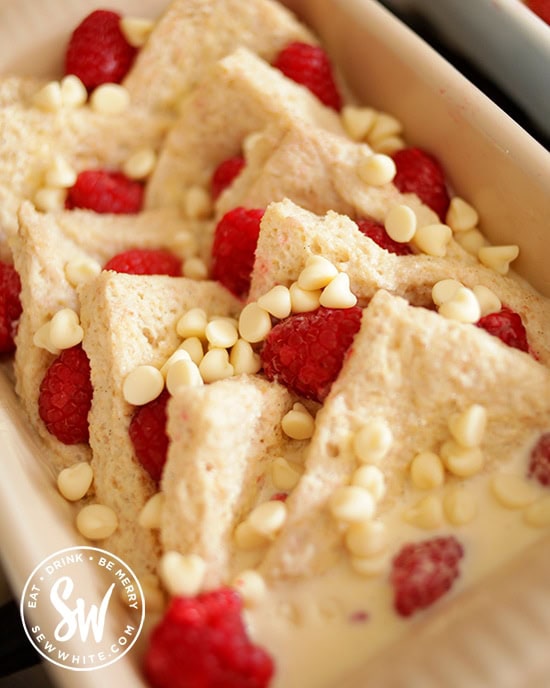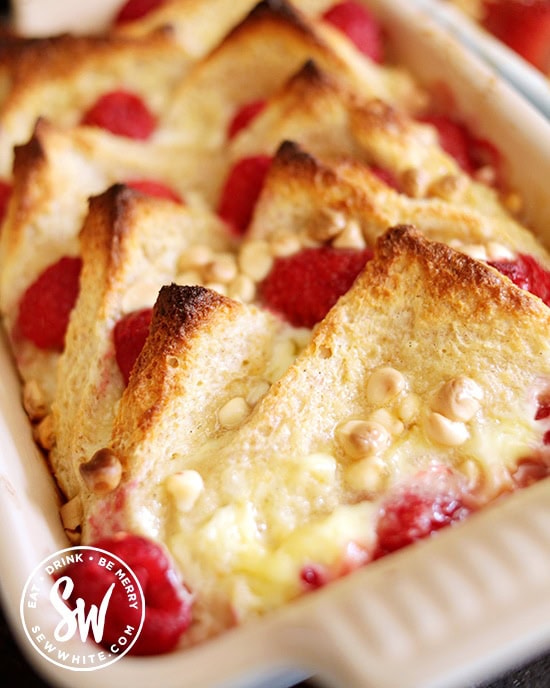 I love how the raspberries look in the dish with the custard over the top. Sprinkling the white chocolate chips over was great and I love how they went gooey when baked and were still soft when served.
Lemon and raspberry bread and butter pudding
If you want to make this less sweet and add a citrus twist you can easily leave out the white chocolate and add lemon zest. In the recipe remove the white chocolate. Add the zest of one lemon to the custard just as you poor it over bread. You can even sprinkle some over just before you bake to give the final pudding a beautiful lemon zest dusting.
How long will bread and butter pudding last?
This bread and butter pudding will last for a few days being chilled in the fridge and wrapped up either in cling film or in an air tight box. You can reheat it in the microwave in short 20 second bursts until pipping hot. If you are enjoying it reheated I would definitely recommend a dollop of cream or scoop of ice cream.
Bread and Butter Pudding Variations
There are so many ways you can create variations on a classic bread and butter pudding. You can add different fruit including strawberries which are great id chopped up and added. Raspberries on their own are beautiful. Blackberries can be a tart adjustment to the fruitiness of the finished pudding. When in season I have used plums. I chop them up into small chunks and scatter through and over the bread. The flavour is wonderful.
What bread to use for Bread and Butter Pudding?
Most of time for bread and butter pudding I use a medium cut best of both or 50/50 loaf from Hovis. I like this bread as it's medium size absorbs a great amount of the mix but it's still thin enough to cook quickly. I get hungry and once the smell fills the kitchen I can't wait to get it out of the oven. Any bread can be used really. If you have any left over pieces of your normal bread you can try them.
Bread and butter pudding works really well with slightly stale bread so if you have some that's not as fresh as you'd like but still usable then try turning it into this delicious pudding.
Other things you can make bread and butter pudding with including croissants – they work a treat! The chocolate filled ones also are dreamily good. Almond croissants with their frangipane centres are also pretty tasty.
If you are a brioche fan then I can recommend using them. Chocolate chip brioche work incredible well too!
Can you make bread and butter pudding in advance?
Absolutely. You want to leave the custard to soak in for a while but you can easily make it in the morning to be baked later on in the afternoon. Once you've made it, wrap it in silver foil and leave it to soak somewhere cool. If it's only an hour I tend to leave it wrapped in a cool part of the kitchen.
If you need to put it in the fridge get it out of the fridge 1 hour before you need it so it warms up to room temperature. Bake as normal from there.
What about adding extra white chocolate?
When the Raspberry Bread and Butter Pudding was hot out of the oven I melted down some more white chocolate and spread it thickly over the top. This was just a random idea as I had some white chocolate left but it worked a treat. It definitely makes the pudding a lot sweeter. If you have an extra sweet tooth I would recommend it. If you want it more balanced just stick to the white chocolate that was already in the dish.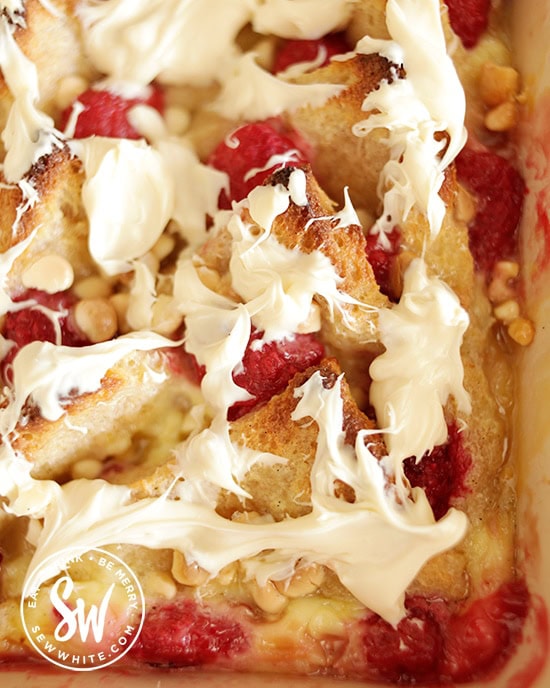 Pin me for later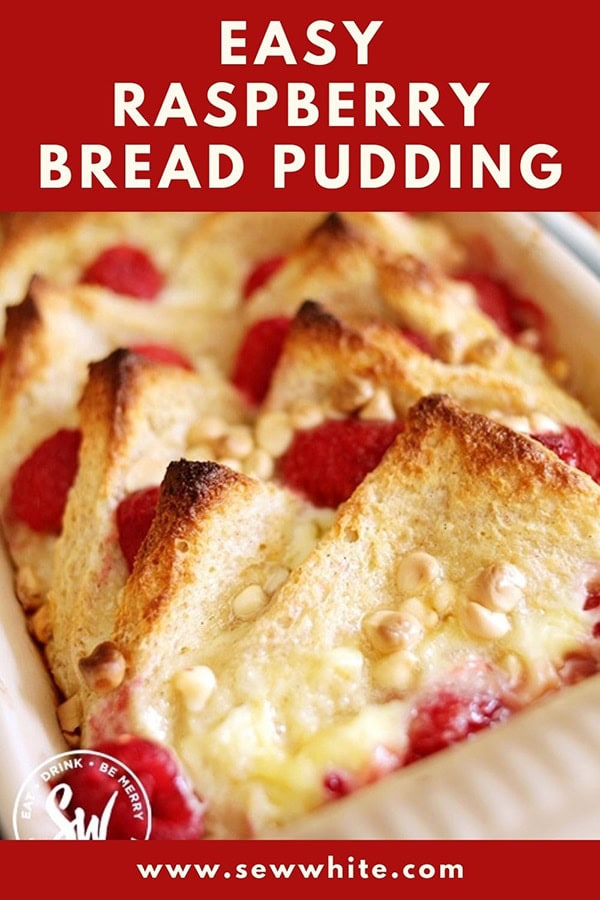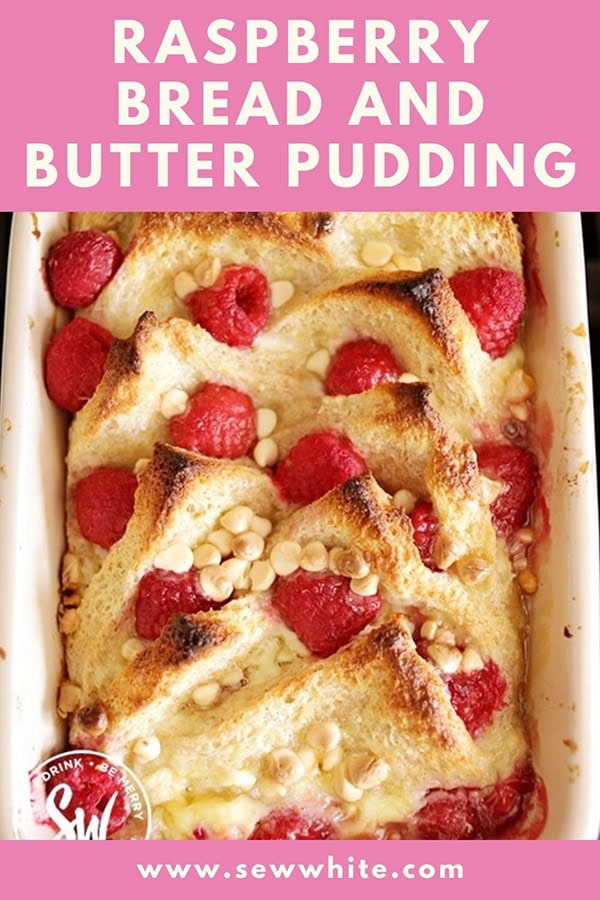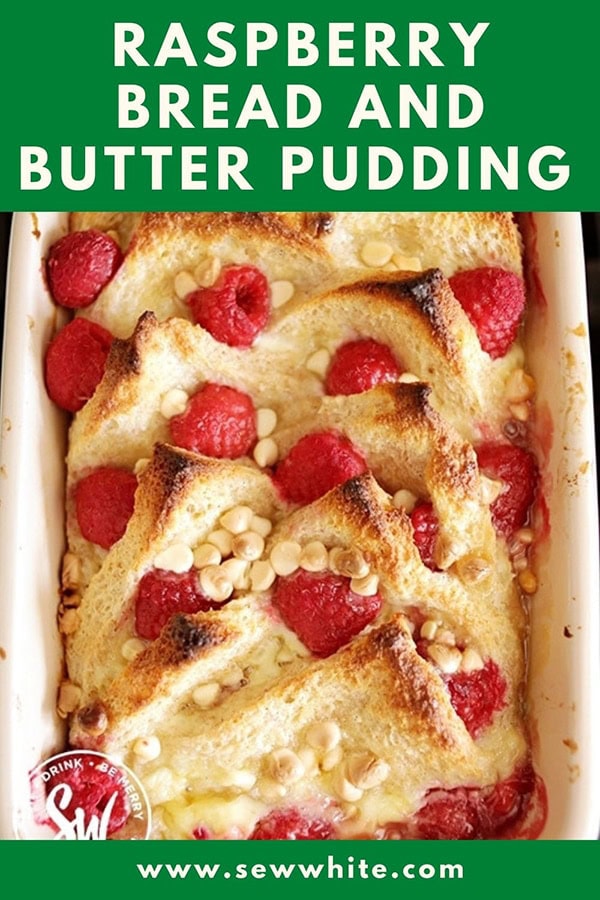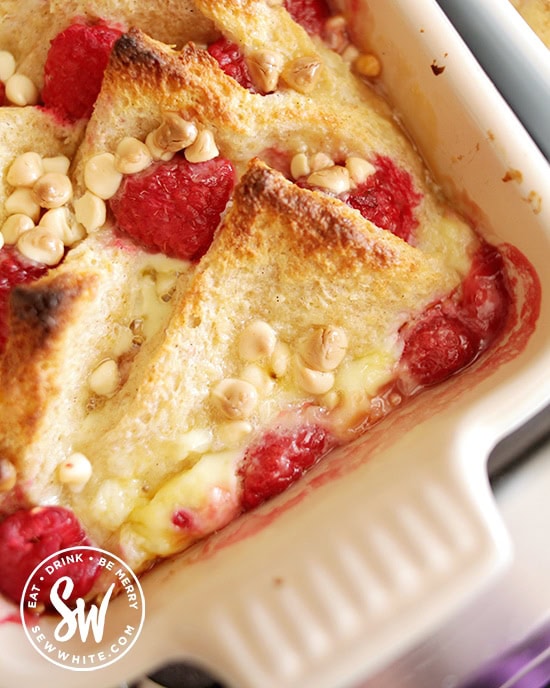 Linked up to CookBlogShare this week with Recipes Made Easy
Follow me on Instagram to see what I've been making recently. www.instagram.com/sewwhite
This is an epic chunky cookie! It is my super easy to make raspberry white chocolate cookie traybake. Now a family favourite and the perfect bake for relaxed afternoons or even a party.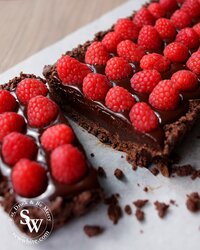 Enjoy a slice of my Chocolate Raspberry Tart with my easy 5 ingredient recipe. A lovely rich truffle recipe studded with fresh raspberries on a bourbon biscuit base.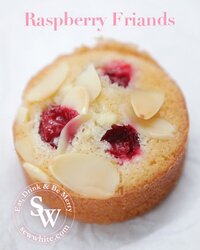 These little raspberry friand cakes are small, delicate and perfect for afternoon tea! They're only little cakes – much like cupcakes, but they're a great snack even if you aren't planning on having afternoon tea. After all, who could say no to a fruity little friand cake?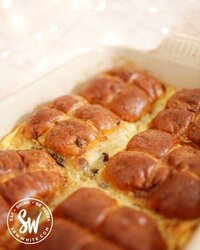 This delicious and easy Hot Cross Bun Dessert is a wonderfully warming Bread and Butter Pudding with an Easter twist. It is a perfect spring baked dessert which can be made in advance for a tasty Easter pudding.
This recipe is great for to serve for an Easter pudding but also works so well for a Sunday dinner dessert. Enjoy this hot cross bun bread and butter pudding.
My Blueberry and Lemon Bread and Butter Pudding is so light and fluffy yet it is filled fresh flavours and is the perfect crowd pleaser for pudding.
This delicious Strawberry Bread and Butter Pudding is easy to make and is topped with flaked almonds and oven baked. Great family favourite pudding recipe.
Raspberry Bread and Butter Pudding
Raspberry Bread and Butter Pudding with White Chocolate Chips is wonderful twist on a classic. The raspberry flavour works so well with the creamy custard bread.
Ingredients
half a

pint

full fat milk

(about 290ml)

300

ml

double cream / heavy cream

1

vanilla pod

3

medium

eggs

1

egg yolk

3

tablespoons

caster sugar / superfine sugar

half

loaf

sliced bread

(I used Hovis best of both medium thickness)

salted butter

softened plus extra for greasing

200

g

raspberries

100

g

white chocolate chips
Instructions
Grease a medium ovenproof dish approximately. I used melted butter and pastry brush to paint it on.

Butter the bread on each side. Cut the crusts off from the bread slices and cut diagonally to make triangles.

Layer the triangles in the dish with the points upwards.

To make the custard place the whole milk milk, cream and vanilla pod with its seeds scraped out together in a saucepan. Place on a medium heat and keep stirring as it comes up to a boil.

Take it off the heat before it boils. Set aside to allow to cool slightly.

In a bow whisk the eggs and extra yolk with the caster sugar.

Slowly pour the warm milk and egg mixture over the eggs, stirring constantly until smooth.

Scatter the raspberries in the dish. Using some between the layers.

Remove the vanilla pod from the custard and pour the warm mix over the pudding.

Sprinkle the white chocolate chips over the top.

Leave the custard to soak into the bread for about 10 mins.

Heat oven to 180C (160C fan).

Bake for 20-25 mins until golden brown. I like the top edges to be a little toastie

Serve straight away. Keep any left overs in the fridge and eat within a few days.
Notes
•Keep it in the fridge in an air tight box. It will last a few days.
•Once it's gone cold you can reheat it in the microwave in 20 second bursts until pipping hot.
Nutrition
Calories:
346
kcal
Carbohydrates:
22
g
Protein:
6
g
Fat:
27
g
Saturated Fat:
16
g
Trans Fat:
1
g
Cholesterol:
186
mg
Sodium:
67
mg
Potassium:
169
mg
Fiber:
2
g
Sugar:
17
g
Vitamin A:
913
IU
Vitamin C:
9
mg
Calcium:
90
mg
Iron:
1
mg
Please note that the nutrition information provided above is approximate and meant as a guideline only.