Sprinkle Cookies are a treat to make and always make people really happy. Who doesn't love sprinkles and who doesn't like cookies. Winning combination.
I've recently started baking using American style cups and the basic cookie recipe I adapted to add sprinkles to. I also converted into grams for ease. It was fantastic and produced such lovely looking sprinkle cookies which were ready decorated when they came out of the oven. Anything to save time to get to the cookies faster!
The great part of these cookies as you can try all different sprinkles to give different looks. Leave out the cocoa powder and add a little extra vanilla if you don't want chocolate cookies. The recipe works so well either way. If you make them plain you can add extra flavours and even nuts and chocolate chips into the dough to add extra flavour and fun. Most size sprinkles I have found work with this recipe. I think they look good no matter what the size too.
Sprinkle Cookies
Sprinkle Cookies are a treat to make and always make people really happy. Who doesn't love sprinkles and who doesn't like cookies. Winning combination.
Ingredients
150

g

unsalted butter

100

g

caster sugar

40

g

cocoa powder

1/4 teaspoon baking powder

pinch of salt

1

large egg

1

teaspoon

vanilla extract

160

g

plain flour / all purpose flour

lots of sprinkles
Instructions
Line two large baking sheets with greaseproof paper.

Beat butter in a mixer or by hand until creamy.

Add granulated sugar, cocoa powder, baking soda and salt. Mix in well. Add the egg and vanilla extract and then beat in the all plain flour. Dough should not be sticky.

Fill a small bowl with the sprinkles.

Measure out dough balls by using a spoon – I find tablespoon sized balls work well. Roll into a ball between your hands and roll dough ball in sprinkles until coated.

When all of dough has been rolled into balls and sprinkle-coated, place the baking trays in the fridge for 30 minutes.

Preheat oven to 180 degrees and then bake for 12 minutes.
Nutrition
Please note that the nutrition information provided above is approximate and meant as a guideline only.
I love how you can make these cookies look so different so easily. It's really fun to roll the cookie dough in sprinkles. Great fun as an adult but also very quick and entertaining for baking with children. I'm sure they would love the messiness fun of cookie rolling.
Rolled and ready for the oven.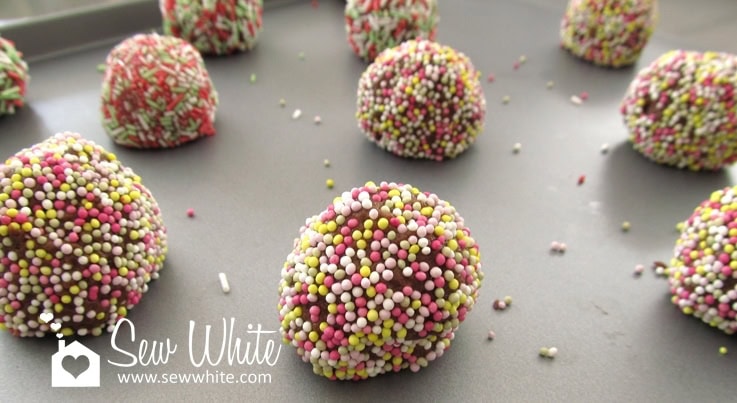 These ones look kind of Christmassy!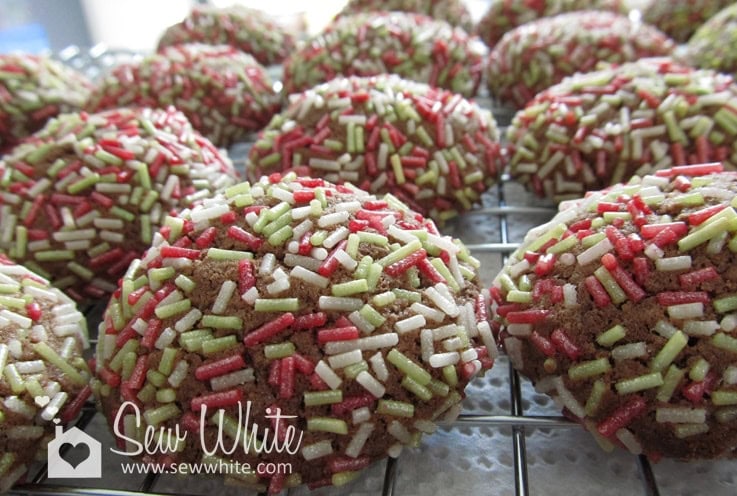 Best served with a glass of milk.
Happy Baking x
Other cookies to try
Biscoff Chocolate Chip Cookies are delicious. Using the biscoff spread
and crushed up biscuits makes the final cookie packed full with biscoff
goodness.
Get baking this Christmas with my Orange, Cinnamon and Chocolate Chip Cookies. A delicious mix of flavours perfect for festive treats.
Looking for easy Christmas cookies? Then look no further, this is the Christmas recipe for you. My White Chocolate and cranberry Cookies are my favourite bake at Christmas. The creamy white chocolate and sweet cranberries are fantastic together in these white chocolate cranberry cookies. Cranberry and oat cookies are a quick and easy bake perfect to dunk in your coffee or give as gifts at Christmas.
Chocolate and peanut butter cookies mix two delicious flavours together. The iconic peanut butter flavour works so well with cookies.
Follow me on instagram to see what I've been making recently. www.instagram.com/sewwhite