This Chicken Kiev Potato Salad is a perfect lunch or dinner and it adds a little more excitement to a normal chicken Kiev. It is also perfect for events and cold in a lunch boxes too.
Chicken Kievs are a weird thing which is both a childhood staple and something that is brilliant as a quick taste dish as an adult. I usually serve them with potatoes or chips (well the oven is going on anyway so why not). Plus a crispy salad.
This week I decided that I was going to experiment and see how else I could serve it. I decided that making it into a potato salad would be a great place to start. The mix of warm potatoes and chicken with salad worked an absolute treat. I had a bit left over so had it cold the next day for lunch. After trying it cold, I can report it definitely works for lunch boxes. I think I've even take it on a picnic or make it for a family BBQ.
Chicken Kiev Potato Salad – Only 5 ingredients for this dinner
I love easy dinners and meals, this is certainly one. It's a popular one with children who have smaller bite sizes to enjoy. It's still very tasty for aduts too.
I've already been told it's a weird thing to make but I have loved eating it like this. Simple, quick and easy. A brilliant trio when it comes to meals sometimes.
My tips for making this is to leave the salad to mix until you're ready to stir it all together and serve. The heat of the potatoes and chicken will make the lettuce wilt a little.
If you want to make this for a BBQ or picnic and have it cold – cook the potatoes and chicken as normal and then allow to cool. Mix together and take with you. This way you will need a little more olive oil to drizzle over the top. If you want to some citrus to the dish a little squeeze of lemon juice.
What salad can I serve with a chicken Kiev?
I love a simple old school crispy crunchy lettuce, tomato and cucumber salad with my chicken Kiev. You want something that works with the garlic chicken and doesn't take away from it.
What do you serve chicken Kiev with?
As a child my gran always served chicken Kiev with boiled potatoes and a few leaves of lettuce. It definitely is a great way to serve it. Now I serve with baby new potatoes and fresh salad. If I'm feeling really hungry I will add a garlic bread and some different side salads with coucous and beans to.
Quick ways to vamp up a chicken Kiev
Obviously I would recommend a chicken Kiev salad, but you can also add some freshly squeezed lemon juice to the finished salad or to the Kiev. Lime juice also packs a delicious punch if you want to wrap the chicken Kiev in a tortilla and make it more Mexican.
Follow me on Instagram to see what I've been making recently. www.instagram.com/sewwhite
This leftover roast chicken pasta salad gives you a way to use up your roast chicken to create a fresh and healthy dish full of herbs and flavour.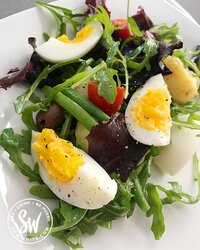 This easy to make and super healthy boiled egg salad mixed together hard boiled eggs, new potatoes and green beans to make this delicious boiled egg salad. Perfect for a main meal or for lunch boxes!
This delicious Fajita Traybake is a Mexican flavour take on a lasgane. It combines the delicious fajita flavours while adding yummy layers for a yummy meal.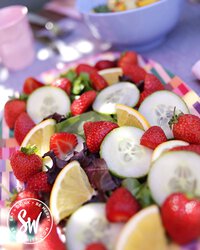 This year I have turned the iconic drink into a fresh and fruity Pimm's salad. I have used the essential Pimm's ingredients for the salad and use a measure of Pimm's itself for the dressing.
This beautiful summer salad with Pimm's dressing will soon be a family favourite in your house as it is in mine for family events, summer BBQs, picnics and even a midweek special when we want a super salad.
This chicken and broccoli pesto pasta with sundried tomatoes is a family favourite dish – you can enjoy it hot, but it's just as good the next day as a pasta salad! It's particularly perfect for lunch boxes.
My fresh basil and parsley spaghetti salad is so fresh and packs a punch of flavour. It works so well for lunch or dinner and also is delicious cold for lunch boxes too.
The perfect fresh summer salad. Heirloom Tomato and Peach Salad with creamy mozzarella and earthy green basil. Fresh and Fruity.
This easy tomato salad with quinoa, rice and asparagus is simple to make but tastes just incredible. The base is the rice and quinoa, which are then topped with fresh tomatoes, fresh basil leaves, fresh mozzarella and perfectly cooked asparagus.
Using fresh summer peaches this grilled peach salad with balsamic vinaigrette is a fresh and fruity salad which is perfect as a BBQ salad. I have walnuts in my salad but other great additions are grilled peach salad with burrata or feta cheese.
An essential BBQ Chicken Marinade Recipe made with Heinz. We use this all the time for BBQs and party food.
Chicken Kiev Potato Salad
This Chicken Kiev Salad is a perfect lunch or dinner and it adds a little more excitement to a normal chicken Kiev. It is also perfect for events and cold in a lunch boxes too.
Ingredients
200

g

baby potatoes

2

chicken Kievs

Quarter

of a

lettuce

handful baby tomatoes

cucumber

olive oil
Instructions
Pre-heat the oven and cook the chicken Kievs as per the instructions. I'd recommend place in a silver foil basket so it catches the oil and butter that leaks out.

Chop up the potatoes into quarters and add them to a pan. Cover with cold water and a pinch of salt. Cook until soft.

While the chicken and potatoes are cooking, chop up the lettuce, tomatoes and cucumber. Leave the salad items on the chopping board until ready.

When the potatoes are cooked drain them add them to a large serving bowl.

When the chicken Kiev is cooked carefully cut it up in to bite size chunks.

When ready to serve mix the salad into the potatoes and place the chicken kiev on top.

If you have any garlic butter left in silver foil drizzle it over the top.

Drizzle a little olive oil over the salad and serve.
Nutrition
Please note that the nutrition information provided above is approximate and meant as a guideline only.