My orange scones are so soft, delicate and have that beautiful smell and flavour of the fresh orange.
I love Wimbledon and each year for all of my life we've always had an afternoon tea to celebrate the good weather and good sport. This year I decided to be make scones from scratch to have with tea and coffee. As there is so much gorgeous fresh fruit available having them with strawberries was a treat. The hint of orange complimented the strawberries very well and they are now a family favourite.
I was given these fabulous items to use for the afternoon tea. The gorgeous rosebud two tier cake stand is from Premiere Housewares (RRP £18.99 you can find it on amazon). It is so lovely and is a sturdy too. the metal pieces are strong but I'd still recommend transporting it by holding the lower plate. It doesn't wobble which is nice. I've had so much fun using it and everyone has loved it. The straight edge circular cutter from Judge were really brilliant. They were sharp on one edge but had a lovely rounded rim handle at the other so you don't cut yourself when using them. They also come in a tin which makes them easier to store and not become dented.
Making the orange scones
I love cutting out scones! The dough is so springy it makes it really satisfying to press out the circles.
Pressed out and ready on the greaseproof paper for their brushing with the milk and egg mix before the oven. Then the gorgeous risen scones, golden brown and ready to eat.
Here are the finished scones on the beautiful cake stand. I used my Wimbledon tea towel as the background. I love the blue duck egg colour so much. it compliments the food and helps really makes them look delicious.
The scones are adapted from a Mary Berry recipe.
Makes approx 12-15 5cm scones.
As there is a heated debate about which goes on the scone first cream or jam I decided to do both and see which were the most popular. It seemed that cream first was the winner!
A delicious afternoon tea with the Orange Scones ready to be enjoyed by me and my guests.
Some of the fun happening around Wimbledon this year
Orange Scones
My orange scones are so soft, delicate and have that beautiful smell and flavour of the fresh orange.
Ingredients
450

g

self-raising flour

2

teaspoons

baking powder

75

g

unsalted butter

50

g

caster sugar

2

large

eggs

225

ml

milk

1

orange

Clotted cream and jam
Instructions
Line 2 baking trays with greaseproof paper.

Preheat the oven to 220ºC/ Fan 200º.

Sieve the flour and baking powder into a large mixing bowl.

Add the butter and rub together to make bread crumbs.

-Stir in the sugar.

Grate the orange finely and add the zest to the mix.

In a jug lightly beat the eggs and add milk up to 300ml (you might not use all the milk from the ingredient list or you might need a little more).

Add a little a time to the dried ingredients and mix with your hands until you get a soft dough. (slightly sticky is fine). Save a little of the egg milk mix for the glaze.

On a lightly floured surface gently knead the dough and roll out the dough to 2cm thick.

Stamp out the scones using round cutters. I like ones about 5cm in diameter.

Place on the baking trays and using a pastry brush glaze them with the left over milk and egg mix.

Bake for 10-15 minutes until golden brown.

Allow to cool on a wire wrack with a clean tea towel on to stop them drying out.

Once they are cool enough to eat. Cut in half add clotted cream and jam.
Nutrition
Please note that the nutrition information provided above is approximate and meant as a guideline only.
Follow me on Instagram to see what I've been making recently. www.instagram.com/sewwhite
Whip up a batch of the fruity and crumbly Afternoon Tea Fruit Scones this weekend for Mother's Day. Then is the question which comes first – jam or cream?
A super delicious and alternative dish to serve with tea. Enjoy my easy to make and easier to eat afternoon tea waffle bites.
This is an epic chunky cookie! It is my super easy to make raspberry white chocolate cookie traybake. Now a family favourite and the perfect bake for relaxed afternoons or even a party.
My Summer Fruit Bundt Cake is so fruity and perfect served warm from the oven. Great for afternoon tea, parties and events all year round.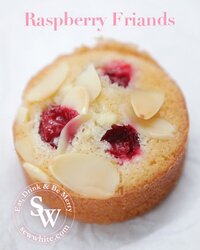 These little raspberry friand cakes are small, delicate and perfect for afternoon tea! They're only little cakes – much like cupcakes, but they're a great snack even if you aren't planning on having afternoon tea. After all, who could say no to a fruity little friand cake?