Embossed Rolling Pin Biscuit Recipe
This is the best Embossed Rolling Pin Biscuit Recipe. This easy to follow recipe produces a dough which holds the pattern while cooking and tastes good too. It is an easy cookie dough recipe which is also perfect for using with a patterned rolling pin and with a cookie cutter too.
Although I've used this recipe for Christmas biscuits you can easily turn this into a non Christmassy recipe by leaving out the spices and keeping it vanilla only.
I love my embossed rolling pin! The pattern is so super cute and being that it is Christmasssy I have to make the most of it in November and December. I worked on a few recipes to try and get the dough perfect to hold the shape from the rolling pin and this is it. Luckily the ones that didn't work I ate the evidence of.
Christmas Spiced Biscuits – Embossed Rolling Pin Biscuit Recipe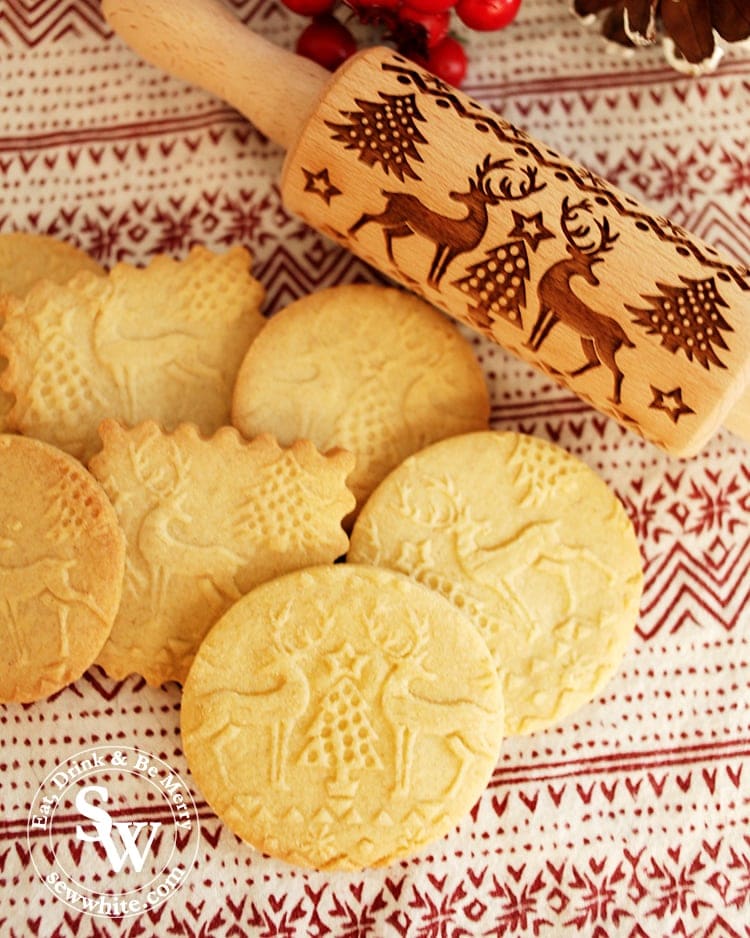 The best tip I can give for this recipe is keep the dough cold. If it's cold the pattern with stay when it's cooked. When it goes from the cold fridge to the oven it doesn't get a chance to spread before the outer layers have cooked and hardened.
Also try not to work the dough too much. Once it rolled out the first time roll the rolling pin over and cut out as many biscuits as you can. With the remaining off cuts stack them roll them out again. Put it back in the fridge to get it get it cold again if you are going to use the embossed rolling pin on it.
This recipe also works really well for for making cookie cutter biscuits
I love how these biscuits came out. The embossed rolling pin really left a beautiful pattern which cooked without distorting it. I love it. They also taste incredible. The smell of the Christmas spices really filled the kitchen which makes them a pleasure to make.
When you cook them make sure you take them out before they go golden brown as they will dry really hard. Unless you dip them in tea they won't be easy to bite. This recipe also works really well for icing biscuits.
How do you use an embossed rolling pin for cookies?
Embossed rolling pins can be a fiddly but taking it gently and using a good cold dough will give you the best results. As will chilling the cookie dough again before popping them in the oven. Keeping the dough cool/cold the when rolling and baking will keep the pattern from spreading.
When you use the rolling pin dust it over with a little flour. If anything gets stuck in the grooves then use a pastry brush or clean paint brush to remove it. Dust every few rolls.
Unlike a normal rolling pin you want to roll once with the embossed rolling pin. Gently go in one direction with the same force through out. I found it easier to press on the main rolling pin rather than use the handles. Experiment and take it slowly and make sure the dough is cold but also not too covered in flour.
How do you use an embossed rolling pin?
Gently! When you use an embossed rolling pin you want to keep the pressure the same across the dough. You want to go in one direction slowly at a time. You won't want to go backwards and forward in one go as that will break the pattern.
From there stamp out the biscuits and pop them on a greaseproof paper prepared baking sheet. Put them in the fridge for about 10-15 minutes. Bake directly from the fridge.
Troubleshooting
There are a few things which can go a little wrong with this recipe but from my experience they can all be fixed.
Sometimes the dough might not come together and stick as a dough. Which will then make it too crumbly to roll out. If the dough isn't coming together when you mix it together it might either be you need a tiny bit more butter or you can try adding a few drops of water to help. Don't add too much and do it a little at a time.
Another reason it might be too crumbly when being rolled out is that the dough has been over worked when you bought the dough together. The final reason it might be too crumbly to roll out is that that it's been in the fridge too long so the dough isn't rolling out but rather breaking.
If the pattern isn't rolling out, your rolling pin might not have a deep enough design or you aren't pressing hard enough. It takes a bit of practice to work out how to do it.
If everything is going to plan but when you bake them the design disappears it could be that your oven is running a bit too hot or they are being placed in a part of the oven which is running hot. (In my oven the top left side runs hotter than the rest so I avoid putting these biscuits near that side)
The biscuits could also have not been chilled for long enough. Make sure your oven is up to temperature before removing them from the fridge and pop them straight in the oven. They don't need to be bought back to room temperature before being baked.
How do you clean embossed rolling pins?
Cleaning an embossed rolling pin is really easy. Once you've used it, use a pastry brush or soft washing up brush (dry) to wipe away any left over dough. Once it's clean gently scrub it with a soapy brush to remove the grease.
Don't over scrub and leave to air dry after taking most of the water off with a tea towel. Do not put them in the washing machine.
Vanilla embossed rolling pin biscuit recipe
If you want to make these non Christmassy then remove the spices. They will beautifully vanilla flavours. You could add a little extra if you want them with a super vanilla flavour.
You could also add some lemon zest if you want but just warned that the bits might interfere with the finished design. Lemon extract would work better.
What is "mixed spice "?
Mixed spice is a mix of Christmas winter spices, available at supermarkets in the UK as a ready mix. You don't need it to make this recipe as you can add the spices separately. It is a mix of Ground Cinnamon, Ground Nutmeg, Ground Ginger, and ground Cloves.
In America, it would be similar to pumpkin spice mix or apple pie mix. It's a great little mix to have. I hope that helps.
Pin me for later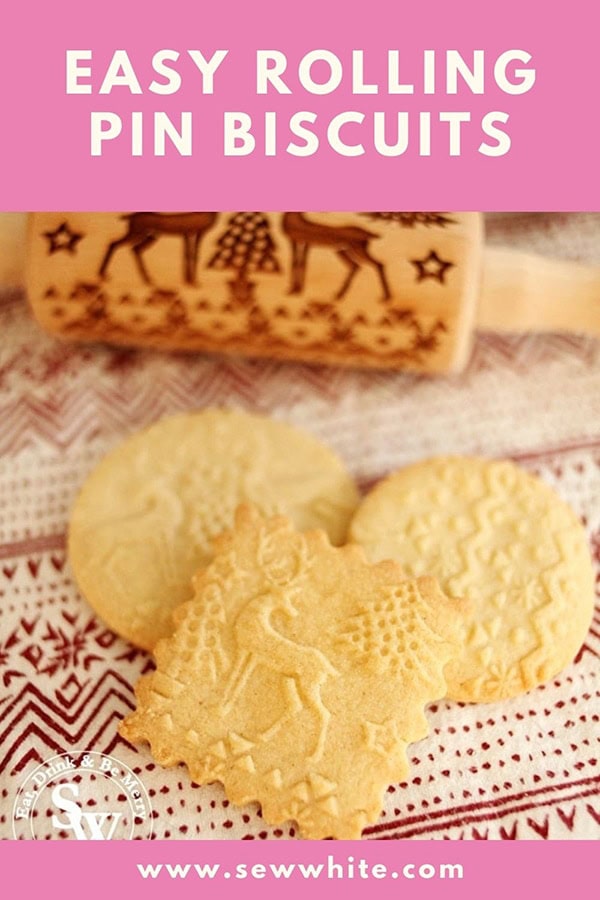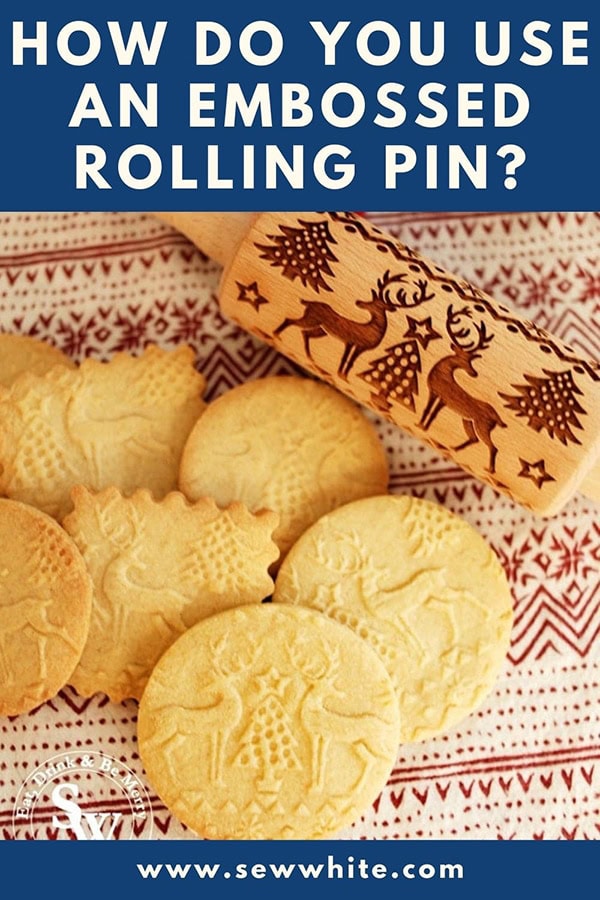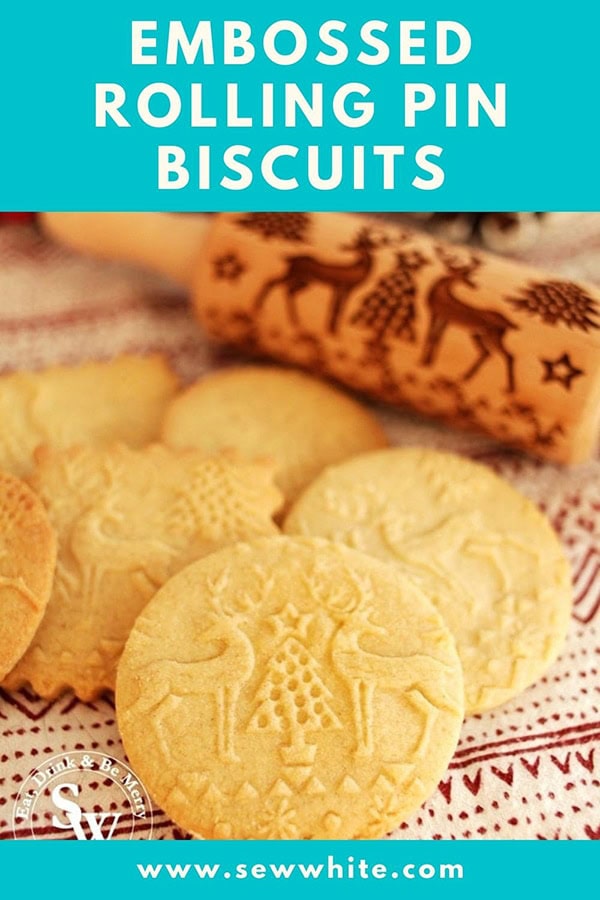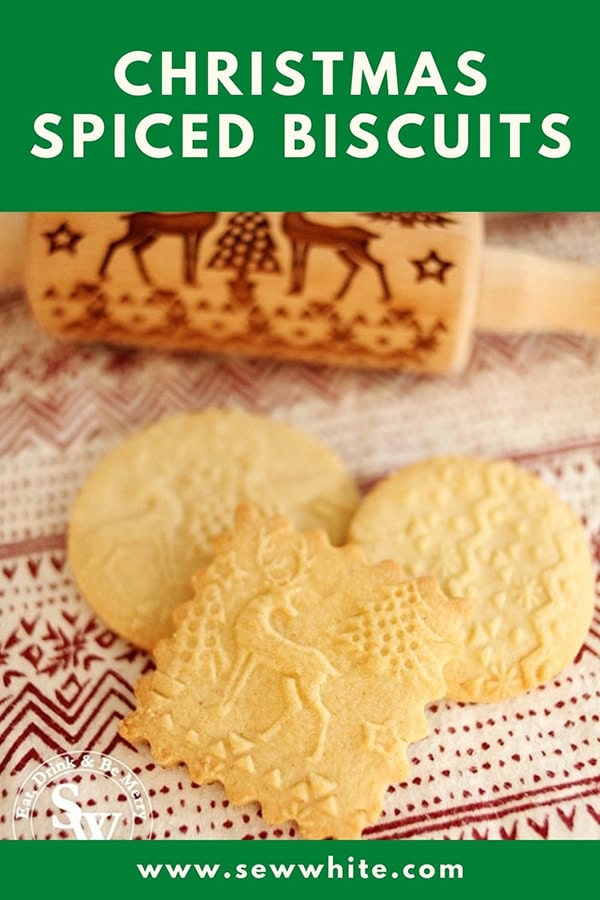 ---
---
My embossed rolling pin wishlist from Amazon *Affiliate links*
If cookies are more your style try my Biscoff Chocolate Chip Cookies
Other delicious Christmas Sweet Treats
Mince pie Bundt Cake
It's beginning to taste a lot like Christmas with my Mince Pie Christmas Bundt Cake. Filled with mince pie filling and spices it's great Christmas bake.
Check out this recipe
Orange and Cinnamon Christmas Cheesecake
This delicious Christmas Cheesecake is filled with the iconic orange and cinnamon Christmas flavours but also chocolate truffles to add an extra goodness.
Check out this recipe
Filo Mince Pie Rolls
Looking for a new way to make delicious mince pies this Christmas? Then try out these easy filo mince pie rolls made with filo pastry. These delicious Christmas mince pies are fun take on the traditional shortcrust pastry mince pie. Using filo pastry and rolling the sweet cranberry mincemeat up you get a beautiful bite size treat. They are perfect easy Christmas party food, would make a lovely addition to a Christmas buffet and are lovely Christmas finger food that the whole family can enjoy.
Check out this recipe
Follow me on instagram to see what I've been making recently. www.instagram.com/sewwhite
Best Embossed Rolling Pin Biscuit Recipe
This is the best Embossed Rolling Pin Biscuit Recipe. This easy to follow recipe produces a dough which holds the pattern while cooking and tastes good too.
Equipment
Kitchen Scales

Mixing bowl

Embossed Rolling Pin

Normal Rolling Pin

Cookie cutters

sieve

spoon
Ingredients
200

g

unsalted butter

200

g

caster sugar

1

medium egg

1

teaspoon

vanilla extract

0.5

teaspoon

ground ginger

0.5

teaspoon

mixed spice

0.5

teaspoon

ground cinnamon

400

g

plain flour / all purpose flour
Instructions
Cream the butter and sugar together until light and fluffy.

Mix in the egg and vanilla.

Sieve in the flour and combine into a dough. If it is a bit crumbly to hold a few drops of water at a time to help bring it together.

Once the dough has pulled together wrap it in cling film and pop it in for 30 minutes.

Roll out the dough with the embossed rolling pin to just shy of a 1cm thickness.

Cut out the shapes you want and pop the pieces on a greaseproof paper lined baking tray.

Pop the cut out dough back into the fridge for 30 minutes.

Preheat the oven to 180ºC / 160ºC fan oven/ gas mark 4 or 350ºF.

Pop the biscuits in the oven for 8-10 minutes until the dough is firm to the touch and just starting to go light brown.

You don't want them going golden brown or they will dry too hard. You can see how pale the finished biscuits are above.

Leave to cool on a cooling rack and once cold store in an air tight container.
Notes
•To make them great for all year remove the spices and keep them with a beautifully vanilla flavour.
•Troubleshooting ideas and solving problems in the blog post above.
•When making these biscuits don't use spread or margarine. Proper butter will give you the best results.
Nutrition
Calories:
125
kcal
Carbohydrates:
17
g
Protein:
2
g
Fat:
6
g
Saturated Fat:
3
g
Trans Fat:
1
g
Cholesterol:
20
mg
Sodium:
3
mg
Potassium:
19
mg
Fiber:
1
g
Sugar:
7
g
Vitamin A:
175
IU
Vitamin C:
1
mg
Calcium:
5
mg
Iron:
1
mg
Please note that the nutrition information provided above is approximate and meant as a guideline only.