This is a delicious bake and a favourite of mine during the festive period. Try my Christmas Apple and Cinnamon Bundt cake.
This I think has to be the best cake I've ever made! Apple and cinnamon bundt cake was just yummy and there wasn't a single crumb left over. If you don't have a bundt tin you can use a regular cake tin (use 2 x 8inch tins and sandwich together with a filling of your choice).
One of the quirky things about this cake is the hidden blackberries inside which create a fabulous and yummy surprise. It also keeps the cake really moist and super yummy. Especially if you're like me and love a blackberry or two.
This will be the family go to Christmas/winter cake recipe form now on. I used a little blue food colouring so the snowflakes sprinkles would stand out. A subtle blue icing doesn't look too daunting as I wanted to make this cake look very inviting. I think I pulled it off.
Christmas Apple and Cinnamon Bundt Recipe
Christmas Apple and Cinnamon Bundt Cake
This is a delicious bake and a favourite of mine during the festive period. Try my Christmas Apple and Cinnamon Bundt cake.
Ingredients
220

g

unsalted butter

450

g

golden caster sugar

4

medium eggs

350

g

plain flour / all purpose flour

half a teaspoon of bicarb

small pinch of salt

350

g

Rachel's apple and cinnamon yoghurt

1

teaspoon

of ground cinnamon

half a teaspoon of mixed spice

half a teaspoon of ground nutmeg

half a teaspoon of ground cloves

half a teaspoon of ground ginger

400

g/2 punnet of blackberries
Instructions
Preheat the oven to 160 c.

Grease the bundt pan with melted butter and dust with flour – this will help you see if you haven't greased any spots.

Cream the butter (at room temperaturand sugar until pale and fluffy.

Add the eggs one at a time, beating well after each addition.

In a separate bowl, measure and sieve out the flour, bicarbonate of soda, salt and all the ground spices.

Add the yoghurt,  into the creamed ingredients and mix well.

Sift in the flour in two halves. Mix this slowly until all the flour has disappeared. Don't over mix.

Pour the mix into a greased and floured tin.

Place the some of the blackberries in the mixture closely together in the centre of the ring (picture beloand push in enough so you can still see them as they will sink one the mixture starts cooking. Make sure you save some for the decoration.

Bake in the centre of the oven for about 1 hour 15 minutes or until a skewer comes out clean. I turn it around after 35 minutes to make sure it's evenly cooked.

The cake will pull away from the edge of the tin when it is ready.

Leave the cake to cool fully before removing from the tin.

I used regular water icing with a little blue colouring into help the snowflakes stand out. I then filled the whole with blackberries and it looked great!
Notes
I used Rachel's organic apple and cinnamon yoghurt the first time I made it but I can't find it in supermarkets now so I now use vanilla yoghurt with 1 very well grated eating apple mixed in.
Nutrition
Please note that the nutrition information provided above is approximate and meant as a guideline only.
By placing the blackberries in the ring you will get this fabulous jam doughnut like effect in each slice of cake as a blackberry will be visible.
So pretty!
Simple yet beautiful and very very tasty.
Happy Baking x
Follow me on instagram to see what other cakes I've been making recently. www.instagram.com/sewwhite
Enjoy a slice of the Black Forest Christmas Bundt Cake this festive period. It's made with delicious cherry yoghurt and chocolate chips.
My Daiquiri bundt Cake is a simple and delicious cake perfect for gatherings, parties or just a nice snack with a cup of tea. It also tastes amazing served with a cocktail!
Enjoy a slice of my incredible Strawberry Prosecco Cake this summer. It's a fruity light strawberry sponge with a strawberry and Prosecco jam to keep it soft and moist. Plus add a lot of flavour. It's the perfect bake for a party or summer event. Strawberries and prosecco are the best mix. Made in a Le Creuset Kugelhopf tin but also a lovely strawberry prosecco bundt cake recipe.
My Summer Fruit Bundt Cake is so fruity and perfect served warm from the oven. Great for afternoon tea, parties and events all year round.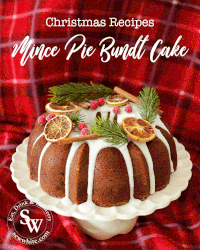 It's beginning to taste a lot like Christmas with my Mince Pie Christmas Bundt Cake. Filled with mince pie filling and spices it's great Christmas bake.