Finding delicious gifts for foodies doesn't need to be hard. With Le Creuset there are perfect gifts at different prices. All will be welcome under the tree. Check out my Christmas with Le Creuset post and see a examples of my top choices.
As a foodie good kitchen and usable items are always most welcome for Christmas. I have created a handful, or should that be many platefuls, of delicious Christmas dishes all made with and in Le Creuset products.
Christmas place settings with the beautiful plates and bowls. I love these plates. They are weighty and the colours, like all Le Creuset are bright and bold. I layered up the red and white plates for a Christmas table because of course you have to right! I love a traditional red and white table. The Le Creuset cerise red is perfect for Christmas. The plates are also dishwasher proof which we can all agree is a great plus point. To fill in the white bowl and add some colour I used the Le Creuset start tin which has just been bought to make some little lemon and spice cakes. (Find the recipe below).
Roast dinner necessities have to include a gravy boat. If you have a Le Creuset spoon rest they happen to make great plates for the gravy boat to sit on. Save getting gravy drips on the table cloth.
Christmas day needs Champagne and the best thing to keep your bottle cool is the cool bag. Pop it in freezer and it will keep your champagne cool.
Top Choice on the Christmas with Le Creuset wish list.
The one pot chicken and possibly the most iconic Le Creuset item – the casserole dish. This is an amazing item to have in your kitchen and it's so useful for cooking a range of items. I've used mine for stews, pasta sauces, one pot chickens, soups and even cakes. It is made of cast iron and can be used in the oven but also on the hob. If you were going to gift anything and had a great budget then the casserole should be top of your list.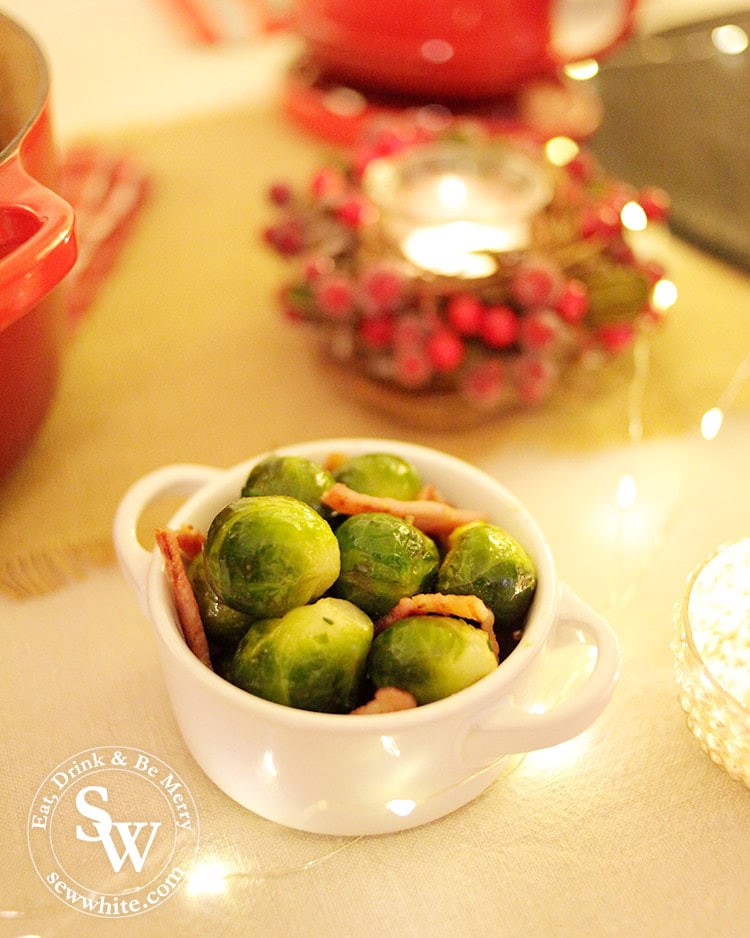 The petite casseroles are perfect for serving up individual portions on the Christmas table. For our table it was more so those who didn't like sprouts could be kept away from them.
My Stoneware Heritage Rectangular Dish set is used almost daily in my house. Oven proof for roasties and puddings but then also used a lot as presentation dishes for dinner when you want people to be able to serve themselves.
Find all the recipes featured here
Christmas is stressful when it comes to cooking so I've come up with a really simple one pot chicken recipe which keeps the Christmas flavours.
I absolutely love these Lemon Spice Cakes. They are a delicious mix of lemon citrus, sweetness from the cake and spice which tastes like Christmas.
I love roast potatoes! Especially goose fat roast potatoes at Christmas and special occasions. I make my Perfect Goose Fat Potatoes which are light and fluffy while also being crispy on the edges. Using goose fat for potatoes is really easy and gives such brilliant results time and time again.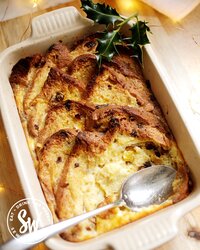 I adore this Christmas bread and butter pudding and of course with Christmas on the way I had to make it with Panettone. It's so fruity with a smooth homemade custard and has a delicious toasted flavour too. Panettone Bread and Butter Pudding is a wonderful winter dessert or Christmas pudding. It's a family favourite dessert in our house and a brilliant Christmas bake. The Christmas spices in the custard add some lovely warmth and flavour to the finished baked dessert.
Everyone should try my Easy Brussels Sprouts and Bacon recipe at least once because that is all it will take for you to want to make them again. These Brussels Sprouts with garlic and bacon are my go-to way to cook Brussels Sprouts for Christmas… and all year long too. Adding garlic to the Bacon Brussels Sprouts adds extra flavour and bite to the dish. Bring on the bacon garlic sprouts!
View all my Christmas recipes.
Discover the full range of gorgeous items Le Creuset has to offer on their website.
Or shop the items I have chosen on Amazon with the links below (Affiliate links)
Follow me on instagram to see what I've been making recently. www.instagram.com/sewwhite