With my round-up of recipes with Pimm's you can create not just new Pimm's cocktails but also Pimm's cakes and even a salad! These Pimm's recipes are sure to brighten even the rainiest of British summers.
Pimm's is so iconic and of course delicious. Could you have a Wimbledon fortnight or a summer BBQ without Pimm's? I don't think it's possible. It's a staple of summer across the UK and I love using it.
I use Pimm's to create new cocktails and even delicious cakes too! So get out that bottle of Pimm's and whip up a delicious recipe or two.
Pimm's Cocktail Ideas
Beautiful Pimm's Cakes and Pimm's Desserts
Pimm's Salad Recipes
Top Questions
What can you mix Pimms with?
How long does a bottle of Pimms last once opened?
How do you store a bottle of Pimms?
Can you add Pimm's to a cake?
Can you mix Pimm's into a cheesecake?
What alcohol flavour is Pimms?
Pimm's Cocktail Ideas
This Pimm's lychee cocktail takes the classic Pimm's and makes it even more fruity. Lychee lemonade is a perfect addition to Pimm's and makes it sweet and sparkly. It's great on hot summer days in the sunshine.
Pimp up your Pimm's with my easy Pimm's vodka cocktail. A mix of the summer classic Pimm's but with a dash of vodka makes a strong drink. However, topping up the alcohol mix with elderflower and lemonade makes it a perfect tall summer drink.
A traditional Pimm's cocktail is great but my Pimm's cocktail is even better. This Pimm's Spritz takes a classic Pimm's to the next level by mixing Pimm's and Prosecco to make a fruity and bubbly cocktail. A perfect Wimbledon tennis cocktail and an easy summer party drink to make at home.
This Pimm's ginger ale cocktail is a fruity and fiery cocktail that is a perfect drink for hot summer days. The heat from the ginger ale really compliments the Pimm's fruit. A perfect Wimbledon tennis cocktail and summer party drink idea.
Pimm's Cakes and Pimm's Desserts
This delicious Pimm's cheesecake is the most delicious summer cheesecake no bake dessert. A creamy layer packed full of citrusy flavour takes this fruit topped cheesecake to the next level.
This Pimm's traybake brings together the best of the iconic summer drink and a lovely vanilla traybake. With a drizzle of Pimm's on the cake the traybake stays moist and fruity. I topped the traybake with a cream cheese buttercream and of course decorated it with the iconic Pimms decorations of strawberries, orange, cucumber and mint. A perfect summer traybake cake.
Hands up who wants a slice of this incredible Pimms Cake! This is a gorgeous citrus cake with a Pimm's syrup drizzle, topped with a cream cheese buttercream and studded with all the iconic Pimm's fruit. This impressive cake is easy to make and a perfect summer cake for summer events and summer parties. It is also a brilliant showstopper cake to serve during Wimbledon fortnight as a tennis party cake.
My first really summery cake recipe for this year is my Pimm's roulade. Spring is in the air and it's the perfect time to start with the summer bakes! I adore Pimm's and use strawberries, cucumber and mint with everything I can. This easy Pimm's cake looks so fancy but is simple and fun to make at home.
Pimm's Salad Recipes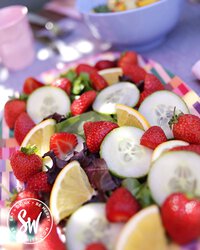 This year I have turned the iconic drink into a fresh and fruity Pimm's salad. I have used the essential Pimm's ingredients for the salad and use a measure of Pimm's itself for the dressing.
This beautiful summer salad with Pimm's dressing will soon be a family favourite in your house as it is in mine for family events, summer BBQs, picnics and even a midweek special when we want a super salad.
What is Pimm's?
Pimm's is a delicious drink that is perfect for summer parties, picnics and barbecues. It's a gin-based liqueur that has a fruity and spiced flavour. James Pimm first made it in 1823 in his oyster bar in London. He served it as a digestive tonic in a small cup, which is why it's called Pimm's No. 1 Cup.!
What can you mix Pimms with?
Pimm's is usually mixed with lemonade or ginger ale and lots of fresh fruit, cucumber and mint to make a refreshing cocktail called a Pimm's cup. You can also add some champagne or sparkling wine to make it extra special.
How long does a bottle of Pimms last once opened?
The good news is that Pimm's can last for a long time once opened, as long as you store it in a cool and dark place. Some sources say it can last for about 18 to 24 months before the flavour starts fading. Others say that it can last even longer, as it has a high alcohol content of 25% and won't go bad.
The best way to tell if your Pimm's is still good is to taste it. If it still has that fruity and spicy kick, then you're good to go. If it tastes dull or off, then you might want to get a new bottle.
How do you store a bottle of Pimms?
Pimm's is best stored in a dark, cool cupboard. This way it will last a long time and stay as fresh as possible. You want to leave it in the glass bottle you bought the Pimms in, it was designed to keep it fresh for longer.
Can you add Pimm's to a cake?
Yes! Adding a Pimm's drizzle to a cake is one of the best things you can do with Pimm's besides drink it! You simply need to soak your cooked and cooled sponges in Pimm's and then top it with fresh fruit! I love adding a few mint leaves to the cake decoration as well, this really helps add a refreshing hint.
Can you mix Pimm's into a cheesecake?
Pimm's mixed into a cheesecake is a great summer dessert, it's light, fruit and refreshing! The Pimm's can be mixed straight into the cheesecake mixture and then you can top your cheesecake with pimms soaked fruits as well for that extra kick!
What alcohol Flavour is Pimms?
Pimm's has a slightly spiced gin flavour, but it's mostly rich and fruity. It makes for the perfect summer drink, especially when mixed with lemonade over ice. The flavour of Pimm's makes it the perfect addition to summer cakes too!
Pin this recipe to enjoy later
Pin me for later or follow me @sewwhiteblog on Pinterest for my latest recipes and to discover my others.