Mini Eggs are possibly the best part of Easter baking and eating. The gorgeous milk chocolate eggs with sugar shells, decorated in their iconic pastel colours are so tempting and delicious. No wonder the UK eats hundreds of millions of packets each year. Mini Eggs are versatile for creating delicious Easter recipes so I've rounded up the best Recipes Using Mini Eggs from the best food bloggers for you this Easter.
First of all, I love mini eggs. I am definitely finding that I am a tad addicted. The smell of them, as you open a packet, is mouthwatering. The chocolate inside is smooth and silky they are a joy to eat on their own before you add them into recipes.
I'm always thinking about different ways I can use them in my sweet treats. This year I have created so many new recipes using them which you can find in my Easter recipe section.
The UK spends over £299 million on Easter egg chocolate each year. It is my belief that a lot of that spending is on Mini Eggs. If given the choice I would definitely pick mini eggs recipes over creme egg recipes.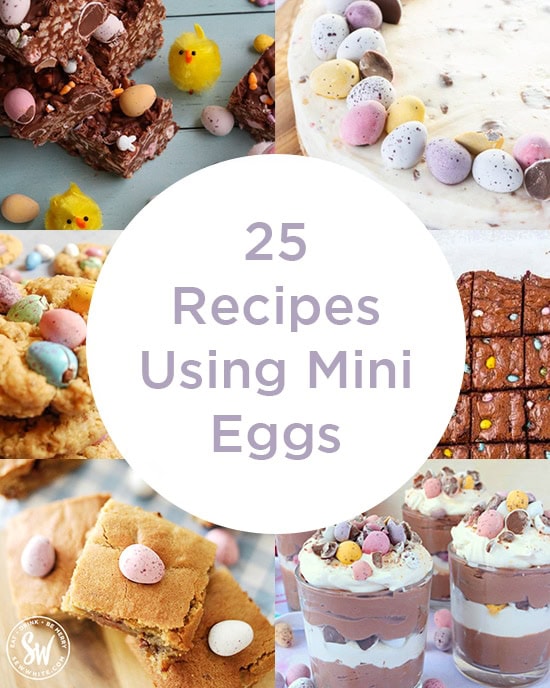 Mini Egg Frequently Asked Questions
How do you break a mini egg in half?
Why bake with Mini Eggs?
Where can I buy mini eggs?
Can you freeze mini eggs?
How do you break a mini egg in half?
Cutting mini eggs in half is pretty tough as the sugar shell tends to break. The best way to break up mini eggs for desserts and to bake using the mini egg recipes below is to take the bag, lay it on the worktop and hit it with a chopping board. They will break easily and be ready to bake with.
Why bake with Mini Eggs?
Mini eggs are the most beautiful of Easter eggs in my opinion. The pastel colours are full of the joys of spring. The pinks, purples, yellow and white eggs are definitely iconic of a British Easter now. They also look so cute on all sorts of bakes and treats for Easter. They also taste pretty darn good too.
My top Mini Egg Recipes
Mini Eggs are a delicious ingredient and have been used by so many brilliant food bloggers to create egg-citing Easter recipes. The pastel coloured sugar coated eggs are iconic for Easter. I've rounded up a range of the best ways to use these little eggs in time for Easter.
All the chocolate mini egg recipes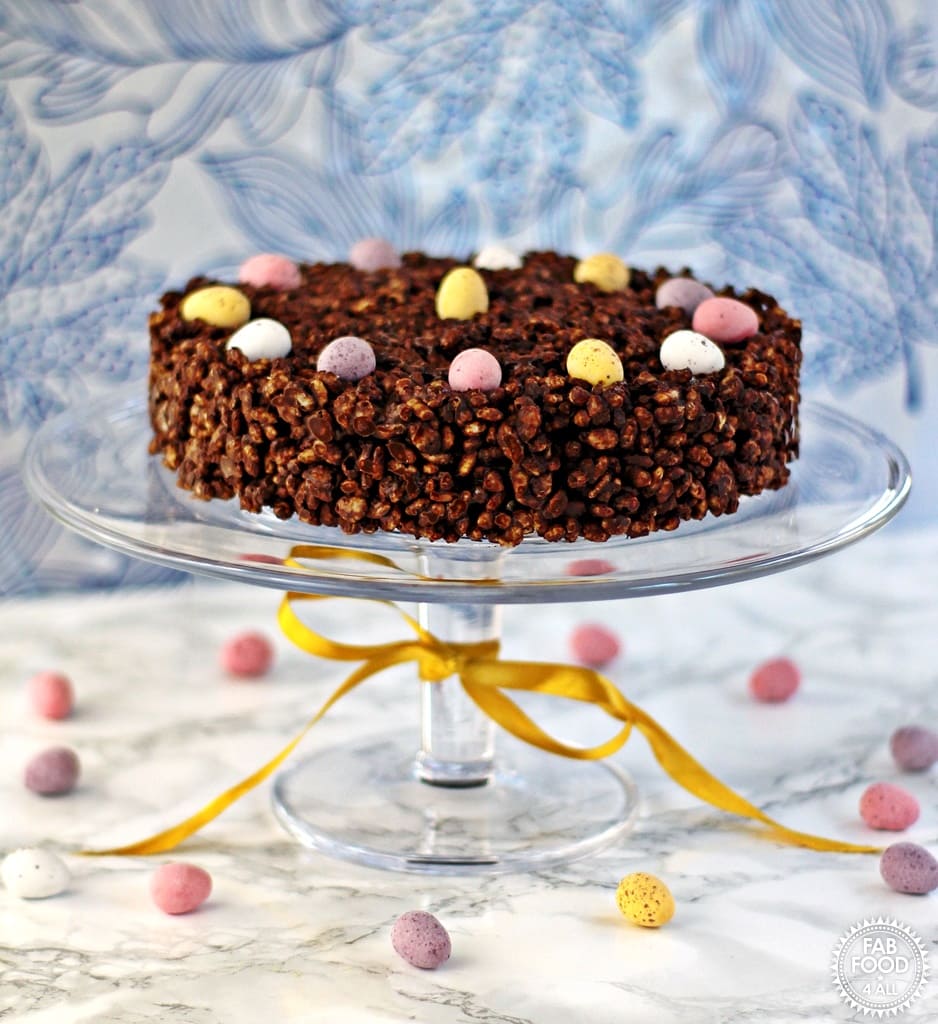 Fab Food 4 All's Mini Egg Chocolate Rice Crispy Cake is so simple yet so delicious. Striking and yet simple enough for a child to make, great for Easter or even a birthday party!
The Mini Egg Rice Crispy Squares by Curlys Cooking are the essential Easter treat for any chocolate fanatic. So easy and incredibly tasty but do not blame me when you can't stop yourself from eating more than one!
If there's one thing Easter is all about for me then it's chocolate! So The Baking Explorer has made this rich Easter Chocolate Cake that's perfect for celebrating with.
Mini Egg Desserts
These Mini Egg Dessert Pots from The Baking Explorer are no bake, and you can make them earlier in the day and pop them in the fridge for later. They'd be perfect for a Easter themed dinner party or family meal!
Check out these Mini Eggs Chocolate Cheesecake Bites from Eats Amazing. These fun little Easter desserts are really easy to whip up with very little effort but will impress everyone who tastes them!
The White Chocolate Mini Egg Cheesecake from Charlottes Lively Kitchen is beautiful. A delicious, smooth no-bake white chocolate cheesecake, packed full of Cadbury Mini Eggs and topped with even more Mini Eggs – the perfect Easter dessert.
A smooth and delicious Mini Egg no churn ice cream from Fuss Free Flavours Is a fun way to use up your mini eggs to make an Easter dessert.
Mini Egg Traybakes
This Easter fudge recipe from Only Crumbs Remain is made with a double chocolate fudge which produces a delicious melt in the mouth confectionery.
These Mini Egg Brownies from Greedy Gourmet are easy to bake and a great activity to do with kids. One bite and you'll be hooked!
This is an easy No Bake Chocolate Easter Fridge Cake from Something Sweet Something Savoury. It is made with mini creme eggs and Cadbury mini eggs would make the perfect homemade Easter gift – if you can bear to part with it!
Cookies and Fudge in the 25 Recipes Using Mini Eggs
My chocolate Mini Egg Easter Cookies are a beautiful easy bake that is great to make with children. A simple Easter recipe to make which will be a winner for parties, events or a chocolate craving.
Mini egg cookies from Something Sweet Something Savoury are soft, thick, chewy cookies with lots of chocolate chunks and Easter mini eggs! They are thick, chewy and contain a good amount of heart heathly oats.
Curlys Cooking has created these deliciously decadent cookies crammed with mini eggs. These Double Chocolate Mini Egg Cookies will make you want to stock up on mini eggs so you can make them all year!
Mini Egg cakes and loaf cakes
My speckled Easter pinata cake is a fun and surprisingly easy Easter cake. It's packed full of Easter eggs which spill out when you cut the first slice.
This Easy Mini Egg Rocky Road Cake from Recipes from a Pantry is a delicious mix of chocolate, mini eggs, marshmallows, and even Haribo.
These mini egg scones from We Are Not Martha make a perfect addition to your Easter brunch spread or for a sweet seasonal treat. They contain an entire bag of mini eggs so always have my vote.
This Mini Egg Babka by Dish N the Kitchen is made with swirled layers of rich dough and nutty pistachio cream. Baked to perfection with hidden Mini Eggs throughout, this Babka makes an impressive addition to your Easter Brunch.
Bitesize recipes using mini eggs
So quick and easy, Fab Food 4 All has created these healthy Mini Egg Chocolate Granola Bites are the perfect Easter treat or gift! Ideal for kids to make!
Chocolate Cornflake Cakes by Feasts Glorious Feast are one of the simplest treats to put together. Turn them into Easter nests by adding your favourite chocolate eggs.
These delicious Easter Chocolate Nest Mini Eggs Cupcakes from Taming Twins are great to help make with children over the Easter weekend..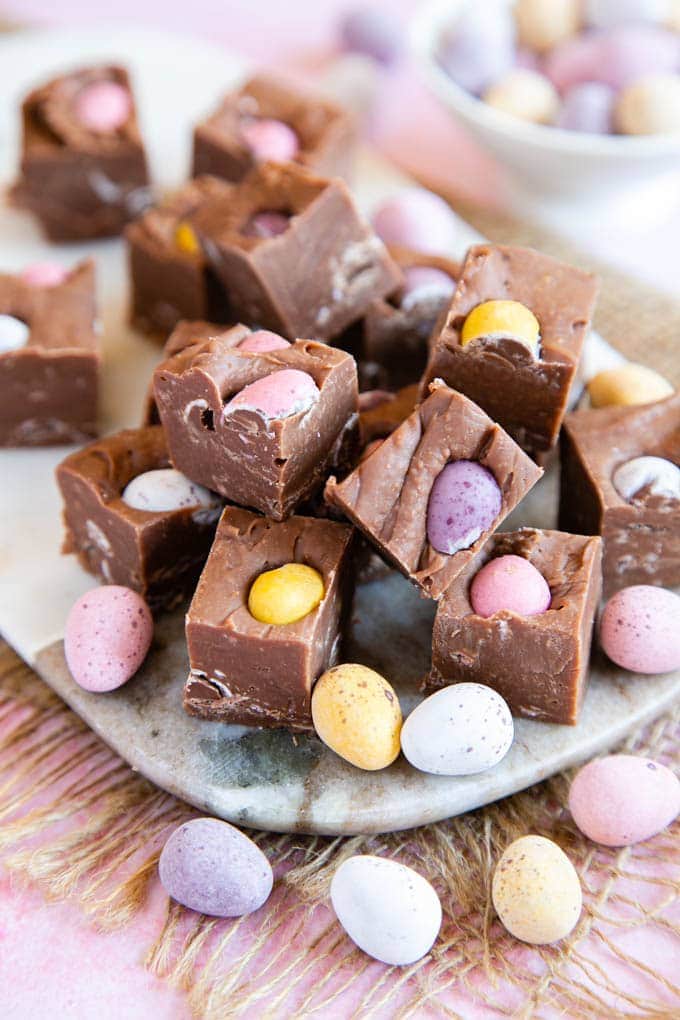 These look so good and Free Free Flavour has really delivered on the bite-size Easter treats. Three ingredients mini egg fudge would be great for an Easter party but also a great homemade Easter edible gift.
These Mini Egg Rice Krispie Squares from My Kitchen Love are the easiest Easter treats! 4 ingredients and 20 minutes is all it takes to whip up a batch these of fun and festive treats.
Easter means all things Mini Eggs and of course, that includes these easy Mini Egg Rice Krispie Treats. A mix of chocolate, marshmallow, rice krispies, more chocolate and of course lots of mini eggs.
Where can I buy mini eggs?
Everywhere. Mini eggs are never out of stock in my local supermarkets. They've been a great way to stay busy in the kitchen while on lockdown. They appear between Christmas and new year and normally run out a few days before Easter.
If you want to buy extra they store really well if they are kept in the packet in a cool dry place. You can even keep them in the freezer but as long as they somewhere cool they will last long past their use by date.
Fun for the family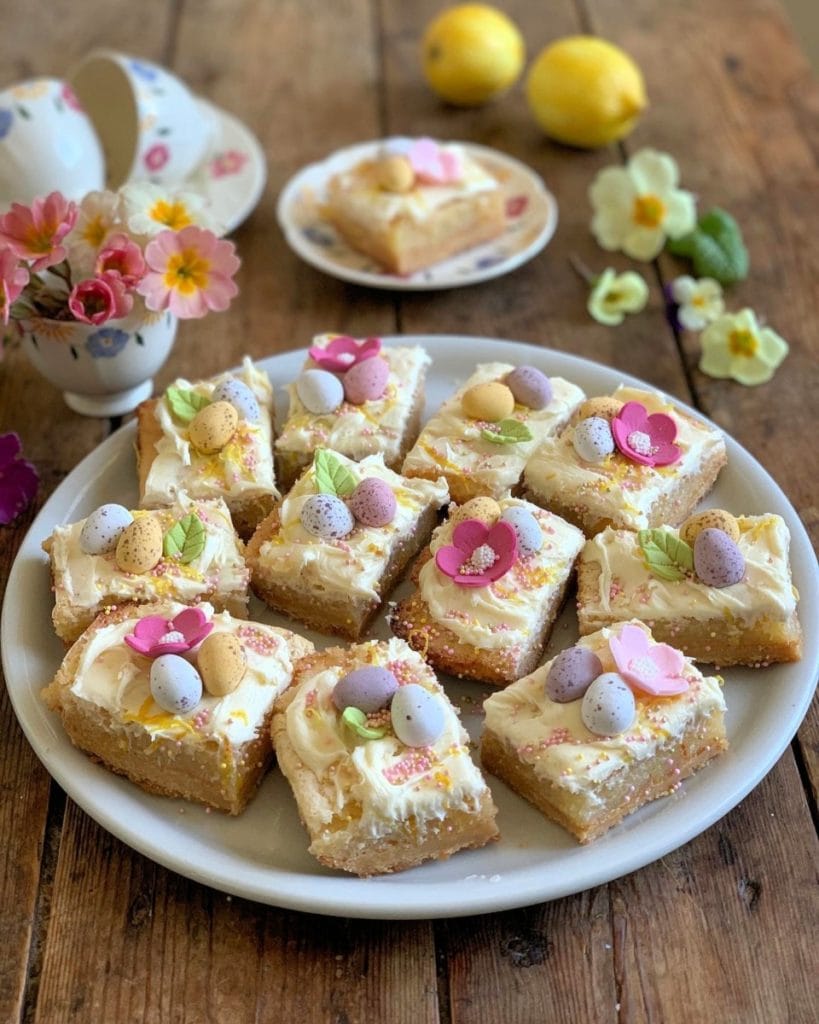 These lovely little Lemon Shortbread Squares by Lavender and Lovage are the perfect one tray bake for Easter, or for any other special occasion, such as a Bridal Shower, Wedding, Spring Birthday or for an elegant Afternoon Tea.
Check out this incredible Easy No-Bake Salted Caramel Easter Tart by Jane's Patisserie. It has a Biscuit Base, Salted Caramel Filling, Chocolate Ganache, and is topped with all the Easter Treats!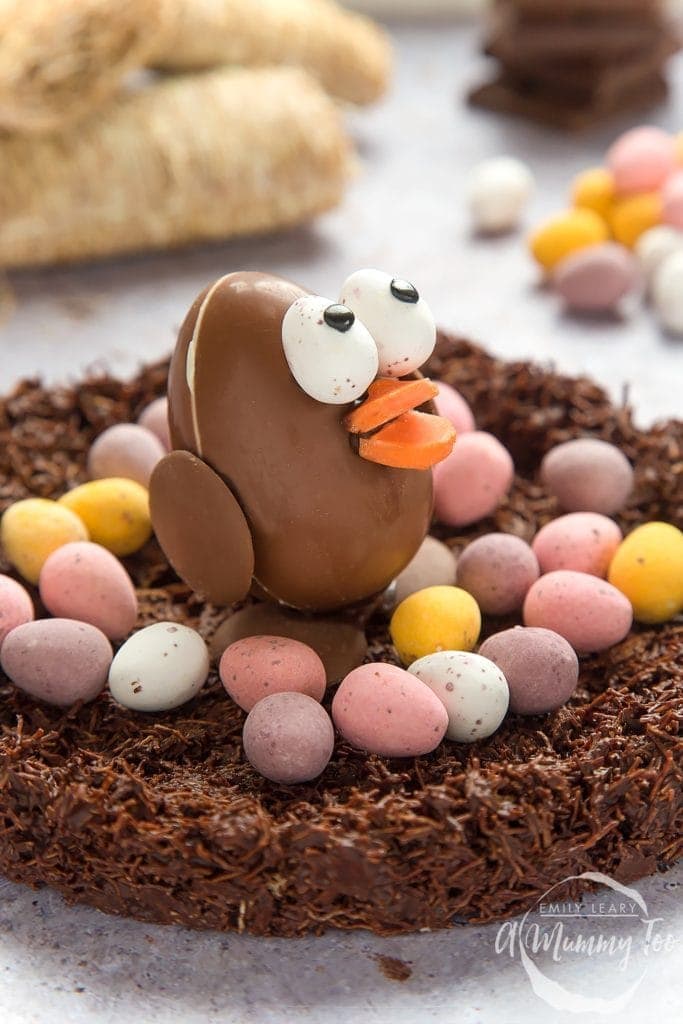 A Mummy Too has created this gorgeous Easter chocolate egg chick in a wheaty chocolate nest. The chick, the eggs and the nest are all completely edible so this is a great activity to try.
Can you freeze mini eggs?
Freezing mini eggs works well however if you have somewhere cool and dark they will last a really long time anyway. So you can save the freezer space. When baked into blondies or other goodies from this Mini Egg Recipe round up they can be frozen as part of the finished bake.
Gluten Free Mini Egg Recipes
A really easy recipe for gluten free Mini Egg Brownies from Easy Peasy Foodie. They are deliciously fudgy and chewy on the inside and crunchy on the outside, stuffed full of little mini eggs – making them perfect for Easter!
The greatest bit about my flapjack Easter nests is they are easily adapted to be gluten free. All you need to do is use GF approved oats and you've got yourself a delicious gluten free Easter treat.
Chocolate Krispies Easter Nests from Farmers Girl Kitchen are the simplest chocolate treats. Made of Rice Krispies breakfast cereal mixed with melted chocolate and decorated with chocolate mini-eggs.
Have a wonderful Easter and happy Mini Egg eating!
Follow me on Instagram to see what I've been making recently. www.instagram.com/sewwhite