Pantry Recipes
I have put together a range of my favourite pantry and freezer recipes. They are easy to make and perfect for when you are social distancing at home.
Scroll to the bottom of the page for tips on making food last longer at home. I will add more recipes and tips as the time goes on.
We have also created a pattern to create a face mask at home which is washable and reusable.
Easy Store Cupboard and Pantry Recipes for Breakfasts and Brunches
Have you tried these delicious Blueberry American Style Pancakes? They are also gluten and lactofree. Perfect for pancake day.
Gluten free ingredients especially flour do last pretty well in the pantry and when you use them to make pancakes they taste so good you wouldn't notice a difference. I also used lactofree milk with these as there are some good lactofree milks which you can store out of the fridge until you want them.
Creme Eggs are so popular that I couldn't help trying to turn them into pancakes. The lovely stack of Creme Egg pancakes are easy to make and so moreish! I hope you enjoyed these easy to make and even easier to enjoy Easter pancakes.
Pancakes are delicious. It's a fact. They are also a great store cupboard make. If you don't have Creme Eggs, you can you use lemon or sugar anything else you have at home. Nutella or peanut butter is also delicious.
Start Valentine's Day off which a delicious heart shaped French Toast breakfast with sweet strawberry compote. Enjoy my Valentine's Day French Toast recipe.
French Toast is a fantastic way to use up bread which is going stale. You don't need to cut it into shapes but if you have stale bread and some eggs and milk this is a great breakfast. A little maple syrup from the store cupboard adds a delicious sweetness to the finished dish.
Store Cupboard Light Lunch and Meal Recipe Ideas
This easy one-pot tomato olive pasta is a quick and delicious dinner that only takes 20 minutes to cook! It's perfect for dinner any day of the week!
Quick and easy meals are definitely on my list for being isolated. My 20 minute one pot pasta is really good. It does use a few more fresh ingredients but nothing that goes off too quickly. It's a fresh healthy recipe and one that is always popular on my blog.
My quick and easy puff pastry tomato tart is a super delicious seasonal summer dish. It is absolutely brilliant for summer parties, events and picnics. The puff pastry tomato and mozzarella tart is perfect for using up all your fresh home-grown tomatoes! Serve with a few fresh basil leaves to really add some extra aroma and taste to the finished tomato tart.
Puff Pastry Tomato Tart is a great dish for using up left overs. I have puff pastry in the freezer and I use it when I have a random range of ingredients that need using up. For this I used a huge amount of tomatoes I was given but you can adapt it to use up what you have in your house.
This easy tomato salad with quinoa, rice and asparagus is simple to make but tastes just incredible. The base is the rice and quinoa, which are then topped with fresh tomatoes, fresh basil leaves, fresh mozzarella and perfectly cooked asparagus.
Asparagus Tomato Salad. We are lucky to have a great supermarket system where even though all this madness is going on they are still going. Asparagus is starting to be in season so this dish is easy to make, healthy and only uses a few ingredients.
This delicious Lamb Meatball Salad is a perfect summer dish. Marvellous hot and minty meatballs, fresh crunchy salad with roasted tomatoes and creamy mozzarella.
Lamb Meatball Salad. Meatballs are a great thing to make which you pop in the freezer to enjoy over the next couple of weeks. Meatballs are easy to make at home. I usually make loads and pop them in the freezer. Add them to the freezer bags, before you cook them, in individual and larger portions. Whatever way works for you best. When you are ready to use them defrost and cook.
Social Distancing Family Dinner Recipe Ideas – Coronavirus Pantry Recipes
September and slightly cooler weather is bringing in the love of oven bakes. The favourite in our house is Toad in the Hole and it's so easy to make.
Toad in the Hole. This was my first isolation dinner. I defrosted sausages from the freezer and used flour from the pantry for the batter. It doesn't take much milk and not many eggs. It's a favourite meal of mine as it's so simple to make too. Especially if you are looking after a lot of people who all need feeling. It's also great to enjoy cold the next day. Is that weird?
Christmas is stressful when it comes to cooking so I've come up with a really simple one pot chicken recipe which keeps the Christmas flavours.
Christmas One Pot Chicken. I've seen a lot of stuff on social media about can't this time at home be like Christmas. So I am including my red wine one pot roast chicken to take us back to before all the isolation happened. It's a great recipe for easy cooking. You don't need to use wine. You can use vegetable stock instead.
When wondering what to do with leftover curry, an omelette might not be your first thought. But once you try this 20 minute one pan wonder, Leftover Curry Omelette will be the first thing you think of next time! This quick brunch or dinner dish is super versatile so you can use almost any leftover homemade or takeaway Indian curry, curry sauce or side dishes – delicious!
Left over curry omelette. I'm so happy that we can still support local restaurants who have now switched to takeaway only. I always like to order a little extra when I have a curry so I can make left over curry omelette the next day. It's definitely a good time to try and use up as much food as possible and reduce left overs too.
This chicken and broccoli pesto pasta with sundried tomatoes is a family favourite dish – you can enjoy it hot, but it's just as good the next day as a pasta salad! It's particularly perfect for lunch boxes.
Chicken Pesto Pasta. I love this dish as it's so fresh and tasty but also is hugely adaptable. You can make this with entirely fresh ingredients or entirely with frozen and pantry items. It's also great cold you can make it up and have the left overs the next day.
Sweet Treats and Cakes Recipes
I adore these Chocolate Marshmallow Pops. Marshmallows dipped in chocolate are one thing but these are next level treats. Marshmallow pops are so easy to make, look beautiful and will make always be popular with adults and kids alike. Dress them up with sprinkles, dried fruit and even chopped nuts.
Marshmallow chocolate bites are fantastic fun for when you're home. These are really lovely fun to make when you a kid of all ages. If you have sprinkles even better. Then they are really delicious to eat. Marshmallows and chocolates are definitely winner.
My delicious summer fruit sponge pudding combines a light and fluffy lemon sponge on top of a rich layer of summer fruits perfect to enjoy all year.

Summer Fruit Sponge Pudding. This is a great store cupboard pudding. I use frozen fruit at the bottom and then add the sponge over the top. Bake and you'll have a wonderful self saucing dessert. It also lasts really well in an air tight box for a few days if you have any leftovers.
Banana bread is brilliant for using up bananas which might be going past their best. I love to add chocolate chips to my banana bread. It just takes it to the next level of awesome bake. This is a beautiful moist loaf and is great for using up pantry items. It's also quick to make and bake which adds extra joy to baking.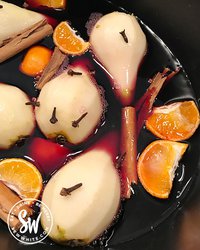 A quick and easy winter dessert! Mulled Wine Pears are a super delicious pudding and with using the slow cooker can be made in advance.
Mulled wine poached pears are so easy to make and one of my favourite treats ever. If you have fresh pears brilliant, if not canned work really well too. If you can't find whole pears in tins then pieces will be fine too. If you want to save your wine you can dilute it with water or add some fruit juice like orange to the mix. Delicious.
With the Royal Wedding proving a great inspiration for baking I've joined in for my local street party with these lemon and ginger flapjacks.
Flapjacks are the most awesome store cupboard recipe! It uses up all the random bags of sugar and oats that in there and produces really delicious results. This recipe has ginger and lemon but if you don't like those flavours leave them out. The ground ginger is a beautiful flavour. If you don't have fresh lemon you can use bottled from the fridge or just leave it out. Either way absolutely delicious.
I love apple crumble so I had to put a Christmas twist on it and make an Apple and Cranberry Christmas Crumble with oat crumble topping. Adding cranberries makes the festive crumble extra special and perfect for a winter dessert.
Crumble is great to make and with supermarkets still have a good supply of fresh fruit and vegetables. Although this is a Christmas crumble recipe the crumble topping its self is what I'm talking about. If you can get a few apples adding a crumble layer made with oats takes it to the next level. Oat crumble adds a lot of extra flavours and crumble is always winning dessert.
A Possible Necessary Drink
I have chosen a few drinks which are easy to make at home with basic drink ingredients. If you don't have a mint plant growing that is fine and you can remove it from the recipe. For the Blueberry Gin & Tonic you can use frozen fruit instead. Limes and lemons will last for ages so there is no rush to use these. A cocktail really seems like a good reason to break into the lime and lemon stash.
My Blueberry Gin and Tonic Recipe is a perfect drink for any event or just a really good evening when you're after a fruit gin and tonic. A simple blueberry gin cocktail which takes seconds to make and is a perfect summer cocktail.
Blueberry gin and tonic. Another great idea for making your gin and tonic a bit more interesting is adding fresh fruit. For the isolating time I've got used to using frozen fruit from the freezer. Leave it to defrost a little – 5 minutes will do. Squash the fruit up and make the gin and tonic. The cold fruit actually work really well to keep the drink colder too.
Enjoy a glass of my Spring Gin Lemonade Cocktail in the sunshine. It's a great party sharing drink and in a glass dispenser it looks beautiful.
Spring gin lemonade is a simple cocktail and sharer usually but if you're isolating with someone why not have a little party at home. Having a little mint plant growing in the garden is definitely helping me with adding some more flavours. Gin and lemonade is definitely a winner in my books. I love bubbles!
A fruit and floral drink perfect for summer days.
Elderflower and rosemary lemonade. A store cupboard ingredient I always have is Elderflower cordial. It goes with so much and can be used in so many ways. I use it in cakes, puddings and for all types of drinks. Non alcoholic and alcoholic alike. A little dash is delicious. My Elderflower and Rosemary Lemonade is easy to make and perfect to enjoy at home while spring is in the air. I have a little rosemary plant in the kitchen which adds a great flavour. Also great for loads of recipes.
Strawberry Jam Gin and Tonic is my new favourite drink! Adding jam is a
quick way of adding a new taste to a classic gin and tonic.
Strawberry jam gin and tonic. What is so great about this recipe is how easy it is to adapt. While being at home if you some jam that needs using up you can mix it into your favourite gin and top with tonic. I love using my homemade strawberry jam for my G&T. It adds such great flavour along with some added sweetness. Most jams will work. If they are harder set mash it with a fork and then add the gin.
This is my favourite berry smoothie! The frozen berries mean that you don't have to wait for the Summer to enjoy it since you can freeze berries yourself or buy them frozen to use all year-round!
Be berry good to yourself. Smoothies are a great way to use up fruit and veg which are going a little past their best. Usually I add the fruit to freezer bags and keep them until I need them. I add oats to bulk out the smoothie. It makes you feel full and also add extra fibre. Fresh of frozen the smoothie will taste rather good if I say so myself.
Tips for making food last longer
If you have any bread which is past it's best, whizz it up in the blender to make bread crumbs and pop in the freezer until you need it.
Place your eggs in the fridge or somewhere cool. This will help them last a little longer.
Use your left overs. There are some great ways to have left over cooked meat and other pieces.
Make your freezer your best friend. You can bulk make dishes like meatballs which freeze and defrost beautifully. You can also put left over dishes likes stews and pasta sauces in the freezer to use at another time.
Flat breads and tortilla wraps freeze really well too!
Keep herbs in a sealed container in the fridge. They last so much longer this way.
---
Also please be considerate in the supermarket. There is still plenty of food out there and there are deliveries of food every day.
Follow me on Instagram to see what I've been making recently. www.instagram.com/sewwhite